After a whirlwind two years, Blackjack Beers has quickly emerged as one of the city's most noteworthy suppliers of real ale.
Earlier this month, they celebrated two years in the business – and in this short space of time, they have developed a core range of seven different ales.
They have left a considerable mark on the Manchester brewing scene and ale-lovers will have spotted their beers – which all carry a deck of cards theme – in pubs such as The Marble Arch and The Port Street Beer House.
Such is their online presence, they are even signposted on Google Maps and already have more than 3,000 Twitter followers.
Brewery owner Rob Hamilton, assisted by Joe Bird, James Darcey and three other helpers, runs the operation on Gould Street, Manchester.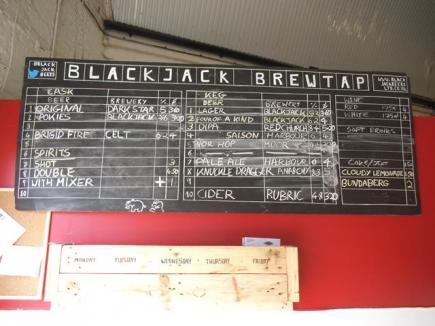 WHAT'S ON THE MENU? Evidence of the most recent Blackjack brew tap
 
Rob said: "I'm brewing five times a week. The list of things to do is ridiculous but we are enjoying it – it's never boring.
"In two years, it's gone from me on my tod to five and a half of us," he joked. "By the end of the year, we want to be bottling and exporting."
The team at Blackjack have a drive for innovation and expansion – not wishing to let themselves get too comfortable with what they have already achieved.
Joe said: "We are constantly doing specials, so the core range of seven beers turns into about ten when you take into account the specials."
Brave souls of Manchester we salute. You! Brave that rain pic.twitter.com/SFJZVA3q07

— BlackJackBeers (@Blackjackbeers) May 25, 2014
By brewing these limited edition ales, it lets them experiment with new flavours and hops – but also keeps the clientele happy with some new ales to try.
The Blackjack boys are always keen to interact with the pub community, appearing at festivals and holding brew taps with guest brewers.
Joe said: "We run a lot of brew taps here, where we get the garden set up and what not. It's interesting because we did one a few weeks ago for the second birthday and we didn't advertise it, but we still got 200 people.
"It's a nice position to be in – people are clearly starting to recognise and remember who we are."
Plenty of people turned out for the Bank Holiday brew tap – held over three nights – despite the wet weather.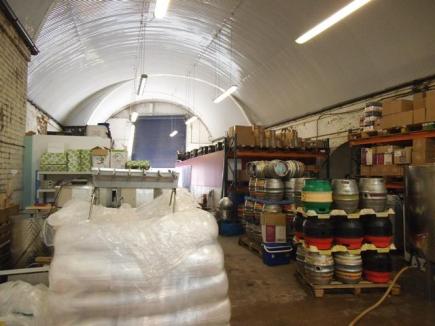 NO ROOM TO WALK: Blackjack is loaded with barrels, kegs and equipment
 
The level of support they are garnering must be encouraging, in an industry that has been positively booming in recent years.
With so many new microbreweries exploding onto the scene, it is hard to see how new brewers manage to make their beer a success.
James isn't fazed, though. He said: "There's still room for growth I think. Naturally, there will come a point where there are a lot of breweries, but it won't be dog-eat-dog."
Certainly, it is a friendly industry that would never want to see others struggling.
James said: "It's a strange thing. New breweries are never seen as competition.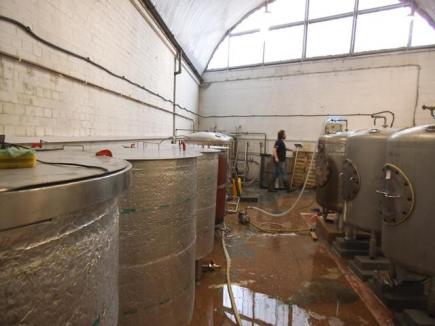 JUST A DAY'S WORK: Rob tends to one of his many vats and distillers
 
"Everyone's quite happy to help each other out. There's no thought of competition or territory."
Joe speaks highly of the microbrewing culture and the smaller, more personal style of their appeal compared to the big beer brands.
He is thankful for those loyal fans that enjoy the product and enjoy drinking local, Manchester-brewed beers.
It was not always easy, Joe admits, but now Blackjack is comfortably on the map – literally.
He said: "It's been a massive learning curve. We struggled through the first year but now we're fairly solid."
Main image courtesy of Dan Slee, with thanks.