Tucked beneath the hustle and bustle of Canal Street, a hidden gem delivering old school Hollywood glamour awaits.
Oscars is a camp, chic and friendly bar that oozes 1920's speakeasy glitz and has a passion for all things musicals. 
Since the curtains went up on the bar two years ago, the place has established a loyal group of regular drinkers as well as curious punters looking for something different. 
Owner Bruce James Wood told MM: "People love musicals because they bring the theatre that is often missing in day to day life, and that's what I really wanted to create with this place.
"Getting dressed up and enjoying a few drinks whilst having a great time is something we all love to do and it's great to have a place where people can just relax and do that."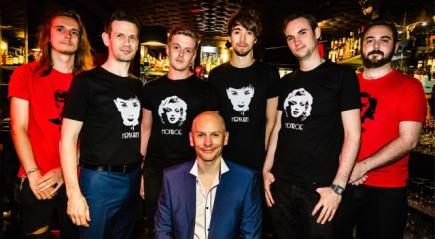 DREAM TEAM: Staff at the bar offer punters a unique nightclub experience
Oscars is very selective in the drinks it serves and tries to deliver something different to those who go there.
A partnership with Blooms gin is a real winner for the bar, and those mixing know how to deliver a cocktail worthy of a standing ovation.
The summer bloom is a triumph, sweet and fruity with flavours of elderflower and mint served in a decadent goblet. 
"I spend a lot of my time researching different spirits, and trying to offer something to people that they may not have tried before," Bruce said. 
"We want to offer something different and for the cocktails served here to have the drama and the elegance of the theatre."
If gin isn't your thing, the Mae West really packs a punch, an amaretto infused vodka cocktail overflowing with jazz hand decadence.
The Oscars margarita is also particularly spectacular, fresh, zingy but completely moreish.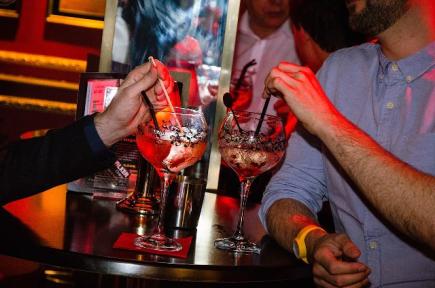 BOTTOMS UP: Oscars serves a range of cocktails which are specially selected
Bruce said: "We found that the people, who regularly come here, aren't coming here to get drunk, they're coming here to appreciate the alcohol in a lounge style atmosphere and I think that's a really lovely thing.
"It's amazing the amount of people who come here with a family member as they are wanting to show part of their gay life and bring them to the village because it's part of who they are, but it's something they'll really enjoy too."
Bruce's love for musicals started at an early age, and his shrine to some of the classics is a joy to behold.
Adorning the walls of the underground bar are posters from the world's biggest musicals, from Miss Saigon to Singing in the Rain. 
He confesses: "It all stems back to when I was a kid and my mum loved black and white movies, and I enjoyed nothing more than going to the shops, getting a bar of chocolate, and watching an old classic on TV.  That was amazing and is still something I hold incredibly dear.
"How she didn't know I was gay I have no idea!"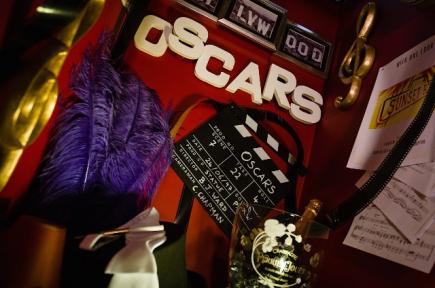 HIDDEN GEM: Oscars has been open for two years and is located on Canal Street
The luxurious red and black colour scheme conjures up the illusion of an extravagant backstage lounge and screens play videos of some classic musical moments, filling revellers with nostalgia and warmth. 
As well as playing some of the best show tunes ever recorded, the bar also plays host to a group of professional singers and musicians, including West End and Broadway star Paul Walker. 
Bruce said: "We have so much local talent here and we're currently in talks with the people at the Royal Northern College to get some more young singers to perform here.
"We wanted to steer clear from karaoke or drag because it's something that had been done and there are so many talented musicians out there and few places where they get a chance to perform."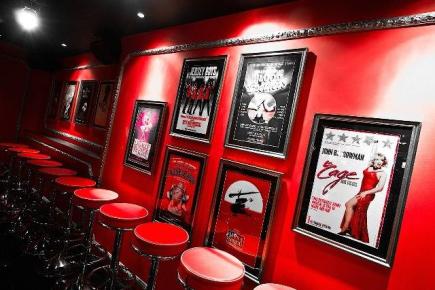 PRIDE OF PLACE: The walls of the bar are adorned with posters from famous musicals
The bar is also a regular haunt for touring theatre companies and theatres who have heard about the bar through word of mouth.
"We've tapped into the theatre goers and companies who have been brilliant ambassadors for us, but we are open to so many different groups, from the Manchester Rubbermen to the trans* community," said Bruce.
"It's about not excluding a certain group but attracting those who agree that quality matters."
Images courtesy of ChrisChapmanVisuals.com, with thanks