Manchester has a new Cuban restaurant that promises a street-food twist with a DJ soundtrack – they even think they can entertain your Nan.
Following their appearance on BBC show Million Pound Menu, a Liverpool-based Cuban street food pop-up launched in Manchester last week – think of it as a Cuban-inspired Wahaca.
Founded by four friends, FINCA has taken on its biggest set-up with their summer residency in Spinningfields' Artisan. Gary Neville's even been down for a taster.
And seeing that it's good enough for him, we wanted in on what the fuss was about.
Greeted with exotic cocktails we took a pew in the main restaurant area, brightened with colourful décor including huge Cuban-inspired paintings and tin cans brimming with napkins (which were definitely needed later) and cutlery.
FINCA's entire vibe transports you away from Spinningfields' often pretentious aura and, through a combination of an upbeat soundtrack, friendly faces and really really delicious food, into a world of comfort.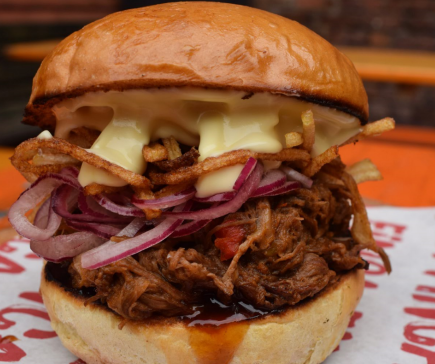 ROPA FRITA: Mind the drips as you tuck into this high-on-flavour, fierce-looking brioche
Comfort is the key word here – not only do the bar staff make you feel extremely at home and looked after, but the menu is oozing with dishes to make you feel warm: think melted cheese, juicy meats and twists on the classics like guava BBQ sauce.
All served on boards, there's a heavy focus on sharing at FINCA and believe me, you'll be so glad you can try everything.
First up on our feast were the Gouda and Spring onion Croquettas: one bite reveals what feels like a sea of melted cheese, the food equivalent of wrapping yourself in a furry blanket in front of the fire after a cold winter walk. Their only fault was quantity.
The Finca Fresco (main pic) was a personal favourite – think of it like nachos with a dollop of freshness. The team introduce more alien ingredients for this, using Yuca crisps as the base and covering them in a sweetcorn and black bean salsa, pickled pineapple and more delicious dressings than you can imagine.
One more dish like this on the menu would do the team a world of good amongst the heavily-fried selection.
Sitting proudly amongst what felt like an apt hoard of sides was the Ropa Frita – a fierce-looking brioche filled with slow-cooked beef brisket, shoestring potato, pickled red onion, aioli and guava bbq sauce – need we say more?
This home-cooked beauty would beat the humble burger in succulence, texture combination and flavour profile… just mind the drips.
Meat aside, all of FINCA's small plates are vegetarian so there's plenty for the vegetarians too. Their signature and must-have dish, the Cubano (a grilled sandwich filled with pork shoulder, gammon, pickle and cheese) can even please the herbivores amongst us – their veggie option swaps out the pork and gammon for some extremely tender mojo asparagus on a fragrant watercress pesto.
This beautifully contrasts with the pungent mustard that also makes an appearance in the meatier sandwich.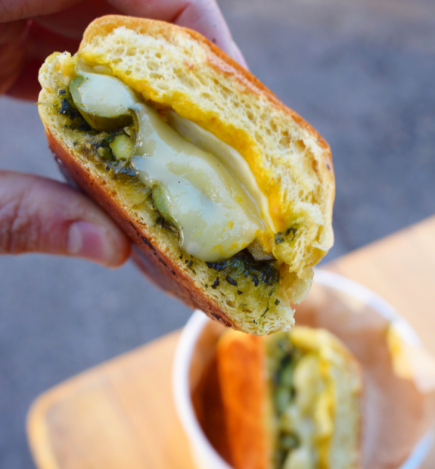 VEG CUBANO: It's not all about the meat, as this sarnie swaps out pork for tender mojo asparagus on a fragrant watercress pesto
Finally, we settled with a classic: sweet potato fries. These were served with chilli, coriander and sour cream and whilst they weren't loads to sing home about, they filled a gap and were the perfect ounce of familiarity alongside a whirlwind platter of Cuban dishes.
See off your full tummy with one of their creamy Cuban coffee martinis – a twist on the espresso martini featuring condensed milk and rum – and you will have endure the most perfect Cuban experience, from the comforts of our rainy city.
Dishes start from a reasonable £4 and are served from 12pm to 9pm every day.