MM were invited to Manchester's latest addition to its extensive foodie scene, Busaba, to sample their cocktails, Thai flavours and some exquisite signature dishes.
From only the exterior of the new Thai eatery, you know you are not going to be disappointed.
Situated between the Corn Exchange and Printworks, Busaba takes visitors right to the heart of Thailand.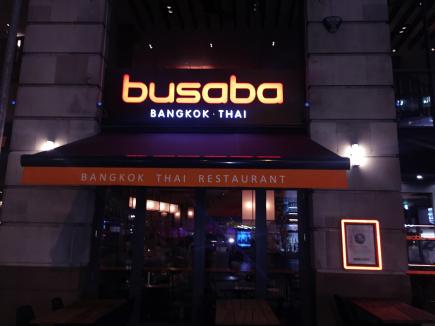 A WHOLE NEW WORLD: Just step through Busaba's doors to leave behind cold Manchester for sunny Bangkok
Ahead of the official opening of the restaurant on January 18, MM came down for a truly authentic eating experience.
With the elegant décor and rich furnishing, from the minute you enter the venue, the indulgence has well and truly begun.
After propping ourselves at the bar, the cocktail menu we were given certainly left us spoilt for choice including everything from Prosecco Bellini's to Martinis – all with a twist.
The time it takes for your first drink to arrive, for me, sets the mood for the entire evening. With the bartenders at Busaba this was not a problem at all.
We were given fresh water with cucumber while our cocktails, which were simply delightful, were being made making it clear right from the onset that no ask was going to be too much.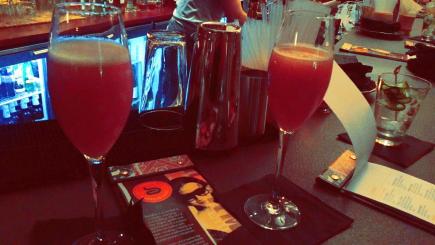 THAI TWIST: The cocktail menu offered up all the classics but with a difference
The cocktails, while seeming classic, offered up a taste of something unique – whether it was an additional ingredient or a simple alteration these drinks were exquisite.
After a short wait we were taken upstairs and seated amongst other reporters, all of us eager to taste the food which has a brilliant reputation from their London establishments. 
To celebrate our opening, our special media event guests have arrived & having some tasty cocktails pic.twitter.com/sVEUwDhBma

— Busaba Manchester (@BusabaMCR) January 15, 2016
We were introduced to Busaba's Executive Chef Jude, who talked us through the most prominent flavours of a true Thai dish.
The most dominating flavours, we learnt are salty, sour, and spicy. Given four dishes to try, Jude explained these would allow him to recognise what our palates are like.
As he talked about the dishes, all of which feature on the menu, it was clear to see his passion and enthusiasm for this culture.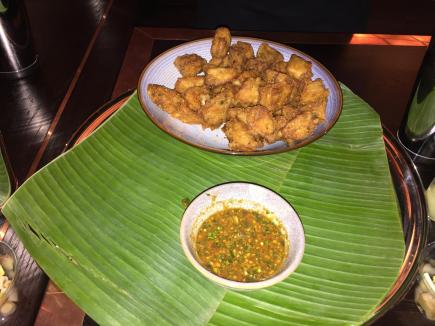 SALT, SOUR, SPICY: Busaba's Executive Chef offered a master class on the flavours that dominate Thai cuisine
Speaking to Jude earlier on in the evening he told us what the main aim of Busaba was and what the restaurant hopes to bring to Manchester.
He said: "The menu brings the tastes of Bangkok to Manchester.
"Some parts of Thailand have different tastes but we are only focusing on the Bangkok tastes."
The four small appetisers included mango, chicken, prawn and a famous Thai salad which boasted the main ingredient of papaya.
With each sample we were given, the taste seemed to get better and better, although after a lot of thought we decided that it was the salt flavouring which we preferred – a favourite of many women, according to Jude.
The evening continues with our Executive Chef Jude's Thai tasting experience! Everything tastier than the other pic.twitter.com/PaGA96ojnn

— Busaba Manchester (@BusabaMCR) January 15, 2016
After becoming familiar with the range of flavours Thai food has to offer, it was time to do some work ourselves – in the form of cocktail making, of course.
Ali, who has worked with the company for only six months, but has been making cocktails for nearly 16 years, described his job as an addiction.
Coconut Collins is the cocktail of choice for us to try our hand at making, a twist on the traditional Pina Colada with a touch of ginger and lemon grass.
Given a step-by-step guide on how to mix, shake and even pour the perfect cocktail which, even if we do say so ourselves, looked and tasted fantastic.
Everybody is shaking up their drinks with our cocktail master Ali Perfect way to finish Thai Tasting Experience pic.twitter.com/HyQUCL3dEm

— Busaba Manchester (@BusabaMCR) January 15, 2016
After the fun came to a close, it was time to remember what Jude had taught us about our palettes and choose dishes for our mains.
Even their menus had been beautifully designed, and although there was not a vast amount of choice, the dishes which were on offer did not disappoint.
From curries to noodles and chicken to prawns it is safe to say there was something for everyone, including vegetarians and vegans.
Deciding to go with the recommendation of the waiter, I chose the calamari to start, this is a dish I order at most restaurants I go to, and so I knew it would be a good test of how the food competed with other nearby eateries.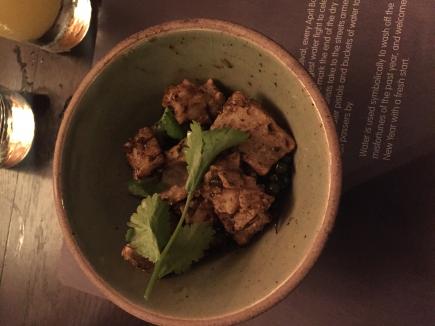 TEN-TICKLE MY FANCY: Busaba's calamari doesn't need a dip as the flavour speaks for itself
While it was a fish starter for myself, my colleague chose the spring rolls, and although two different dishes they were both equally as tasty.
The calamari was one of the best I have tried, presented without the need of any extra dips which usually accompanies the dish – they let the flavour speak for itself.
Our final dish was the very spicy Pad Kwetio, which was a noodle based meal with chicken, prawn and mushrooms.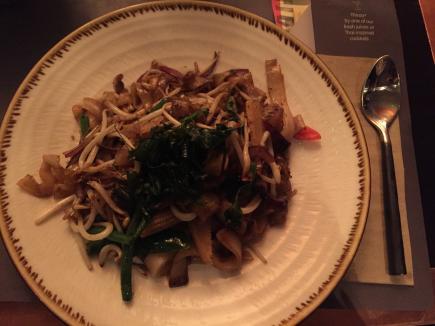 HOT STUFF! The restaurant's Pad Kwetio main is sure to spice up your life
For lovers of spicy food I would definitely recommend this main, tasting as though it had come straight from Bangkok itself.
For anyone who is eager to try this new restaurant, which we highly recommend doing, you need not worry about it costing a fortune.
To celebrate their opening, Busaba is offering all main dishes for 99p on Blue Monday on January 18 – a day classed as the most depressing day of the year.
With payday seeming so far away, the staff at Busaba are set to help the people of Manchester get their week off to a good start. 
Join us this Monday for a #99p main meal & celebrate the opening of Busaba in Manchester #HappyEating pic.twitter.com/MXkgW8ixsH

— Busaba Manchester (@BusabaMCR) January 15, 2016
Boasting over ten Busaba's in London, its popularity is evidence of the quality of the food and service provided by all the staff.
Chef Jude finished by saying: "What it tastes like in Bangkok we'll bring it here to Manchester."
After our Thai experience, it was clear that the desire to bring this culture to Manchester is one which will certainly be fulfilled.
With Liverpool having already been announced as the second Northern city that Busaba is set to win over, it is apparent this Thai phenomenon is only just getting started.
Gorgeous food and cocktails @BusabaMCR last night! The perfect Thai tasting experience Review to be up on @MM_newsonline soon! 

— Catherine Murphy (@CathMurphy_) January 16, 2016