After 12 flippin' long months apart from one of the tastiest days of the year, Pancake Day has creped back up on us all.
And here in Manchester, the city is getting into the foodie spirit with a whole host of eateries offering free pancakes – with a huge choice of mouth-watering toppings to suit both sweet and savoury tastes – ALL day.
But it's popular bar Black Dog Ballroom's pancake eating competition which is stealing the limelight. Back for the second year running, the challenge promises to get pretty tasty.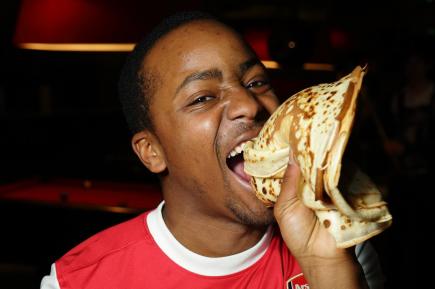 OUT OF THE FRYING PAN: The competition will be hotting up at Black Dog Ballroom
So get down to the Wakefield Street venue for 7pm tonight, and feast your eyes on some eggcellent entries or get in on the action and prove your batter than the rest.
MM spoke to the team at Black Dog to find out more about this highly anticipated food Olympics.
A spokeswoman said: "Last year, we had a great turn out and we're hoping to up it again this year. We've got about 20 people already signed up, and more keep popping into our inbox.
"Everyone loves pancakes and we just want to share that love, with a little bit of friendly competition thrown in for good fun."
With only 11 entries in 2014, it's clear that more and more people want to get in on the food battle.
The spokeswoman said last year's contenders took it 'very seriously' and there was a lot of 'pre-match banter and staring each other out'.   
"Watching people stuff pancakes into their mouths isn't the neatest thing, and afterwards the table looked like there had been an epic lemon and sugar battle waged," she added.
"Many contestants tried to stuff as many as they could into their mouths, there were bits of pancake everywhere and we had to remind them that all pieces have to be eaten or the pancakes don't get counted!"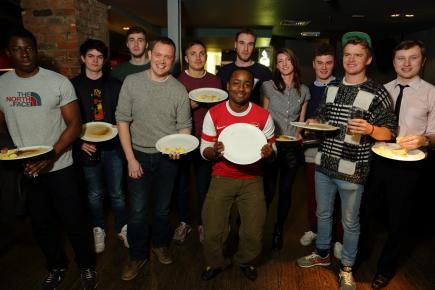 SWEET SUCCESS: Black Dog said everyone's love of pancakes makes the challenge do-able for all
Despite doing their very best to be a (panc)ache for the contestants, the winning number of pancakes devoured was a whopping 15!
Black Dog's spokeswoman told MM: "They suck the moisture out of your mouth when you're eating them and swell up in your stomach, so it's a bit of a feat!
"And hopefully we'll build on that number this year. We want to break a new Black Dog Ballroom record at every competition."
The contest seems to be one for the boys, with mostly young men taking on the pancake mountain, but there are a few girls who step up to the plate.
"Last year a guy called Ben won – he's also taken part in our wings eating competition, but second place went to a woman," said the spokeswoman.
Black Dog Ballroom have advised all hopefuls to take very small bites very quickly, and sip a drink to help keep the moisture in your mouth and allow the pancakes to glide down.
But drink too much, and you risk your stomach getting too full!
Most importantly the competition is all about having fun and without spending a penny. Not to mention, you won't have to cook, wash up or peel any pancakes off the ceiling if you're a bad tosser.
The spokeswoman has also warned competitors to watch out for Molly, 'the prize eater', who will be representing Black Dog in the ring.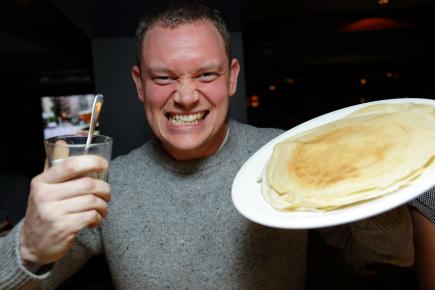 FEAST YER EYES: Last year's challenge saw some eggcellent entries… could this year be batter?
She added: "Pancakes aren't massive, we all like them and it seems like a challenge that's actually do-able, unlike competitions to eat super-hot food or something gross.
"Pancake Day is the one day of the year that we get to play with food we like – people can't seem to get enough of them, I know we can't!
"This will be our second year and we're going to make it bigger and better each year. The challenge has been set – who's coming?"