A family of Manchester brothers who pulled together just over a year ago to produce a range of craft beers have been looking back on a rollercoaster 12 months over a pint with MM.
Seven Bro7hers Brewery, based in Weaste, is run by the McAvoy brothers – Kit, Keith, Greg, Guy, Daniel, Nathan and Luke. The seven look to embrace a long family tradition of brewing.
The enterprising clan picked up the art from their father and lead brewer Kit McAvoy recently welcomed Prime Minister David Cameron to give him the guided tour of the microbrewery.
Three of the brothers Kit, Keith and Greg outlined where the idea had been brewed from – and where the company was heading.
Kit said: "We picked up the hobby from my dad and as he got older he couldn't do it on his own and I kind of took over and produced initially small 30-litre batches in the cellar.
"A good story [eldest brother] Guy has, was brewing ginger beer in the cellar and it exploding!"
Older sibling Keith claims to have a 'vague recollection' of the incident 35 years ago while Greg said: "I'm 30 and I don't remember that. It was before I was even born!"
The inspiration to set up the brewery came from Keith who was working out in Oslo and observed and he said: "The beer scene out there is really cool, especially the microbreweries.
"If it was done like this in Manchester, it would be so cool."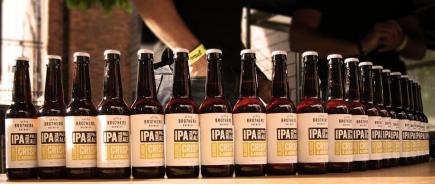 GOT BOTTLE: Seven Bro7hers' finished product
And so the idea was brewed.
After thorough research, siblings Keith and Greg thought there was mileage in the scheme.
"Two or three weeks in, we decided to pitch it to the rest of the brothers and it took about five seconds for them to say yes," said Keith.
"It couldn't have happened a year ago and it couldn't have happened a year later."
Making beer may seem like the perfect job, but few would be as keen to brew with six brothers.
But Greg added they were won over by the 'whole world of craft beer out there that no-one knew about'.
The McAvoys are like any other family and have their fair share of disagreements, with Kit saying they have had a 'few ups and downs and misunderstandings'.
But if the brothers ever do come to blows, it never spills over into business.
"We all get on well, if there's a fallout it only lasts a couple of hours, there's no point holding grudges," said Kit.
The brothers all have their own eccentricities – with Keith the risk taker and most highly-charged, Luke the 'clown' and Guy the hard-headed business man that always needs convincing that something 'is 300% right'.
Greg said: "We are all funny in our own way when we come together we have a laugh."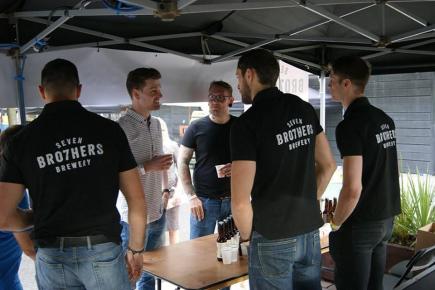 BEER-LIEVE IT: The brothers' business has had interest pouring in
Following strong local demand, the boys aim to increase their range of lines from three at present to a more apt seven, open up craft bars and expand nationally and even internationally into Scandinavia.
Keith said: "If you stand still, you go backwards."
And in an industry that has bucked the recent economic turbulence and is seeing something of resurgence with 70% growth in the past two years, he's not taking a glass half-full approach.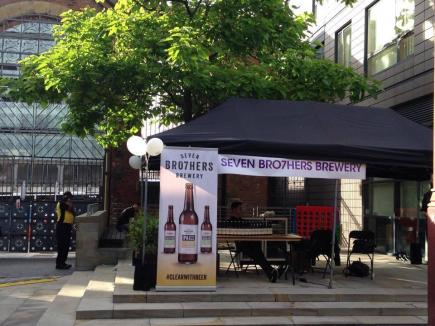 NO STALL-ING: Seven Bro7hers have quickly immersed themselves in the beer community
Despite being an ancient art, one of the driving forces has been social media and the branding to appeal to the younger unisex 25-35 year-old demographic, taking ales from the preserve of older folk to a cooler crowd.
"You'd be surprised how many girls out there love this beer," Keith said, and with four sisters too he has reason to know.
Kit said of his childhood with 10 siblings: "It was interesting growing up, it was carnage!"
But the chaos isn't replicated in a Seven Bro7hers bottle.
"We want our beers to be more sessionable, rather than blow your head off after one bottle."
When pressed on who was the best drinker, Keith soberly said: "Research had been tough, but it has to be Guy.
"He was always messaging us about trying this and trying that."
Keith puts this contemporary approach down to getting the chance to meet the Prime Minister David Cameron in a recent venture up north.
"It was a great experience. He was a nice guy, full of questions and much nicer than I imagined him to be and, like most guys, likes a tipple," he said.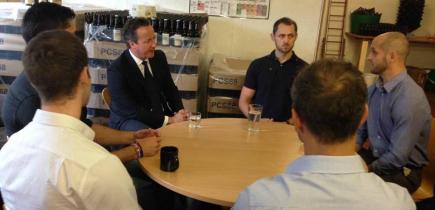 FANCY A PINT, PM? Prime Minister David Cameron vists the Seven Bro7hers brewery
No wonder his Government has knocked the beer duty down a couple of pence in the last two budgets.
With the industry booming again, what is the brewery scene like in Manchester?
Kit said: "It's an incredible community, everyone is super-friendly and bends over backwards to give you support.It's more like comrades than competitors."
"If there are any home brewers out there, we are happy to help, you will make mistakes, and we have all been there."
"People out there are realising there's quality to be had and aren't settling for second best."
The family collectively see brewing as an artisan craft and advise budding beer gurus that 'there are no set rules, go out there and enjoy yourself'.
For more information follow the @SEVENBRO7HERS Twitter account, or join their Facebook page at SEVEN BRO7HERS BREWERY.
You can visit their website here.
Images courtesy of Facebook with thanks