Tucked away round the back of Red Hot Buffet opposite a dingy NCP is a bar we can guarantee you've never seen, let alone tried.
Styling itself on the hedonism of 20th century America, The Liquor Store is a curious blend of Jim Morrison and Jim Beam.
This isn't a place for lager lovers – this speakeasy pretty much only does cocktails, and for that, we're grateful. It knows its specialism, and, well… specialises.
Although their claim of inspiration from Manc legends like Noel and Morrissey feels a little tired, it's the sheer range of spirits and genuine creative enthusiasm from head bartender Danny 'Biggsy' Bigg-Wither that impressed us.
He's torn apart the old menu, reworking the whole thing with just a brief mention of the few old signature favourites, and introduced a new set of fifteen concoctions, each priced at £8.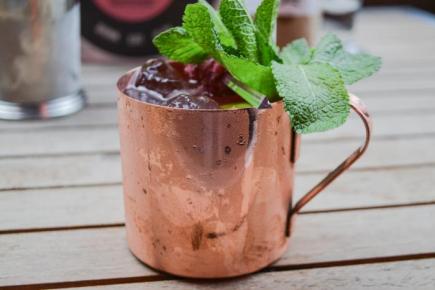 FRUITY NOD TO VIMTO HERITAGE: The 'Manchester Mule' is a alcoholic love letter to The Liquor Store's favourite city
Talking us through a few of his favourites, Biggsy explained the 'Manchester Mule', a fruity nod to Salford's Chapel Street Vimto heritage, which sees Absolut Vodka twisted with Vimto, fresh lime and cherry bitters and topped with ginger ale.
'Brown Bag Iced Tea' is a diabetes-inducing take on the NY classic, with Havana Especial mixed with a delicious honey infusion and a sickly-sweet cream soda. All, of course, served in the classic liquor store brown bag.
Explaining a bit more behind the drinks, Biggsy dug out a bottle of sarsaparilla from behind the bar and poured us two shots of the thick medicinal non-alcoholic syrup.
Although originating from the US, sarsaparilla has an unusually long heritage in the UK from the temperance movement, which promoted abstinence from alcohol.
Alongside Vimto, the two drinks were once popular in non-alcoholic pubs across the North West (including the last existing temperance bar, Fitzpatricks in Rawtenstall).
Hilariously, Biggsy decided to mix it with Kahlua and vanilla, throwing abstinence to the wind and creating what is perhaps our favourite – an addictively sweet long rum cocktail.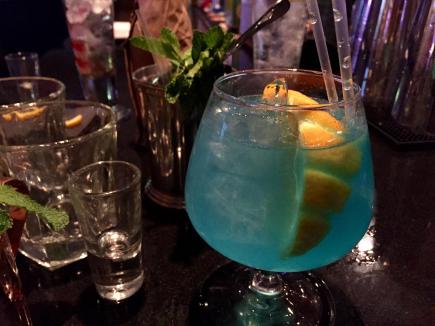 BLUE TUESDAY: Trying to find the most unnatural drink, MM discovered this beautiful mix of bubblegum and blue Curaco
We're not going to go on about all the others (we could, believe us) but if you're in the market for a new drinking den and you're tired of NQ, perhaps it's not a bad shout.
Liquor Store founder Doug Waldron explained that his bar was about the original concoctions, Manc tunes and laid-back atmosphere.
"I think our new drinks menu will keep our beloved regulars happy whilst also attracting new customers. Manchester's a city known for its no nonsense approach to high quality drinks, and of course one that knows how to have a good time. Our boy Biggsy did good."
Images courtesy of The Liquor Store, with thanks