Few establishments can be compared to 20 Stories.
The 15,263 square foot restaurant oozes sophistication, style and sex appeal.
Think a sky-bar in Singapore, but instead of the Guoco Tower, you can just make out the notorious hot dog man at the bottom of Market Street. If you squint hard enough.
The most-talked about terrace in the North does not disappoint, sporting a lush canopy of greenery, an African-inspired fire pit and intimate igloos to cosy up in on the chillier days, which are more often than not in Manchester.
Indoors, the attention to detail is second to none, right down to the boujee interior corresponding with the staff's smart attire. The devil really is in the detail.
Softly lit to intensify the striking surroundings, the noticeable absence of salt and pepper shakers confirmed my suspicions – the chefs cede no control and their seasoning is superb enough.
The wealth of knowledge the sommeliers possess is enough to make an oblivious rosé wine drinker like myself squirm, with wine pairing available for each course.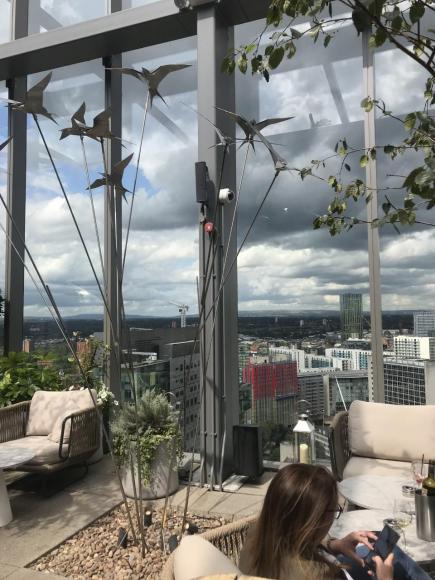 A deliciously fruity pink gin was supplied to wet my whistle as we mulled over the lunch menu.
It's thirsty work this you know!
Creamy, light, delicate… the burrata was right at home amongst the Manchester clouds that we looked out upon.
Meaning 'buttery' in Italian, the first bite allows the definition to be understood without translation.
Accompanied by an array of architecturally arranged roasted baby carrots, the natural sweetness intensified by the high temperatures they had just experienced, the slight crunch of the caramelized edges providing a welcome textural balance.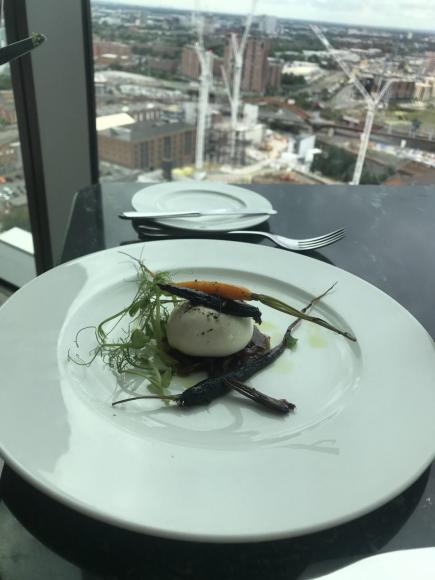 The petite but playful starter lay upon a bed of onion jam, possessing a tanginess which would give sour grapes a run for their money.
I wouldn't recommend it on your morning toast, yet it superbly complemented the mildly acidic burrata.
Although an unorthodox combination by my estimations, it proved a surprisingly delicious stomach liner.
The burrata cloud was quickly followed by a storm of colour, which was enough to have me wide-eyed.
The crispy duck and Asian salad. It was almost too pretty to eat.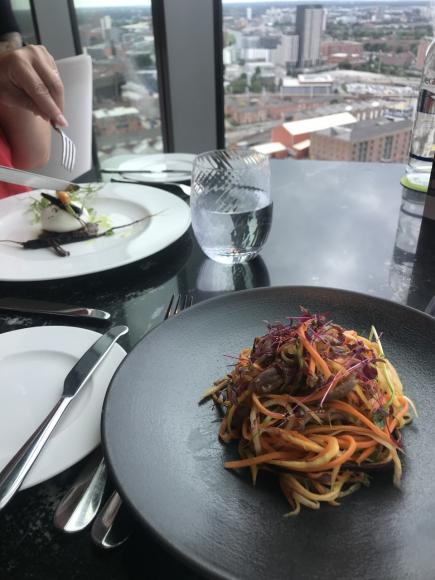 A 20 Stories spin on the staple oriental starter, the visual party-on-my-plate promised a great representation of the tastes, textures and flavours of Asia.
Amongst a harmonic medley of bright and bold vegetables, was the unaptly named 'crispy duck'.
Despite it being beautifully cooked and succulent, there was no crisp to be crunched.
Possibly a tame choice for those who enjoy the spice of life, but a wholesome start to a light lunch.
The mains followed promptly and delivered a significantly sturdier portion.
Cornfed chicken breast, seasoned and succulent, on a generous layer of dhal, yoghurt and crispy onions.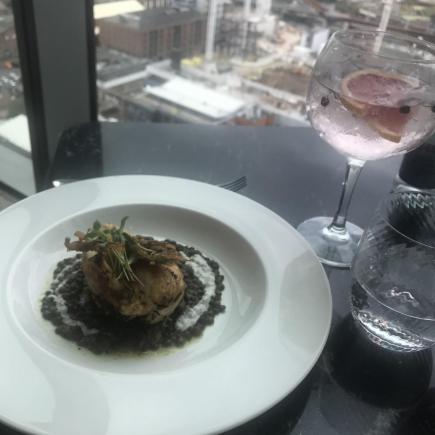 The texture of each dish is evidently just as important as every other component at this extraordinary eatery.
The crispy skin enveloped a tender, melt-in-your-mouth chicken breast, which worked in perfect harmony with the nutty tones of the dahl.
A rudimentary resident on any menu, this chicken dish is that fine line between tradition and experimentation.
It's got an undeniably British homely comfort – yet the combination of Indian spices and aromas is what truly makes this course come alive.
Next, the fish. Hailing from the shallow Mediterranean waters, the sea bream is most at home amongst its native flavours.
Complemented by a tasty helping of spinach, diced chorizo and an earthy pine nut emulsion, the dish delivered a refreshing cocktail of flavour and a hint of the holiday feeling.
Despite its richness, it remained light enough for lunch.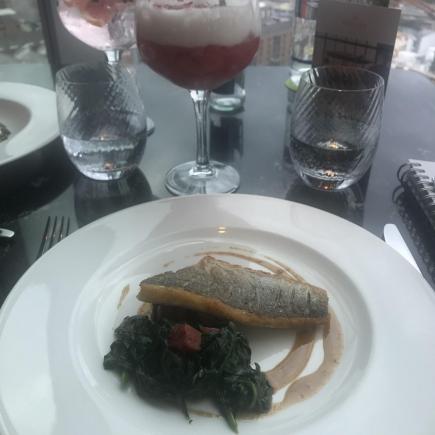 The bream was cooked with untold precision, as you would expect, ensuring a flurry of, almost sweet, flakes of fish and a tasty outer skin.
Although ingredients are sourced as locally as possible, global influences hold no bounds in this Manchester hotspot.
Rich in flavour and aesthetically pleasing, it's a meal you're going to wish you ordered when it comes to the table next to you. I would definitely revisit it.
In anticipation of dessert and a breathing period, I ordered a 'Manchester Tart Punch' cocktail. And then another.
Havana Club Especial rum, fresh raspberries, maraschino cherry liqueur, fresh lemon and apple juice and a dash of coconut syrup made up the refreshing nod to the famed Manchester Tart.
The brainchild of the previous lead chef Aiden Byrne, he has now passed the baton onto fellow Liverpudlian Brian Hughson, who ensures his 20 Stories style is focused upon 'good, honest food'.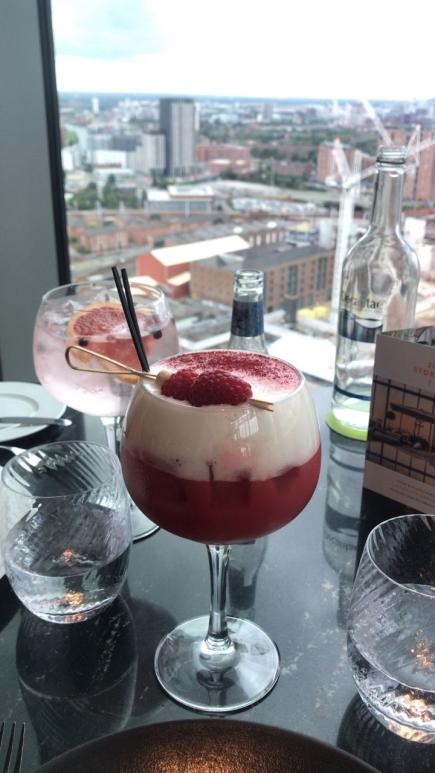 The head chef has exercised his expertise at world-renowned venues across London, Dubai and Manchester, and has even catered for Her Majesty the Queen and The Prince of Wales.
With a royal stamp of approval, Hughson is hot on the heels of Manchester's finest culinary masters.
You might want to bring your cheque book if you're after drinking the bar dry though – but what else can you expect from a fine dining establishment?
Possessing an undeniably elegant ambience, you know that you are paying for more than the drink.
The 360-degree views of Manchester and beyond are hard to beat.
An urban escape 19 stories up from the buzzing metropolis of Spinningfields, it's the place to be rain, sleet or shine.
Now the fun really starts. Dessert!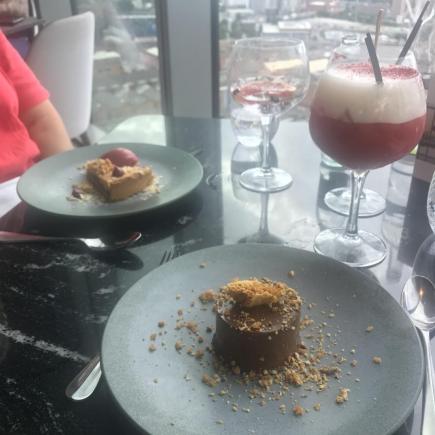 A caramel chocolate mousse, somewhat the safe option, but a guaranteed decadent dessert.
Velvety and elegant, the mousse was showered in honeycomb shards, which delivered the obligatory splash of colour and grain to it.
A delicate dessert spoon is all that is required to unleash an oozing caramel centre, its sharpness providing an indulgent accompaniment to the hearty mousse.
Then, a Cherry Bakewell with cherry and almond sorbet.
A 20 Stories take on the classic British confection, which did not disappoint.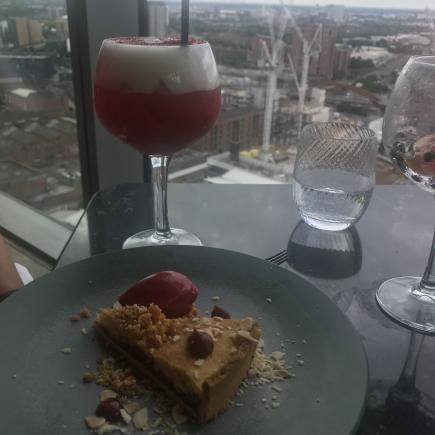 Packing a punch as well as a crunch, a firm pastry tart encased a tart layer of cherry jam and frangipane beside a gaudy scoop of cherry and almond sorbet.
You'd be forgiven for thinking that it might be too cherryish. Yet each element gave something different to the dessert.
The sorbet was the ideal sidekick to the Bakewell and the perfect palate cleanser.
At £23.50 for three courses, the 20 Stories lunch is an absolute must.
The impeccable personalised service and gorgeous settings are enough to make anyone return, but let's have it right, there are not many places which boast a view like THAT from the bathroom.
Even the sinks are hi-tech!
An extraordinary eatery with sky-high standards, I cannot wait to return.