There's no case of wrong place, right time at Anglo-French restaurant Randall & Aubin despite strolling in for a meal on Chinese New Year weekend.
Nope, this is very much the right place on a relaxed Sunday evening. We're handed an oyster shell in exchange for our coats and then whisked 20,000 leagues under the sea for an exquisite evening of ocean delights.
There are higher seating options perhaps for a quick bite and a drink while at the back of the restaurant – now in Manchester after more than 20 years of operating successfully in London following its 1911 opening as a butchers – there's a vast seating area at the back with plenty of welcoming tables for a longer dining experience.
When you've seen the menu you'll agree that R&A caters for both, but you could spend a long time selecting different options. This is a restaurant to keep coming back to.
But first – the drinks. Everything points towards white wine so we mix it up – one glass of the Borsao Selección Garnacha Tinta from Campo de Borja in Spain, which boasts rich plum & red fruit mixed with dark chocolate. Divine.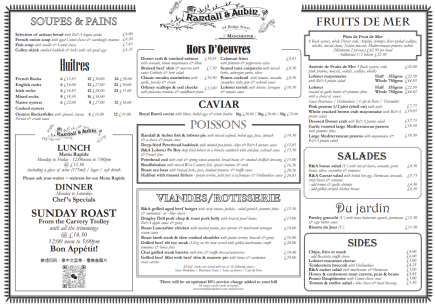 Then a glass of Muscadet sur Lie 'La Griffe', Chéreau Carré from the Loire Valley in France. Inscribed underneath is "THE seafood wine. Made for washing down oysters. House favourite."
So we've got the table and the wine. There's a steady buzz around us as people mingle and the staff are excellent. Time to order from the menu.
We plump for the seared tuna carpaccio with mixed herbs, aubergine purée and olives to share alongside six oysters Rockerfeller (below) with spinach, bacon and a delicious Pernod & cream sauce.
What seems like seconds later and we're onto our mains – the place is almost timeless, we spend a shade under two hours in there in what feels more like 30 minutes.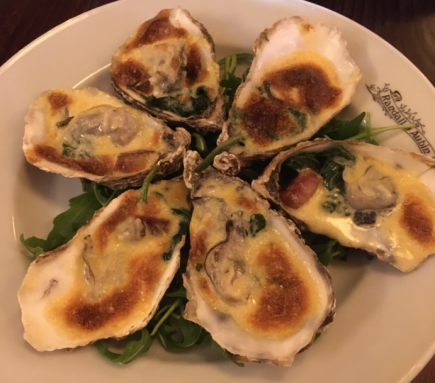 Once again we mix things up by ordering a roast sea bass (below) with braised leeks, peas, fondant potatoes & truffle sauce (effortless and easy to eat) with an R&A fish & lobster pie that comes with mixed seafood, boiled eggs, peas, spinach and a cheese & potato crust.
"You like your cheese don't you guys?" asks our friendly host, before we delve into a conversation about oysters.
You'll see on the menu a whole variety – Irish (quite meaty), French (creamy), English (simple) and native (rounder as they are plucked from deeper in the ocean). Turn up for a meal, leave well fed AND more informed. What's not to love?
Well, at £13.50 a glass the Albariňo, Mar de Frades from Rias Baixas in Spain might turn some off. But described as "arguably an unrivalled match with seafood & shellfish. Peerless" and it's hard to disagree. Another glass of wine disappears.
It can't really get much better but with an R&A Affogato that comes with Grand Marnier over vanilla ice cream, somehow it does.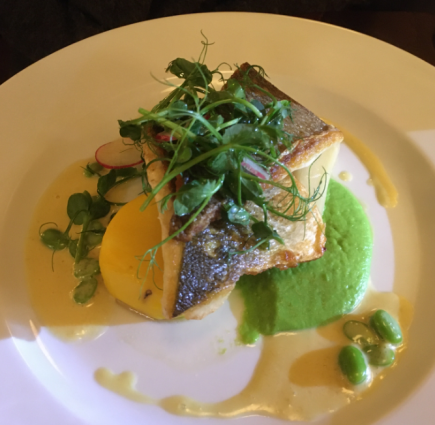 A shared panna cotta with blood orange and honeycomb (below) and a salted caramel tart later – also with honeycomb adorning the plate – and we're in heaven.
Not once were we advised on best choices or recommendations (which we loved) and immediately we were lining up another visit as we walked away up Deansgate.
The evening and menu felt like a choose your own adventure novel where there's no real failure in sight. Nights like these are very, very hard to beat. 
You can find Randall & Aubin here: 64 Bridge Street, Manchester, M3 3BN