Legendary ex-Mark Addy chef Robert Owen Brown is to take up a guest residency this weekend at the last of the Guerrilla Eats street food events.
The Manchester food icon, who has worked for some of the city's biggest restaurants including The French, Reform, and Lounge Ten, is heading to Shudehill-based Guerrilla Eats for the last of this season's 'Chef's Table' events.
Joining meaty street food connoisseurs James and Richard from Bangers and Bacon, Robert has laid on his own six-course menu for the night featuring some of his personal favourites and a range of quirky takes on classic dishes.
Tickets had initially sold out for the two sittings of 30 people, but yesterday organisers put up another 10 for each in a bid to satisfy all those who had missed out.
MM caught up with Rob to chat about the menu and to talk about the inspiration behind such dishes as meaty pick and mix, horseradish-crusted ox heart and Vimto trifle.
Running us through the six courses, he passionately began to explain the starter.
"James has a background in the meat industry, you know, as a butcher and an abattoir man, and I've got a passion for offal, so we're starting off with a meaty pick and mix!," Robert said.
"There's all sorts of crispy bits of yummy, tasty squidginess. There's some tripe in there and lots of other different things."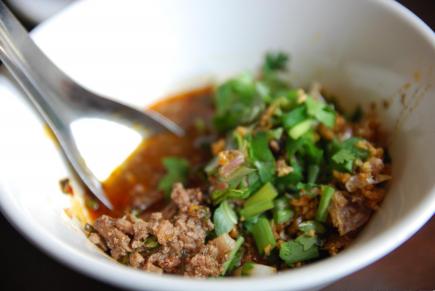 VEGETARIANS STAY AWAY: Saturday's menu will open with a 'meaty pick and mix' featuring offal and tripe (© Alpha, with thanks)
Joining the two boys from Bangers and Bacon – who previously used to be customers of his during the Mark Addy days – Rob said that a lot of the dishes were inspired by the pair's love for pig.
"Next up is a classic spicy mulligatawny soup accompanied by a steamed bacon dumpling. It's almost like the gelatinous, gooey taste that you get with a bacon rib, but we're going to put that into a dumpling.
"And following that, a flash-fried ox heart. It's got a fresh horseradish crumb and we're serving it with a balsamic jelly of all things!"
Describing the sheer great hulk of meat as 'underrated', Rob explained that it has often been considered something that needs braising or roasting for a long time.
"But if you cook ox heart really really quickly, flash fry it and keep it pink, it's a wonderful tender piece of meat.
"So we've just taken the stuffing and turned it on its head – put the stuffing on the outside and changed the cooking time from long and slow to super quick. The tanginess of the balsamic, it really works, it brings out the irony flavour of the ox heart."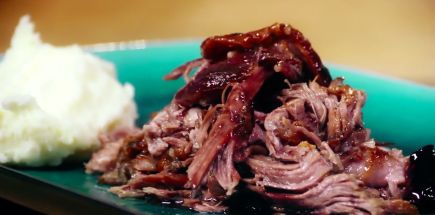 AGE-OLD TECHNIQUE: The boned and rolled shoulder of lamb in hay this weekend (© Waitrose, via YouTube, with thanks)
For the main, a boned and rolled shoulder of lamb stuffed with lavender. Rob mentioned that it was to be cooked in hay – after we did a bit of a double take, he explained that it's an age-old technique that adds a pungent flavour to meat.
"It's just clean, fresh hay, but you've got to dampen it first. You don't really want hay to burn; you just want it to release all of its natural oils and flavouring.
"Heather works really well with it as well. Get yourself some green heather – you can imagine the smoke you'd get off it – a really herbal flavour, a really delicate smoke of flavour."
In a nod to the title of his 2013 recipe book, Crispy Squirrel and Vimto Trifle, he chose to finish the meat extravaganza with a dish close to his heart.
"For dessert, it's a particular favourite of mine, a classic Vimto trifle. Sherry trifle, take the sponge out and replace the sherry with the North's favourite cordial," he said.
And then, as if all that wasn't enough, a round of regional artisan cheeses to finish, served with a fruit sausage, slightly spiced with cinnamon and ginger.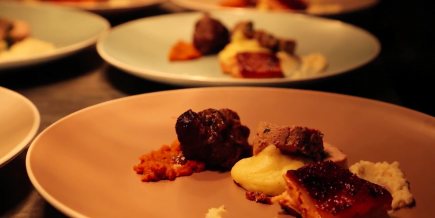 LOVE FOR LOCAL: Rob joins the boys from Bangers and Bacon who have a passion for anything piggy (© My Trip This Year, via YouTube, with thanks)
It's an adventurous menu, but one which totally befits Robert's North West roots and his love for fresh, local, seasonal produce.
Before we left Rob to get on with making the final preparations for Saturday's event, we asked him what he made of the city's burgeoning street food scene.
"I love it. I think I love it for a lot of reasons," he said.
"It's great especially for the younger end of the market. They're able to start their own little business, get themselves out working in an economy where the future isn't bright and there are no jobs for life any more.
"Having them doing something they believe in, earning themselves a living, providing a bit of joy and love for people – you know, I think it's all very exciting and long may it continue!"
Although tickets for the 6pm sitting for Saturday's Chef's Table event at Guerrilla Eats have now sold out, a limited number priced at £30 for 9pm are still available here.
Image courtesy of My Trip This Year, via YouTube, with thanks