Indian Pakistani restaurant, Royal Nawaab in Levenshulme, was uncharted territory until Monday night.
My palette is already familiar with the attentive mixtures of ground spices that dominate this popular and often disappointingly, Westernised cuisine, so the urgency to dine out on it was absent.
I prefer the comfort of a friend's kitchen where I see the chapattis being handled with love.
However, I lost my chicken Biryani virginity (a Balti was too cliché) though I'm sure that nestled amongst the fashioned rows of diners and the plates piled foolishly high, I was definitely the only one.
Approaching the restaurant, its logo stamped at the side of the building summoning my friend and I that way, there was a cluster of exquisitely dressed, soon-to-be diners gathered in front of the entrance.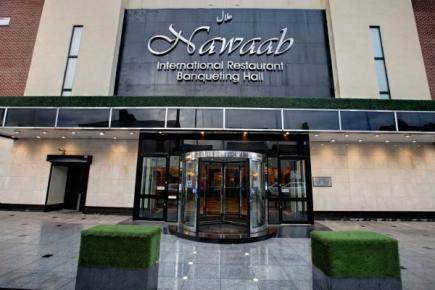 GRANDEUR: There were sports cars and exquisitely-dressed diners gathered outside
Dotted around were fancy sports cars that sparkled as though fresh from the showroom with ribbons attached. I wondered if I'd picked a bad day.
Our guess was there must be a wedding reception and wearing trainers/ glorified plimsolls, we joked that perhaps we were a little underdressed for the occasion.
But we had more important things to worry about, like finding a parking space.
Thankfully all the grandeur that Nawaab proudly boasts on its website, where it invites you to take a 360 virtual tour of its interior, paid for an attendant who gestured us to available spaces.
One powdered nose later and we walk past more pockets of shiny crowds in the grand foyer where there is not an eyesore chandelier in sight.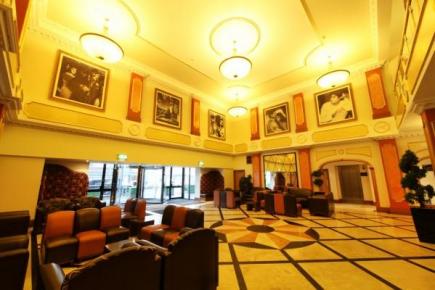 SOFT AS A PEACH: There was not an eyesore chandelier in sight but neautrals peaked with gold 
Instead the decor has meek undertones – peaches and soft lighting finished with gold that transformed into sultry mahogany in the main restaurant.
A bit dark, but it made for a nicer atmosphere and view of the water feature behind the bar that also greeted us on our way in.
Once a cinema house, the building boasts dramatically high ceilings, mirrors tall enough to make for a great group selfie, and arched gateways that lead into different parts of the restaurant.
Vintage black and white photographs hang down, of who I assume are Bollywood favourites, looking demure and enviously eye bag-free.
Once inside, first impressions were overwhelming.
Every sense was invaded and the height which we were at gave a welcomed vantage point of the open kitchen stretched across the length of the room.
It was best described as organised chaos.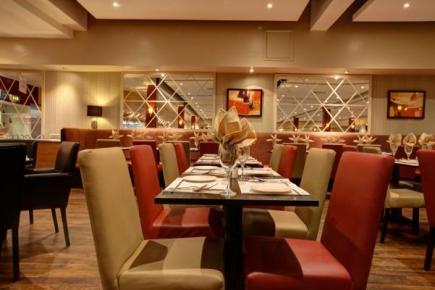 OVERWHELMING: The sights, sounds and smells of the huge interior invaded all the senses
Nonetheless, we were saved by Prince Charming, Qaiser, one of the senior staff members who escorted us straight to a central top table, just behind the station of English foods – garlic breads, pizza and the boring like.
Our drinks orders were taken not long after from what was an extensive menu, despite the lack of alcohol.
Nawaab is a strictly poison-free zone, but being child-friendly and adhering to religious beliefs, I could easily tolerate it.
With the invigorating choices of mocktails and fresh juices, alcohol wasn't missed and my Mai Tai – pressed apple juice, citrus and almond syrup – was refreshingly sweet and zingy in between courses, and by no means as heavy as the round of Lassi the gentlemen next door to us were drinking.
Before we had the chance to rise from our armchairs, Qaiser surprised us with a plate of mixed starters.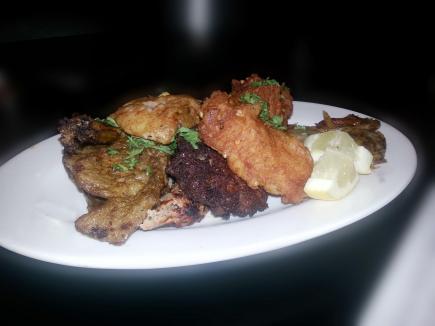 SURPRISE STARTERS: The spices were slight but still enough to satisfy a curry conoisseur
Lamb chops, fried masala fish and kebabs, sprinkled with finely chopped coriander; one of my favourite herbs.
The chilli seeds were visible from underneath the thin batter on everything, yet the spices were slight, and still able to permeate my knowledgeable taste buds.
"These are lovely, a bit spicy," said my friend, pointing at a kebab on her plate, but I must have had a lucky batch as the warm tingling inside my mouth was just enough.
More sips of Mai Tai later and the waiters arrived to clear our plates, giving us time to observe the bustle around us.
A brave waiter shuffled past at a pace, demonstrating what looked like a 15 plate juggling act using every inch of his arm.
Meanwhile, chatter and clatter became the evening's soundtrack.
Any louder and the cacophony of noise would have tipped the frail balance between atmospheric and distracting, but despite the slight overcrowding, we didn't at all feel rushed.
The food was kept in silver terrine-style huts that you slid open to find your surprise – a classy and smart feature that I'd not seen at a buffet.
And though there were signs above each pot telling guests what was inside, the labelling was lazy and gave no indication of what ingredients were used, how it was cooked, or even which part of Asia it represented.
So not ideal for food intolerances or just general knowledge seekers.
I'd termed our second lot of starters, Pakistani-tapas, for their bite-sized appeal. Precisely made but filling.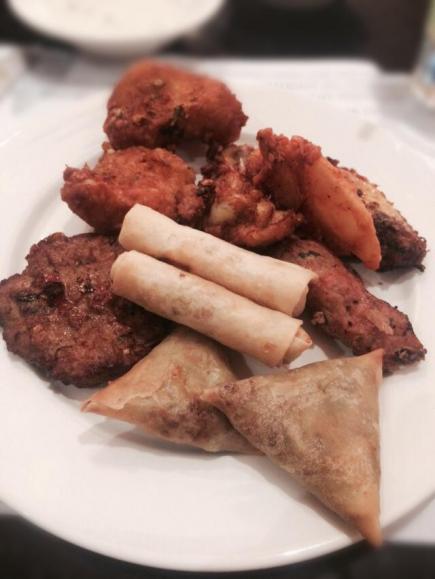 'PAKISTANI-TAPAS': Named, by us, for their bite-sized appeal these were precisely made and nicely filling
Highlights:
Masala chips – spiced, lightly battered chips; a truly Asian and British fusion.
Raita and Cucumber Mint sauce – delicately blended and so, so needed.
Chicken chapli kebab and Boti tikka.       
Lasting more than three courses at a buffet reverts back to methodology – periods of rest followed by short bursts of gluttony.
We failed, and gladly could have called it a night at this point as we couldn't foresee desert.
We decided on the sample-a-teeny-bit-of-everything method to see us through to the end.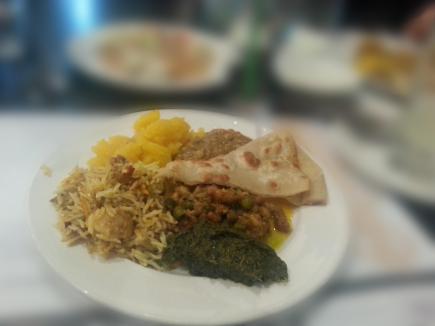 MEATY MAINS: FInding a vege option was tough, in fact, the chicken biriyani was listed as vegetable
Armed with a hot plate we opened and closed the hatches, but sadly I was a little disappointed with the vegetarian options.
Not solely because that was where I found the chicken Biryani, but also because – minus rice, mixed vegetables and variants of lentil Dahl – the choice seemed slim.
Highlights:
Paratha – another piece was absolutely necessary.
Sooji ka halwa – a sweet escape from savoury and flavoured with raisins. Perhaps an acquired texture as it's made with semolina, the chef explained.
Butter chicken and Aloo Gosht.
As you can imagine the intervals between meals had lengthened by this point, giving Qaiser time to return with a jug of water and a chat.
Levenshulme, he described, was an amalgam of cultures, some of which I'd ate with in Nawaab. The restaurant is an old friend amongst neighbours and had grasped their affection.
Before we slothenly arose to claim two scoops of ice cream, we had a last glance around and the diners continued to pile in.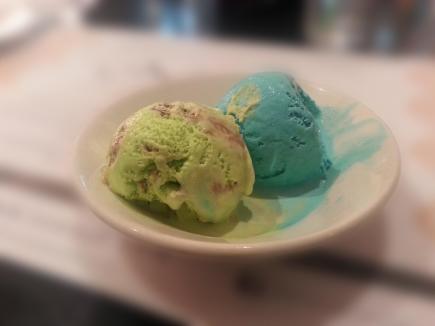 THE SWEET STUFF: The ice cream selection was plentiful and a nice small finish to a huge meal
The queue remained lively, meanwhile our stomachs had given up the challenge.
Perfect then that desert was served in petite bowls that hinted to 'end small'.
Highlights:
Mint and chocolate chip ice cream.
Warm Gulab jamun – a knowledgeable waiter suggested to try the famous floating desert with vanilla ice-cream, but who wants vanilla when you can have bubblegum?
So off we went back through the vast foyer – the breeze wafting the pungent smell of curry and satiation coated over us.
It was unanimously decided that this would be farewell to Royal Nawaab, but not at all goodbye.
Price: Adults: £14.95 per head. Children under 11: £7 per head.
Disclaimer: Any individual sat at the table will be expected to pay for a meal.