The critically acclaimed play Rotterdam returned to Manchester Opera House last month after two of the main cast were targeted in a homophobic hate crime in Southampton – which caused two previous showings to be cancelled.
Lucy Jane Parkinson and Rebecca Banatvala, star in Jon Brittain's Olivier Award-winning production and are a couple both on stage and off.
They were left shaken and shocked after stones were thrown at them, and verbally abused by occupants of a passing car believed to be a group of young men.
Lucy said the couple were close to the Nuffield Southampton Theatres (NST) and had been sharing a kiss and a hug when Lucy was hit in the eye and temple by objects thrown from the car and was knocked to the ground.
Lucy told MM: "I'm just pleased that it was me that was struck and not Rebecca, as any partner would feel.
"Rebecca was left feeling concerned and worried obviously, but we are both just glad that my injuries weren't more serious."
NST was forced to cancel two performances of the play when the actors were left too distressed after the attack to be able to perform.
The incident was reported to police although so far no one has been arrested.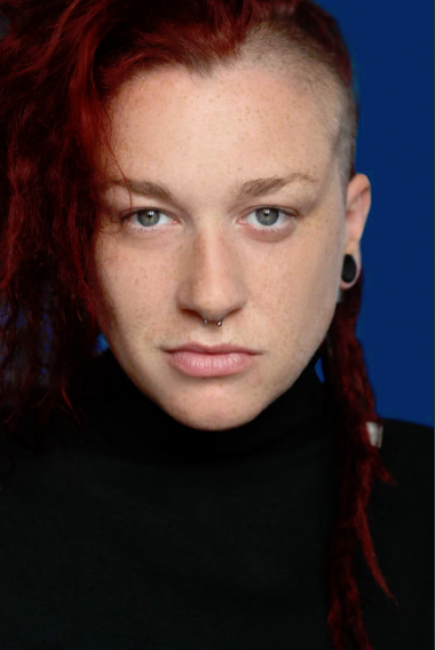 Lucy was happy to be back on the stage in Manchester and feels the Northern city is more accepting and supportive of the LGBT community than anywhere else in the country.
Lucy grew up in Yorkshire and studied Contemporary Theatre and Performance at Manchester Metropolitan University, before going on to London to complete an MA in Contemporary Performance Making at the Brunel School of Arts.
Lucy describes the play as being very important in highlighting the issues faced by those in the LGBT community and identifies as trans non-binary and prefers not to be referred to as either he or she, but they.
The decision by the show's creator to cast trans and non-binary performers like Lucy brings a depth and realism to the production that would be difficult to replicate without.
Lucy plays a character called Fiona who has been openly gay for many years and living in Rotterdam with her girlfriend Alice and her brother.
Alice, played by Rebecca Banatvala, is about to tell her parents that she is a lesbian and has a girlfriend when Fiona drops the bombshell that she has always identified as he and wants to start living as a man called Adrian.
The rollercoaster of raw emotion envelops the audience from start to finish as both Alice and Adrian come to terms with the repercussions of what this decision means for them both as a couple and individuals.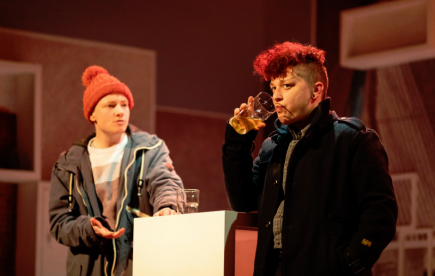 Their story is told with humour and compassion but it is clear that the performance is much more than just a performance for the actors.
Many of the conversations taking place on the stage are based on real life situations that the actors and writers have experienced themselves.
The performance offers an insight and an education to a non-binary way of life that has never before been seen in the UK.
Describing their own journey, Lucy said: "[It was] a difficult and a very lonely time because years ago there wasn't the language for people like me to be recognised and accepted under these terms."
The show reflects much of the conflict and angst Lucy went through as a teenager, who describes their own teenage years as "a tough time" and describes coming to terms with "my own queerness" as a difficult period.
Lucy performed as a drag king in London and through performing "as a bloke" they said they were able to see how it really felt and whether this was something they would want to experience permanently.
Lucy explained the time spent performing as a man was instrumental to them in the journey to becoming comfortable in their own skin.
It was a time that allowed them to grow as a person and to develop an understanding of themselves and who they wanted to be.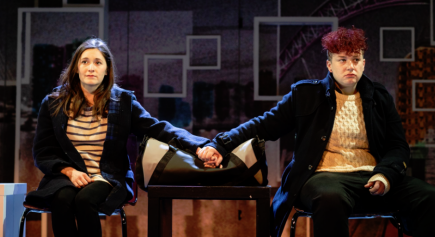 Lucy said: "I began to realise that objectifying women was not cool, I became comfortable around men and I also realised that I didn't need to make that permanent decision about my own body.
"Performing as a man allowed me to dig into my own identity and I realised that mine was more of a pendulum identity. I don't have the need to transition."
Lucy's character Adrian decides that he does want to transition and the play discusses and explores the impact such a decision means for his friends and family.
Adrian's announcement causes Alice to question whether she is still a lesbian if her partner becomes a man.
The character's portrayal of the trauma and angst is incredibly moving and by speaking to Lucy it is clear that the rollercoaster of emotion that the characters go through on stage is reflective of what the couple and indeed thousands of other people have been through themselves.
Coming out to Lucy's own parents was more of an explosion than a planned conversation and Lucy explains that it took them a few years for them to really understand and accept their child's sexuality and coming to terms with it.
It took a long time but fifteen years later they couldn't be more supportive and Lucy feels fortunate to be able to use her experience to portray a character like Adrian.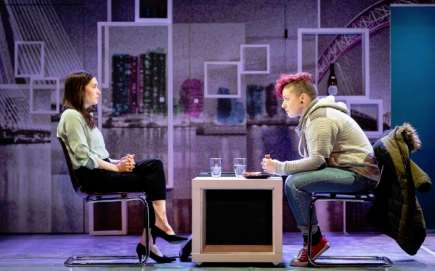 Lucy was about thirteen years old and had been grounded for the summer at her home in Yorkshire when they decided to sneak out of the house to meet up with a girlfriend.
They were spotted by a relative who told Lucy's parents what she had seen but hadn't actually realised it was another girl Lucy was kissing at the bus stop.
Then the argument erupted at home as Lucy's parents demanded to know who the boy was and were devastated when Lucy shouted that they had a girlfriend not a boyfriend.
Lucy's mother was shocked and upset and shouted: "What do you want to be one of them for?!"
Lucy said that it was a relief for the truth to have come out and as a teenager they had become sick of feeling "gross" or "bad."
A few years down the line Lucy said that the conversation with their mother was very different.
Lucy explained: "When I told my mother that I was considering top surgery she just said 'I don't care if you want to look like a giraffe, as long as you're happy'.
Although the play tells a serious story, the script is chocked full of caustic wit, entertaining the audience and providing much needed light relief as the tragic tale unfolds.
The casting of Stella Taylor as Lelani, Alice's 21 year-old colleague, adds authentic Dutch humour and glamour to the performance and allows Alice to reinforce her belief that it is women she is attracted to.
Paul Heath plays Adrian's cis-gender brother Josh and Alice's ex-boyfriend and supports the couple through their journey.
Exceptionally funny, he frequently flips the mood and provides a vehicle for Adrian to illustrate how difficult life has been for him, growing up in a body that has never felt 'right'.
Lucy describes how much effort and energy goes into each performance by the entire cast and they considered themselves extremely fortunate to be able to have a few days off to enjoy Manchester before the play moved onto Oxford.
After the events in Southampton, Lucy was looking forward to taking their girlfriend Rebecca Banatvala to the bars of Canal Street.
They have been a couple for 11 months and love performing together as Alice and Adrian but don't have the arguments or issues to deal with that their characters have.
Lucy said: "After a show we all just have to sit down and try to wash the emotion off us.
"We have a drink, talk about the highs and lows of the evening."
Being back "up North" also meant that Lucy's family were able to come to watch the play.
They said: "My mum and sister came to the performance and my mum cried. She said how brilliant the play was and how proud she was."
"And as well as having my family come along, it's also just lovely being at the Opera House.
"I'm so touched by the flurry of good will and love we've had.
"We've had so many nice messages and cards. I love being in Manchester and we definitely get the most support here."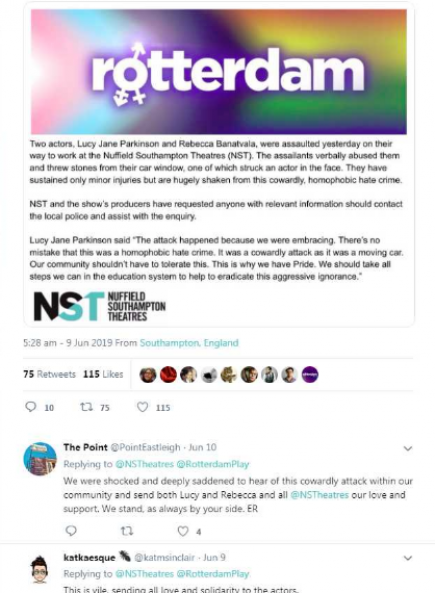 The attack in Southampton was the first time that Lucy has been physically assaulted because of their sexuality and it came shortly after a young lesbian couple were attacked on a bus in London by a group of teenage boys and left covered in blood.
Lucy believes that a lack of education surrounding sexuality and gender identity is to blame for the rise in homophobic and transphobic behaviour that is particularly prevalent amongst teenage males.
Lucy said: "I think that there's a lot of work that needs to be done by schools and teachers and parents to educate youngsters today.
"There's a real problem with aggression and a toxic masculine culture with youths that is perpetuated by ignorance.
"They need to be educated so that they know that they don't need to be violent and angry to be an alpha male, there are other characteristics that can be developed."
Lucy was keen to emphasise to the police who were investigating that they would very much like to be able to speak to those responsible and help to educate them about their lifestyle.
Lucy said: "There's no point in them just being prosecuted for what happened. Justice without education just fails people.
"What I'd like to do is sit down and have a conversation with them. I'd like to see if we could reach some sort of common ground."
Lucy believes that the events, which took place in Southampton and London, simply reinforce the need for plays like Rotterdam.
These sentiments echoed by the NST Theatre who released a statement that read: "We are doing all we can to support the team and thank our audiences and colleagues for their support.
"We are devastated that this kind of behaviour is still so prevalent, a fact which reinforces the importance of this play's message."