Manchester Canalsiders say more progress is needed in tackling homophobia in rugby, as the world's first LGBT rugby league team celebrate a year competing.
MM caught up with them at the end of their first full season to see how it went and discover that while great strides for equality have been made, many players feel they had to 'come out' twice – once in their private life and again in the dressing room. 
The image of rugby league as a tough working man's game with its heartlands in Lancashire and Yorkshire may not seem like an obviously progressive and inclusive sport.
But most rugby league fans will tell you there is a tradition of openness and acceptance built on 'family values'. Supporters take pride in the lack of trouble on the terraces and even self-police against bad language.
These core principles are reflected in the experiences of the Manchester Canalsiders ARLFC and their coach and player Lauren Houlton.
"The rugby league community is totally different from football. Fans mix all the time so there's very rarely any trouble," said Lauren.
"Everywhere we've been, from the professional to the amateur clubs, everyone's been so welcoming and supportive."
Lauren described how from the first tournament at Rochdale's international mixed tag rugby league festival, the Manchester LGBT club were made to feel part of the community.
She said: "The biggest thing for me was when we played at Rochdale Swarm. There are lots of well-established teams there – a lot male, but a couple of female and mixed teams as well.
"When we got there people were sort of looking at us like, 'oh we don't know who they are', but by the end we were all mates and we won the Spirit of the Tournament award."
The sports' governing body, the Rugby Football League, should take a lot of credit for the initiatives put in place to combat discrimination and foster this feeling of acceptance.
Canalsiders co-founder, chairman and coach, Martin Owens, was quick to praise the support and encouragement the team received from the RFL and its top clubs.
"Rugby league has led the way for a while. Since about 2010 they had a tackling homophobia campaign with Sheffield Eagles and they've led the way through with their policies," said Martin.
"From the Salford Red Devils to the Leeds Rhinos to the grassroots clubs, everyone has been so supportive. They've said it's about growing the sport and that's what is needed."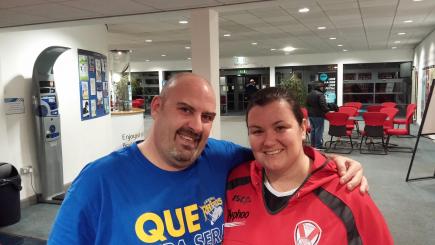 PART OF THE COMMUNITY: Canalsiders co-founder Martin Owens with coach Lauren Houlton. They say everyone's been welcoming
Canalsiders ARLFC have been competing in an entry level league playing teams across the North West and the reception appears to be just as positive.
Martin said: "We've had no homophobia when we've played games, we're just guys and girls that want to go out and play rugby, have a good time and go and have a beer afterwards.
"When you first walk out for your first game, you think 'oh god!'. But afterwards the reaction was just, 'yeah you're a bunch of gay lads but you play just like everyone else does. It doesn't matter what you do in your own private life."
Although homophobic incidents are rare in the sport, there was one high profile incident this summer when Leeds Rhinos fullback Zak Hardaker was charged with using homophobic language on the pitch.
He was handed a five match ban and fined £300 after his comments aimed at a player were interpreted as homophobic abuse of the referee.
As part of his apology to the LGBT community he came to Manchester to meet Canalsiders and train with them.
"Zak and Brian McDermott came down and did some coaching with us," said Martin.
"As a grassroots rugby club, to get a Super League player and coach to come down and train with us and actually give us some tips and things was great."
The coach at Canalsiders has a firm but fair view of Hardaker's actions and believes he should be forgiven after his apology.
He said: "It is unfortunate that if you've done something wrong, any accusation sticks with you. He said sorry and he apologised to the community wholeheartedly. He should be left alone to play his rugby.
"Things are said on the pitch – said in the heat of the moment, but they shouldn't be. Although I don't condone it in any way, they should be taken into context."
The Hardaker comments show that work still has to be done in order to eradicate homophobia in sport. The very existence of Canalsiders, a team set up to encourage LGBT people to play, proves the point.
Martin said: "Although rugby league and rugby union teams are both very inclusive, you sometimes don't get that feeling, you have to come out twice.
"We set the club up primarily for people who were LGBT so they could play the sport that maybe they'd played in school and didn't feel like they fitted in.
"Although we are an LGBT club we welcome anybody regardless of race, gender, and sexuality. At the end of the day it's just about going out there and playing rugby."
The team are currently recruiting players through the close season for either full contact or touch teams.
They train at Bell Vue Leisure Centre on Tuesdays, 7-8pm.
Top image courtesy of Manchester Canalsiders, with thanks