G-A-Y's members-only door policy has been slammed by punters who claim they have been turned away for 'not looking gay enough'.
More than a year on since an MM article challenged the door policy, visitors to the Village are still talking about the issue, sharing their stories and making their voices heard – while the MM inbox has been flooded with your own experiences. 
In 2014, gay rights have been strengthened in this country with the introduction of same-sex marriage – but does that mean that everybody is equally entitled to drink where they wish, regardless of sexuality?
Victoria Henshaw, a lesbian who moved from Canada to the city, told MM: "I had been to G-A-Y a couple of times with friends who fit the tomboy stereotype and were allowed in, but I was very shocked when I visited there with a male friend who looked straight and I was told members only.
"I left there embarrassed and couldn't help but tear up because I had heard of clubs like this but had never experienced it in all my years after coming out.
"It really hurt to be honest. It made me feel like I had to look a certain way to be accepted, something I have already struggled with in the past."
An argument typically raised is that, if a straight club were to turn away gay people in their droves, it is likely the establishment they would be boycotted, shamed and potentially have their licence revoked.
It is illegal to discriminate in this way – yet procedures that turn away straight revellers at gay venues are in place up and down the country.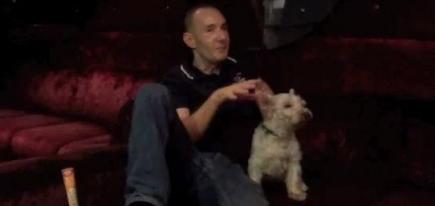 TWITTER STORM: Jeremy Joseph's comments caused controversy (©Visit Manchester via YouTube with thanks)
Questions were raised over G-A-Y promoter Jeremy Joseph's stance on the matter when he expressed his feelings in a tweet while One Direction performed at his London club Heaven.
The bar owner had organised the event to coincide with his birthday and it seemed he was not happy about the prospect of thousands of screaming girls at his club, which is aimed at providing a fun atmosphere for the LGBT community.
My birthday wish is for little girls to realise that G-A-Y is a lesbian & gay club so there's only ONE DIRECTION & thats No Direction 4 them

— Jeremy Joseph G-A-Y (@JeremyJoseph) January 15, 2011
£3 Wrist Bands for ONE DIRECTION At G-A-Y tonight available at G-A-Y Bar, hoping the name G-A-Y, isnt too Subtle???? It's G-A-Y not Str8

— Jeremy Joseph G-A-Y (@JeremyJoseph) January 15, 2011
Jackie Crozier, of the Village Business Association (VBA), told MM: "As the chair of the Village Business Association and a prominent and proud member of Manchester's Gay Village for many years, it is with great sadness that I read of the recent comments regarding exclusivity at G-A-Y.
"A part of the VBA's mission in this period of regeneration, the aim is to ensure that Manchester's Gay Village remains a welcoming, inclusive and tolerant public space where its frequenters feel comfortable and safe.
"G-A-Y as both a bar and a business have consistently provided a safe and welcoming place for the LGBT community, and I am confident that they will continue to do so in the future."
The unspoken profiling of people at gay venues is a prickly issue, often not discussed by bar owners, which makes it that much harder to address.
Groups of straight people are regularly turned away from the bar and many people who contacted us have said that gay regulars are often stopped if they arrive at the venue with a friend or friends the door staff perceive as straight.
Rash decisions that are potentially grounded on judgements regarding sexual orientation, have left many gays in the city feeling ostracised for not fitting a certain profile.
Ryan Laskey, a student from Preston, faced problems when he decided to have a night out in Manchester with a few straight friends, he was refused entry when the doorman did not believe he himself was gay.
He said: "It was only when I got out my phone and showed Grindr on my home screen did he believe me and let us in – but not before telling us 'No trouble, boys. Yeah?'
"It didn't strike me until a few days later how serious it was what had happened. I was almost rejected from a club that catered specifically to me purely because I didn't look gay enough."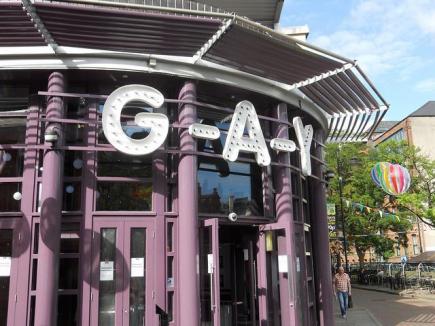 UNDER FIRE: G-A-Y has faced a backlash over it's entry policy (©Gene Hunt, with thanks)
Observers of this issue argue that the door policies are a good way to create a safe space, where the LGBT community is free to be themselves without the threat of abuse or harassment.
When people first started going to Canal Street, homosexuality was illegal, discrimination and intimidation were the norm and many faced a great deal of hatred for being openly gay.
Although times have moved forward, homophobia is still very much present in our society, many believe that establishments like G-A-Y provide somewhere for members of the community to relax and meet others.
"I fully support LGBT people's concern about possible violence mainly from young heterosexual men but also the symbolic violence from heterosexual visitors that stems from more ingrained, habitual homophobia," said Dr Paul Simpson, a gender and sexuality lecturer at Manchester University.
"This is separatism as a necessary means of relaxation and time-off from the heterosexual gaze but falls short of pointless, injurious separatism."
His feelings were echoed by colleague and sociology lecturer Andrew Balmer, who said: "Door staff have to make quick decisions and a lot of that will be based on their instinctive intuitions about a range of factors, including riskiness, sobriety, image and – I imagine – sexuality.
"A good comparison would be the way in which some gyms and swimming pools have 'ladies only' times or areas because of the way in which gender discrimination and social norms around women's bodies make gyms and swimming pools places of potential exclusion for women.
"It isn't ideal but it is important given the current status of our social relations."
This view is rebuffed by Zach Roddis, a Manchester resident who doesn't subscribe to stereotypes but thinks he would be described as 'straight acting'.
The gay 23-year-old punk no longer even attempts to go into to G-A-Y, he said: "Sexuality is no longer looked down on in mainstream culture – being homosexual should not and does not matter.
"It has little relevance for the open-minded majority, yet the call for safe spaces is still a big talking point."
Zach also insists that he should not have to go to such lengths just to go to a bar.
"I cannot envisage a situation in which I have to wear my sexuality just to get into a bar," he said.
"This door policy creates an upsetting closed environment where many gay people cannot be themselves and feel they have to submit to the archetypes of sexuality just to get through a door, just to have a pint."
MM have contacted both G-A-Y and Jeremy Joseph for a comment on multiple occasions, though we are yet to receive any response.
If you have been affected by the issues raised here, please get in touch. Have you had similar experiences? 
Maybe you have worked at Manchester venues with door policies like this or agree with door policies described please get in touch.  To share your own experiences please email us on newsdesk (at) mancunianmatters (dot) co (dot) uk
Image courtesy of Mikey with thanks