Faces of intrigue, awe and admiration.
Smiles appear at the corner of their mouths, as they stare straight ahead at the awkward little man, staring back out at them from the canvas. 
Eyes slowly glide across to the next painting. Children holding hands. Their little bodies are puppet like and playful.
Colourful jumpers – red, black, blue and yellow – stand out boldly against the chalky white background. 
Boats chug into gear in the next scene, blackened chimney's ooze smoke high up into the sky and figures approach.
Eyes of intrigue swallow up the details, staring at another time and place, a scene of the past they will never see again but only for this painting.
Laurence Stephen Lowry's works exposed the landscapes of the North to a new and international audience.
He was championed as 'one of the greatest industrial landscape artists' by Matthew Green, co-director of Richard Green Gallery which pursued these works for several years.
Children, A River Bank, Man Standing On Steps and a pencil drawing, The Creditor's Meeting were all brought together for the Frieze Masters just weeks before Lowry's 127th anniversary.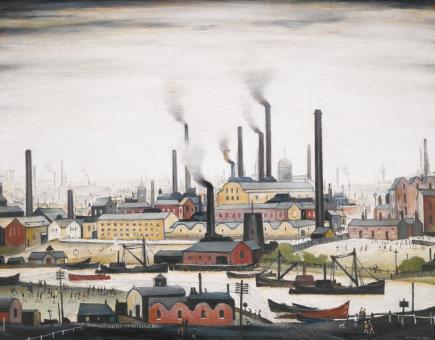 A RIVER BANK: One of Lowry's most famous paintings, it smashed the £1million mark selling for £1,986,500 (© Sotherby's, with thanks)
With nearly 130 galleries featured, ranging from ancient to modern, Lowry's work was placed just feet away from old and modern masters.
Beuys, Bacon, Constable, Cranach the Younger, Delacroix, Monet, Rubens, Rembrandt, Sisley, Turner and many more. 
The draw of Lowry's work is such that people practically peel away from the crowd and gravitate towards it. 
Born in Stretford, Lowry worked as a rent collector and clerk for a Manchester firm, living in Victoria Park with his family.
The 17-year-old took night-time art classes at the Manchester College of Art and later the Salford College of Art but few knew of his artistic pursuits outside of the work place, as Lowry did not want to be considered a 'part-time' artist. 
The French impressionist, Pierre Adolph Valette, provided Lowry with tutelage as a student and the youngster was aware of the groundbreaking impact the impressionists had made in the art world.
In the 1920's, the Lowry family were faced with harder times and moved to Station Road, Pendlebury, where Lowry's work required him to walk all around the city, taking in the views while he did.
Sketching as he went along he noted: "My subjects were all around me … in those days there were mills and collieries all around Pendlebury. The people who work there were passing morning and night. All my material was on my doorstep."
His unique interpretation of what he saw depicted the simple and austere realities of life for people living in the North at that time.
Lowry received little recognition for his work early on and after the death of his father in 1932, he was under more pressure as he became sole carer of his mother, who had been ill and bed bound for some years.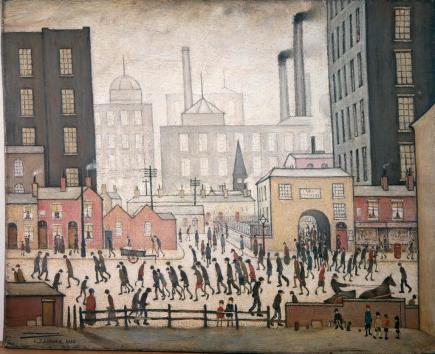 COMING FROM THE MILL: Lowry was famous for his paintings which depicted life in the North (© Robert Wade, with thanks)
In her final years, she demanded much of his time, which left little for his art, friendships or relationships.
He was a lonely man, but perhaps even more so after her death and expressed this melancholy in The Bedroom, Pendlebury, in memory of her and the time he spent caring for her in that house, where he lived for nearly 40 years.
By the 40s, Lowry's reputation was on the up and he had received his first major exhibition in London.
But he was less interested than ever in the acclaim and took solace in scenes of emptiness, preferring seascapes over the chimney's and match-stick figures in the metropolis.
As Lowry's status as an artist increased through the 50's, 60's and 70's, he became a war artist and later, an official artist for Queen Elizabeth's coronation.
Despite his growing popularity, he continued to draw new subjects, focusing on desolation, individuals and portraiture, still embracing darker times and thoughts.
Yet his northern landscapes continued to be bought and exhibited, which in turn escalated the price and appreciation for the artist's work, which became synonymous of the North on an international level.
In 2006, Bury Council were faced with times of austerity, and made the decision to sell A River Bank at auction, in order to help fill a £10million pound budget gap.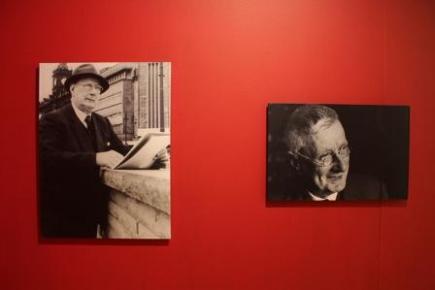 ICONIC: LS Lowry was one of England's finest artists​ (© The Lowry, with thanks)
By this point, Lowry's works were in the hands of the Richard Green's of the world.
The Daily Telegraph reported on the launch of Richard Green's Gallery in 2011 with a Lowry show, that prices for Lowry paintings had increased by an average of 11.5% per year since 1976.
More recently, Lowry's former family home on Station Road, Pendlebury, where he created the majority of his works, went under the hammer and was sold for £150,000.
There was public outcry to make it into a museum or an art school, but neither occurred. 
Salford Council said they did not have the funds to buy it at any point. 
"The house has changed ownership several times since Lowry vacated it in 1948 and its fixtures and fittings will have changed significantly inside," said City Mayor, Ian Stewart.
"Like many such historic homes, the only significant thing now is that the person once lived there."
It is difficult to understand how some can see it as 'just a house', although the interior may have changed, the history and reputation of the person remains.
And perhaps investing in it would be a more viable long-term plan with potential good return; imagine art lovers flocking to see it, as they do to see his work in multi-million pound collections around the world.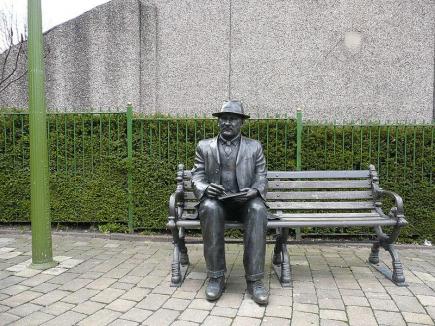 MEMORIAL: A statue of Laurence Stephen Lowry in Mottram in Longdendale (© A Carty, with thanks)
It is doubtful whether it would be what Lowry would have wanted, as he declined a knighthood five times and continued to paint up until his death in 1976, seemingly determined that his art would precede all else.
After his death in 1976 at the age of 88, the Royal Academy held a retrospective of his work, which broke all visitor records. 
What a fitting way then on Saturday November 1, Lowry's 127th birthday anniversary, we can commemorate and celebrate a man who often let his paintings do the talking.
Main image courtesy of The Lowry, with thanks