Life is full of defining moments – moments that can make or break us, see us fall in or out of love, mend or break our hearts, bring tears or joy.
They hit you like a bolt of lightning and while recovering from the blow, the only thing you can be certain of is that your life has been changed forever.
Last night as I sat in bed, wearing granny pants and a hoody I don't think I've washed in a decade, eating peanut butter off a spoon, and spontaneously serenading the cat while flicking through Tinder and wondering why a big, bearded, breath-taking intellectual hasn't come to sweep me off my feet – and ignoring that it's probably because he'd put his back out – I had one of these moments.
After a brief thought of 'thank god I didn't swipe left by mistake', I was panting with excitement, ready to roll over and let him rub my… belly…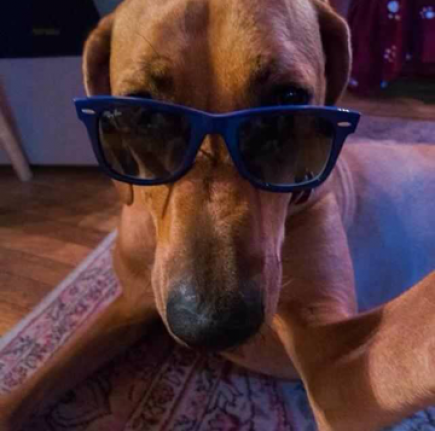 WHAT A GOOD BOY! He must be one patient pooch to put up with wearing those sunglasses
Because there he was – not the hilarious and humble hunk of burning love – but a Romeo, who's a little r-r-ruff around the edges, a real handsome hound, a Tinder genius who is using photos of his posing pooch to bring in the bitches.
I do like my men with a bit of hair on their chests…
And who wouldn't swipe right? Any Lady looking for her Tramp and to share the last meatball while singing 'When the moon hits your eye like a bit pizza pie that's amore' would be a fool not to.
The 26-year-old Manchester man, who goes by Michael or LL Cool Dawg, is clearly just that – a cool dawg.
His 'About Me' will have you howling with laughter, describing himself as an 'aspiring model for Pedigree Chum'.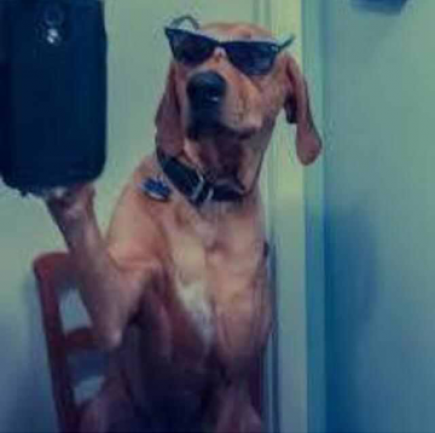 HE DOESN'T LOOK LIKE A BOWER… LL Cool Dawg shows Tinder he is a mutt of many talents
It's easy to believe after even a moment staring into those puppy dog eyes but this sexy beast does have his flaws as he admits that while looking for love he's fallen in love with himself.
He explains: "My vet says I have a rare case of narcissistic personality disorder."
The dirty dog and self-acclaimed 'postman terrorist' goes on to say: "I'm a rampaging wolf in the bedroom. I only like one position. I sniffed the asses of 10,000 others. There's room in my kennel for two bitches.
"Love cocking the old leg up. Don't understand human concept of dogging. Looking for puppy love. I''ll greet you with a bark, and some doggy banter."
Clearly this pun-tastic pup has got paw-fuls of that Weimaraner wit and enough charm to spend all day chasing tail and all night doggy-styling.
He signs off with yet another one liner that'll get your tail wagging, saying: "Smell ya later! Give the dog a bone."

HOUND DOES HE DO THAT? The incredible pics make it look like the pooch is snapping these selfies
And on a serious note – well as serious as you can be in the circumstances – this four-legged legend's photos are AMAZING. How does it actually look like the dog is snapping these selfies?
Whoever this hot dog's best friend is, we want to know! If you're LL Cool Dawg's owner Michael or know him please get in touch by clicking here.
What do you think, is this Tinder profile the dog's bollocks or is Michael barking up the wrong tree? Let us know in the comments or on Twitter and Facebook. We give him a K9 out of 10.