Morrissey may not have a stitch to wear but paper dolls of The Smiths' frontman – created by a mega fan and available online – come complete with a range of outfits, including a special Christmas number.
Artist Charlotte Furness, 31, who lives in Leeds, has been a fan of the Manchester music icon since she was a teen and her creative cut-out dolls of the brooding barriton are selling like vegan hot cakes on the internet shopping site Etsy.
The A5 caricatures of 'This Charming Man' – that come with three outfits, accessories including a Ouija board, planchette, tambourine, and an Oscar Wilde book – come with colouring pencils so you can decorate your 'Handsome Devil' however you like.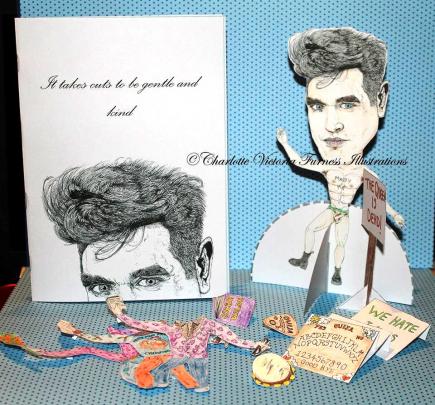 GIVE MORRISSEY A STITCH TO WEAR! It takes cuts to be gentle and kind to these paper dolls
Charlotte said: "I've had great feedback from all of my customers and even people who just admire my work. People tell me it is beautiful and it makes them laugh.
"A lot of people have bought two paper dolls at once as they have commented they didn't want to spoil them by colouring them in, so they buy one to keep and one to make."
She said the little cut out and colour books, titled 'It Takes Cuts to be Gentle and Kind', are a 'lovely treat' for yourself or the 'ideal gift' for any Morrissey fan – and as a dedicated follower herself you can probably take her word for it.
"I've been a fan of The Smiths since high school, and yes I'm a huge Morrissey fan. The Smiths and Moz mean everything to me," she told MM.
"I think there is a Smiths and Morrissey song for every moment in your life. I honestly think Morrissey's music has got me through life."
"I even have a Morrissey song lyric tattooed on my arm. 'Yes there are things worse in life than never being someone's sweetie' – something we should all remember when we don't have a date!
"Morrissey's lyrics embody everything I am about. I feel his tongue in cheek humour and sorrowful drama really connect with people."
Charlotte, who has been an Etsy seller for just over a year, loves Morrissey so much she not only calls our great city 'Mozchester' but also chooses her friends and lovers based on their views of the lyricist.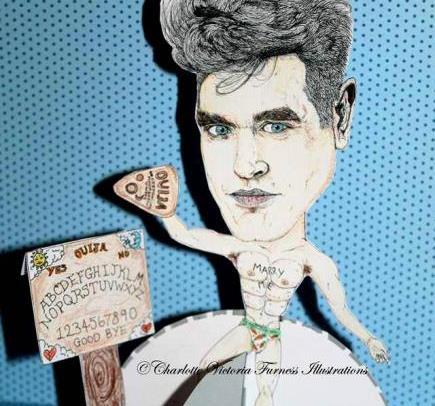 SING YOUR LIFE: Artist Charlotte says there is a Morrissey lyrics for every moment in life
She said: "It's become a standard question I ask potential new friends and dates, 'Do you like The Smiths?'.
"I think if people don't get the genius of The Smiths and lyrical genius of Morrissey, they won't get me, and it makes me cringe when people say, 'Oh The Smiths are so miserable'.
"I just think 'Yeah, you obviously don't get it!'. That's how much The Smiths and Morrissey mean to me."
The paper dolls are not the only item available in Charlotte's Etsy shop inspired by The Smiths' singer – there are also 'Unhappy Birthday' cards, 'Merry Meat Free Christmas' cards, and Morrissey pocket mirrors and badges – and there may be more to come.
"The Morrissey items are my bestsellers. I may possibly do some more Morrissey goodies – possibly bags and note books – but this means I need more money to produce them," Charlotte said. 
Funding their passion is the main problem for most 'struggling artists' – hence the saying – but the Leeds lady keeps her career ticking over by keeping herself busy with other pursuits.
She said: "I would love my art to be my main income, but alas some months I don't make enough for it to be that way.
"I also have a part-time job in a toy shop and I have a musical comedy cabaret act, which was actually very popular in Mozchester.
"I played at Mother's Ruin at The Roadhouse, and incidentally when someone reviewed it they described me as a mix of Morrissey, Sarah Millican and Kirsty Macall."
The multi-talented creative's work makes use of all forms of art and expression and always has as she started illustrating, writing and performing when she was just a child.
Her love for art is matched by her obsession with the macabre, pleasure versus pain, dark humour, and strong character narratives.
"My work has always stretched across multiple disciplines from Cabaret performance featuring elaborate costume and tongue in cheek songs to Victorian etching reminiscent of the fairy tales I loved as a child," Charlotte explained.
"The more macabre tales such as the original Brothers Grimm, warning us of the dangers and horrors life would surely bring us when we were fully grown have always resonated with me and remain the main element through all of my work. 
"Throughout my work there is also a strong presence of character and narrative, whether that be known cult classics or characters of my own.
"I often take reference from the macabre side of history, including Victorian mourning culture and Weimar Cabaret."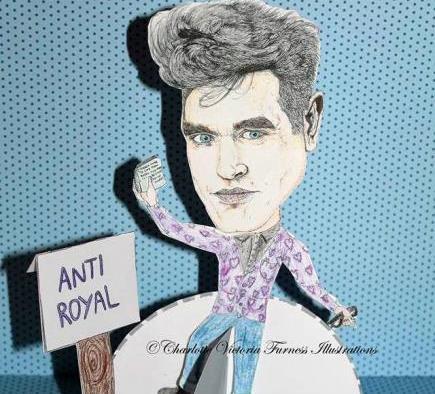 HEAVEN KNOWS I'M MISERABLE NOW: The macabre is a recurring theme throughout all Charlotte's work
The Leeds lady uses these themes of melancholy and the macabre to create her own characters and tell their stories through art – not to bring people down but to bring them joy because they can relate.
She said: "My own characters tend to deal with feelings of unrequited love and sorrow often ending in revenge.
"I combine this with dark humour to both connect with universal emotions or situations and bring a smile to people's faces.
"I like to tell the stories visually, leaving text to a minimum or none at all, so that people can interpret their own meaning. 
"Through addressing feelings of sorrow I aim to connect with the viewer and, hopefully, in turn this makes my art accessible.
"I like to make people smile and laugh, but still keep the humour quite dark, sometimes verging on the bounds of self-deprecation.
"The physical process of the work has become something I simply have to do. It's a long process but ultimately a very therapeutic one. I aim to make people smile with everything I do."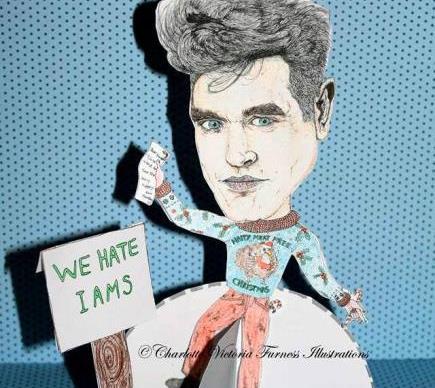 CHRISTMAS SPECIAL: The Morrissey paper dolls have a festive outfit to remind people 'Meat is Murder'
For Charlotte, who finally decided to take the plunge into art as a profession when she went back to university four years ago and graduated with a first, the coming together of life's horrors and humour is important for both her work and her day-to-day living.
"I love to make people laugh and again that is usually taken more from dark humour and tongue in cheek situations," she said.
"I think if people can laugh at their sorrows and misfortunes it is a fabulous way of getting through life." 
Charlotte's Morrissey paper dolls, and other items, are available in her Etsy shop.
All images courtesy of Charlotte Furness, with thanks.