How hard can skiing be? Well, ask pretty much anyone who's never tried it and they admit confidence is a barrier.
Team GB's Menna Fitzpatrick knows all about confidence, having secured four 2018 Winter Paralympic Games medals including gold in the women's slalom in PyeongChang, and last week she was at the Chill Factore in Manchester to help inspire the next generation of people taking part in winter sports.
In the UK, there is certainly a feeling that more people should be participating on the slopes, so in an attempt to change this statistic Manchester's Chill Factore has launched the Confidence Camp as part of the 'Don't Wait, Exhilarate!' campaign designed to get more beginners involved in winter sports – a campaign running up until the end of November.
Despite being visually impaired and having just five percent vision, Menna has the confidence to consistently compete at the highest level and doesn't let anything stand in her way of skiing down the slope at speeds of over 70mph.
"My confidence comes from knowing that I can do anything if I really believe in it," Menna told MM.
"I will go out there and try things that are completely new just to challenge my confidence and to actually show that there's nothing that I can't do without trying, and that's what I used to be like when I was a child.
"My family would just say: 'Yeah, sure you can go skiing, you can go roller-skating, you can do everything!'
"If I just fell over, I would just get up and try again and do it again because that's the only way that you are going to know that you CAN do it.
"It's the positive attitude and knowing that you might fall over and you might get injured, but you'll always come out of it a lot stronger and in some cases a lot happier because you know that you've come through that.
"Your confidence might be a bit low at the start, but your confidence will then grow and will maybe get higher after coming through all that."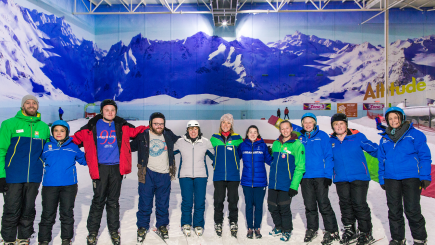 INSPIRE A GENERATION: Menna is all smiles alongside budding snowsports beginners at Manchester's Chill Factore
Confidence has certainly helped Menna achieve great things in 2018, the para-alpine skier won four medals altogether in PyeongChang – gold in the slalom, bronze in the super-G as well as two silvers in the super combined and the giant slalom.
Menna is extremely versatile on the slope, and her hard work this year can't be underestimated.
"This year has been very busy, in a very good way.
"Lots of events and trying to inspire the next generation of athletes and people getting into snow sports – to carry on the sport really.
"We've done a lot of presentations to businesses to share our experiences of skiing as a team with my guide Jen, and help with their ways of communicating and their team work skills."
'REALLY QUIET, REALLY SHY'
Menna hopes to use her 2018 success to inspire more beginners to ski, but 95 percent of beginners admitted that they were being held back by confidence – a statistic which Menna and the launch of the Confidence Camp aim to change.
"With the confidence camp, we've currently got about six skiers that are at beginner level and are feeling a bit nervous about giving it a go.
"So, with the instructors here at the Chill Factore, I'm here today to share my experiences of how skiing can be good fun and that if you've got confidence in yourself that you can do it, then it's an amazing sport to do with your friends and family.
"But if you do worry about it then it's definitely not going to be very fun and you're probably going to end up hurting yourself. So, by having the confidence camp and the lessons with the instructor, it really helps and that statistic will get lower hopefully."
In promoting skiing and winter sports to get more people involved and take part on the slope, Menna highlighted the thrill and excitement that skiing down the slope gives her.
"When I ski, for someone who is visually impaired – it's amazing!
"The wind brushing through my hair and going down the slope at 70mph, and the feeling of the exhilaration building up in your body, the adrenaline is pumping and making your brain go crazy.
"But the feelings when you're there in that moment, you forget about ANY worries in your life other than that moment."
One person instrumental in Menna's career on the slope has been her guide Jenifer Kehoe, who has helped her enjoy skiing even more.
Since they paired up three years ago, it has proved to be a highly successful partnership with over 20 gold and silver medals to their names.
Menna believes she can boost the confidence of beginners in the same way Jenifer has boosted her confidence – giving her the platform to achieve success at the highest level.
"If you saw me back before I started working with Jen I used to be really quiet, really shy to speak out to people and to actually realise that people want to hear our stories.
"I'm still a little bit like that now, but I've definitely gained in confidence in not just skiing but in my life in general.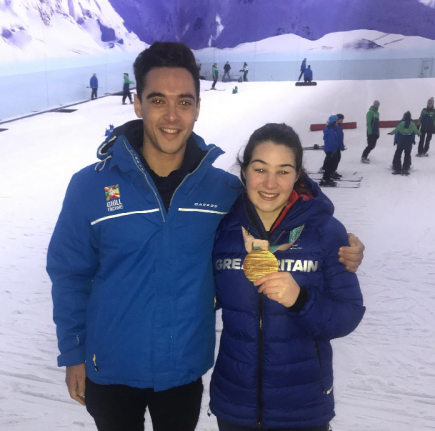 GOLD GRACIOUS: Menna with MM reporter Dane
"I see in some people today and in general that are very much what I was like but they don't have someone who is massively confident in their life to help bring their confidence up.
"So, if I can help in any way to help them gain their confidence to be able to speak out and inspire other people as well in what they do then that's my job done really."