Tucked away in unit seven of Longsight Business Park is non-profit organisation Rethink Rebuild.
Rethink Rebuild was set up four years ago to improve the lives of Syrian refugees living in Manchester through support, education and various other community schemes.
Visit the charity's offices and you'll find a smiling man working behind the desk. He is called Yasser Al-Jassem.
He fled to the UK from Syria earlier this year after watching the Islamic State murder his brother.
Yasser was a teacher and has a wife and daughter – now he is wanted both by IS and the Assad army and for his own safety cannot return.

'I WANT TO GO HOME': But Yasser Al-Jassem would not be safe in Syria
"I want to go home immediately after the war is over," Yasser said.
"Britain is a very nice place but I miss home. I miss my friends and my family."
Since arriving in Manchester, Yasser has volunteered at Rethink Rebuild helping refugees adapt to life in the city and has played a part in reuniting displaced families too.
"I was doing military service when the uprising started," Yasser explained.
"I was initially a teacher but I was called to join the army because in Syria you have no choice.
"The army I was part of was used to kill peaceful protesters. I defected from the army and fled to my hometown in the north of Syria meaning I was wanted by the Assad regime.
"Then the Islamic State came and attacked my hometown. Me, my brother and our friends were yelling at Islamic State telling them that they don't represent Islam.
"As a result, they killed my brother and they wanted my life too."
Since the uprising started in 2011, Rethink Rebuild estimates that the Syrian population across the region has reached well over 6,000.
@jeremycorbyn let's stop barrel bombs in Syria in to pursue a political solution. W/out 1st, 2nd isn't possible pic.twitter.com/6o296JjMne

— Rethink Rebuild (@Rethink_Rebuild) December 10, 2015
Yasser, 35, arrived in the UK on May 22, passing through Dover, London and Liverpool before finally arriving in Manchester.
Four months later he was granted refugee status and now he hopes to improve his English and find paid work.
"I have received a lot of help from British people and here in Manchester," he said.
"The people are kind and welcoming but it's very hard for me to get a job.
"I just need three or four more months to improve my English so I can work and pay tax."
Yasser's wife and daughter remain in Syria and his brother in Turkey. He hopes to reunite with them soon but for now, for his own safety, must remain in the UK.
Yasser and the team deal with hundreds of Syrians with the number only set to grow.
One of those who Yasser deals with is called Mohammed, who arrived in the UK last month after escaping the war-torn country.
He travelled on foot to neighbouring Lebanon before flying from Turkey to Paris and then Paris to the UK.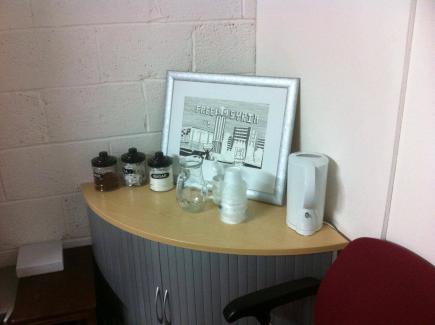 FREE SYRIA: A reminder of Rethink Rebuild's aim in their Manchester office
"The areas around Damascus are completely destroyed, the suburbs of Damascus are completely destroyed," Mohammed told MM.
"ISIS sends strikes into Damascus and the regime sends strikes out of Damascus. It is total destruction."
Mohammed, 30, has been in Manchester for just a few weeks and hopes to bring his wife and children over once he has acquired refugee status.
 "It's excellent here in the UK," he said.
"I want to learn the language. I want to study. I want to build a life here and bring my family to safety.
"Of course, the best thing would be for Assad regime to end and for me to return to my family. But I am afraid that if I return I will be forced to join the army.
"In Syria we lived side by side with other religious groups. The suburb before us was Christian and the suburb after us was Jewish.  There was never a problem.
"The people who are attacking Damascus and the people who attacked Paris have absolutely nothing to do with Islam. It makes me very angry that they would do something like this."
Yasmine Nalwahi, 25, joined Rethink Rebulid last year and works closely with policy-makers and the media to promote the interests of Syrians in Manchester and nationwide.
#Syrians need protection from #Assad's indiscriminate air attacks. Will the #UK act? #NoBombZone #ListenToSyrians pic.twitter.com/J5yv69ky3u

— Rethink Rebuild (@Rethink_Rebuild) October 30, 2015
Born in the US to Syrian parents, Yasmine commutes to Newcastle University where she studies International Law and volunteers at Rethink Rebuild in her spare time.
"When Syrians come to this country they very much want to learn and adapt," she said.
"They want their children to learn British norms and interact with people in a way that doesn't come off as rude.
"The biggest problem they face is the lack of support from the Government. We're in the process of writing a report for the Government on how it could be made easier for refugees to settle in.
"For example, refugees want to learn English but often they don't have the facilities to do so because of waiting lists and other obstacles."
Yasmine, who regularly visited her parents' home in Damascus before war broke out, has studied politics on both sides of the Atlantic and believes that extending airstrikes to the region isn't the right course of action.
"No. I really don't think it's going to help" she said.
"The bottom line is the Americans along with a host of other countries have done this for years and we really haven't seen any difference.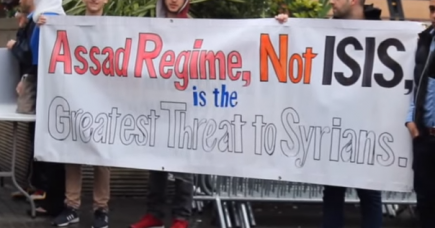 ASSAD IS THE THREAT: The charity urges Britain to change their priorities in Syria
"The options are strike ISIS, which isn't going to work, or we can restrict our actions to humanitarian moves like taking in refugees but of course this won't provide a long term solution.
"I don't think that we should do nothing.
"Ultimately, the government needs to stem the problem at its roots. The root is a 40-year-old dictatorship that brutally supressed a peaceful protest in 2011.
"The regime has claimed hundreds of thousands of lives – more than the Islamic State – and radicalised people on the ground. It must be removed."
Yasser, like Yasmine and the rest of the team, is kept busy every day with refugees both long-settled and recently-arrived visiting the office.
It is difficult to comprehend that a man as cheerful as he was fleeing from people who had murdered his brother just months ago, and now is separated from his family by 3,000 miles and a gulf of dread and fear.
Yet after a visit to Rethink Rebuild, it is not Yasser's wretched memories that occupy your thoughts, but his hope for a brighter future and sincere belief that such a future is possible.
Images courtesy of Rethink Rebuild, via YouTube, with thanks