A Danish politician this week bared all in a selection of nude posters ahead of the country's elections later this month.
John Erik Wagner stripped down and posed with a cowboy hat and revolver while on the campaign trail for his bid to become Denmark's Prime Minister.
The 51-year-old has a decade of campaigning under his belt – one of the few items of clothing he kept on – and it appears the politician felt the need to try a new tactic to grab public interest.
With the Danes famously comfortable with the human figure, we at MM started to wonder how the people of Manchester would react to naked politicians.
And what would the landscape of British politics look like today if Ed Miliband had been doing his election campaign in his birthday suit?
MM hit the streets to ask Manchester: Would you vote for a politician if they posed naked in their campaign posters?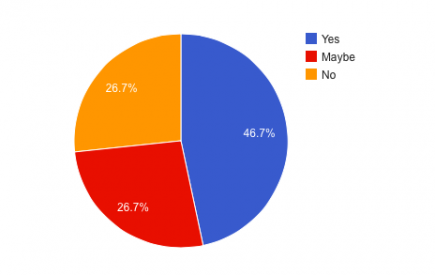 And would Ed Miliband have been voted in as PM in the last election – or at least gained more votes, – if he had posed nude for campaign posters?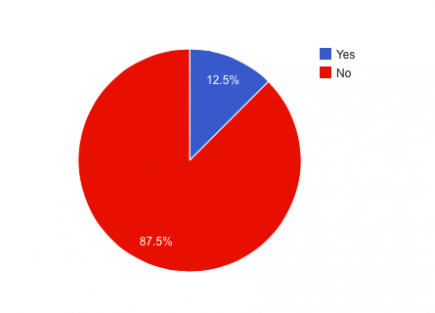 Lewis Brindle, 21, works as a busking musician, but originally comes from Bolton. The guitarist and singer was concerned about how a naked politician would affect people.
He said he wouldn't vote for someone who stripped down: "Especially for the children, and elderly people as well, they're not going to want to see someone who's naked sprawled across a billboard."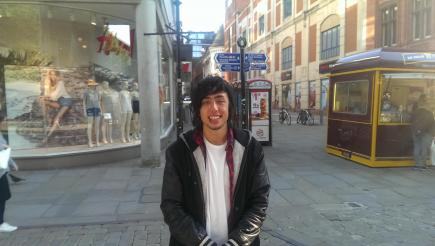 TAKEN AS A JOKE: Busker Lewis Brindle says all of Wagner's policies will be redundant because he won't be taken seriously
We explained what Wagner had done in Denmark, but Lewis ruled out his chances of success, saying: "He's not going to be successful at all; no one is going to take him seriously.
"All of his policies are just going to be totally redundant because anything he says is going to be laughed at and taken as a joke really."
However, Lewis felt that Ed might have a chance if he gave posing in the buff a British twist, adding: "Well potentially, maybe put something in front of it like a cup of tea for Britain."
Christopher Elgie, 35, had no such qualms, saying he would vote for a naked politician.
He said: "Yes I would. I have posed naked myself for an exhibition. It was liberating."
The out-of-work North East native used to work in Manchester, but has since moved to Darlington.
He said: "If this person is comfortable enough to lay their vulnerability on the line, then I'd say they are far more trustworthy than some prude in a chastity belt. 
"Not in a million years would I ever want to see Theresa May in Playboy, but a real MP of the people and for the people who can create debate tastefully? I'm all for it!"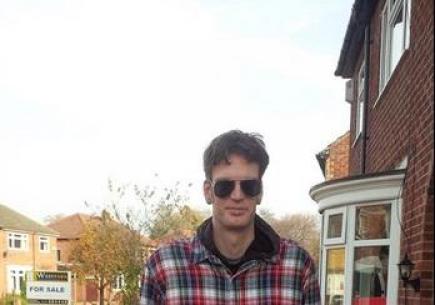 LAY VULNERABILITY ON THE LINE: Chris Elgie said he'd be happy to ditch his clothes if he was in the Commons
Christopher also offered his help it getting attention for deserving causes, saying: "Get me in the House of Commons and I'd ditch my threads if it made people aware of certain issues."
Speaking with Moshan Aslam, 25, a student from Cheadle, we found that the person behind the photo was more important to Mancunians.
He said: "I'd find out a bit more about him, see what he's about.
"Either way it depends on what they're going to do for the community, that's the main thing."
Moshan also said that, while he had no problem with an au natural politician, he could see how it would be problematic.
"If they're going to pose naked they'll pose naked. If he wants to, some people might be put off by it."
Yousof Alam, 27, from Fallowfield works in fashion, and felt that the stunt would garner attention but would need to be backed up with action.
He told MM: "If he wants attention, he's going to get attention. But it would depend on what he was going to do in the community."
Damaris Tsinboykas was in Manchester to see George Ezra, and the 18-year-old carer from Leyland near Preston had no problem with a politician posing in the pink.
She said: "I genuinely wouldn't. It's not about what they're wearing and what they look like, it's about what their party's for."
However, upon explaining Wagner's photo she became quizzical, saying: "I don't know, I don't think I could take him seriously."
Labour didn't seem to be able to sway Damaris with a racy shoot, though – when asked if she would vote for a naked Ed Miliband her response was simply: "Probably not."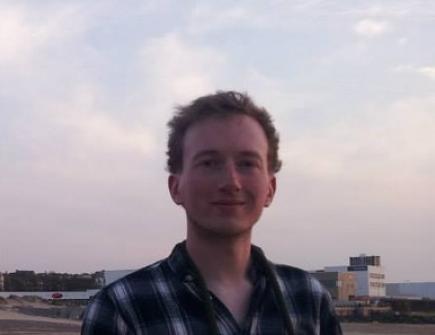 BRING ON THE CABINET CALENDAR: 'Cameron would make a good August', says Northwich support worker Ian
Ian Chidlow, a support worker living in Northwich, was thoughtful about naked politicians, admitting that he couldn't think of a good reason not to vote for someone unencumbered by clothing.
The 24-year-old explained: "My gut reaction is no, but the more I think about it the more it seems sensible.
"After all, nobody actually thinks promises will be kept anymore, so why not just scrap manifestos and bring in Cabinet calendars?
"Cameron would make a good August, he's already shiny and sweaty looking."
Josh Crowther, a 21-year-old retail worker from Saddleworth, said he wouldn't be put off either.
He said: "Personally no, it wouldn't put me off voting for them, if I agreed with what they were campaigning for and then they come out with a picture of them naked with a revolver.
"I would probably have a joke about it but it wouldn't put me off voting for them though."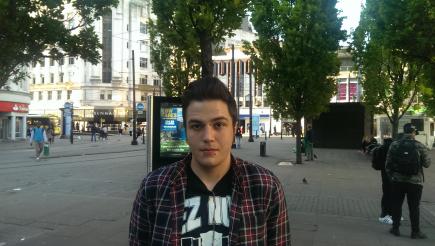 WOULDN'T PUT ME OFF: Saddleworth shop worker Josh said the decision to bare all might even grab his attention
Josh also said he would be prompted to find out more if a politician decided to bare all, saying: "If I saw a picture of them and I didn't know anything about them, I'd be like, 'well what's this guy about?'"
For Red Ed on the other hand, Josh said: "It wouldn't do him any favours, but it wouldn't put me off. It's a strange way to go about getting your name about."
Vincent Naylor-Cole wanted to know why someone would strip off for the politics but the 19-year-old utilities administrator from Prestwich could see the PR logic.
We explained how Wagner wanted to surprise potential voters, to which Vincent said: "That's an interesting reason; I guess if it works then you can't fault his methodology can you?"
However, Ed might have to do a bit more than a mere strip-tease, with Vincent saying of the former Labour leader: "Certainly would have got more attention, but I don't know if it would have got him voters.
"I can't really speak for anyone else but it would definitely put some people off."
We also spoke with design students Hasan Habib, from Pakistan, and Chloe Kim, from South Korea.
Hasan, 26, said that a cheeky poster could help a campaign: "It would. If it's on the wall it's going to grab your attention."
However, he conceded that a photo wouldn't be enough, adding: "I would need to know him, if it was here I don't know him.
"So I would be like 'ok, it's very funny, but I think it does come down to who he is'."
Hasan also added that it would be different in his homeland, saying: "I think about my own country, if one of our politicians was posing naked, I would think it's a hoax."
Chloe Kim, also 26, was critical of the idea, and felt that a politician's principles should speak for themselves.
She said: "I think people who are good at their policies, they don't need to get attention if they have good reasons to be voted in.
"So I don't see the value of being naked for the sake of getting attention."
Top image courtesy of The Objective, via Twitter, with thanks