As the nights draw in and temperatures start to tick down, it is with a heavy heart that we must say goodbye to the summer of 2018 and hello to another dark winter.
But the beginning of October in Manchester brings one last explosion of joy and feeling with Wild Strings, the UK's first jazz and pop harp festival.
Across two iconic Manchester venues from October 5-7, some of the world's leading players are set to introduce the city to harp music unlike anything it has seen before.
MM spoke to Rachael Gladwin (main picture, right), a locally-based harpist performing with Rachael and the Red Socks during the festival.
Her message? Forget whatever you think you know about harp music. This will be different.
"This festival is a huge celebration of all harp that isn't classical harp," Rachael says.
"It's not as out there as other instruments in jazz, but harp is just as versatile as the piano or guitar, really.
"You can put it in any sort of group and it can be that important rhythm instrument in any ensemble.
"There are jazz harpists out there in the UK who really, really specialise in that and are really propelling the genre forward. They're amazing players, putting it out there as a jazz instrument."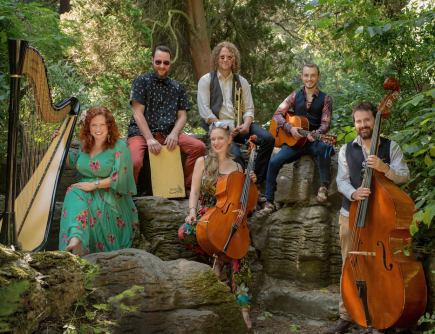 HARP RAVE? Rachael Gladwin (left) with her group Rachael and the Red Socks
As well as world-renowned musicians such as Park Stickney and Tara Minton, the festival brings a variety of events across the three days.
Rounding off Friday's session at Band On The Wall is what MM is happy to assume will be the city's first ever electric harp rave, with cut-price tickets available for individual events and students.
"Who wouldn't want to go to a harp rave?" Rachael laughs. "When's anyone ever done that in Manchester before?
"It would be good for students who want to have an unusual Friday night. It's just going to blow your mind, seeing what harp can do in this genre!"
Saturday and Sunday see the festival move to the Royal Northern College of Music, for a mixture of live performances and expert workshops.
Workshop sessions are open to players of any instrument and age, offering a rare opportunity to play in one of Manchester's primary musical venues.
"I think what's really unique about this festival is that it ties in with the existing jazz scene in the city," says Rachael.
"It's dipping into those venues and it's pulling in those artists.
"It's not just an event for harp players, it's for any musicians or any people who love music, or harp, or jazz. We're really trying to open it up.
"There are sort of jazz immersion weeks around the world, but I think this is – I don't want to say it, but I feel like this is the first time anyone's done anything like this!"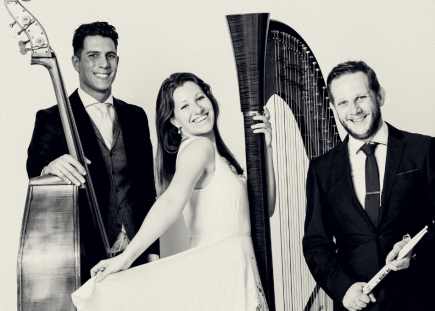 'BLOW YOUR MIND': Gladwin says groups like the Tara Minton Trio (above) – also coming to Manchester – will play music people have never heard before
It is certainly the first event of its kind in the UK, and the hope is that it won't be the last.
"It would be wonderful if it could be a regular thing. It's been such a push to make this one happen.
"People have been working so hard to secure funding. I really pushed for [it to be held in] Manchester because Manchester has this thriving jazz scene already.
"Certainly we'd all love it to be able to happen again, especially if it could be a little bit easier financially. Hopefully if we put on one successful festival, that money could be more secure for the next one."
Rachael and the Red Socks, more album launch dates added, autumn 2018 <3 pic.twitter.com/t28MMJvbrX

— Rachael Gladwin (@rachaelgladwin) August 31, 2018
More details on Wild Strings' website here.
Image courtesy of Rachael Gladwin via Twitter, with thanks.