If you were looking for information on adoption and fostering, you'd be forgiven for not thinking that your local comedy club was the best place to start.
And for the majority of the time, you'd be correct.
In fact, it's likely that if you were to turn up to the nearest branch of Jongleurs and ask about what backgrounds checks you are given before adopting a child, you'd receive little more than polite enquiries about your mental health.
However, if Joy Carter happened to be performing, you'd have hit the jackpot.
Equipped with a thorough knowledge of the adoption system because, well, she was adopted, Joy is putting together a comedy tour – Spot The Difference – that will deliver much more than the average set.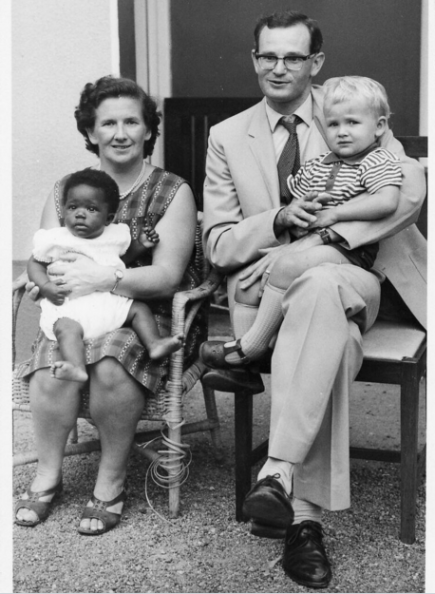 EXPERIENCE: Baby Joy with her adopted family
And the Nigeria-born comedienne is hoping that by drawing attention to the subject, she can start to help more people consider adoption and fostering, and to ease any concerns they may have about what she described as a difficult process.
"Lots of people talk to me after the show, and some of them tell me they're interested in adopting, and they said it was a huge boost to them to keep going with it, because it is a journey still in this country," she told MM.
"But I just try and explain the whole thing and make sense of the complexities.
"I talk about the fact that I've recently adopted a cat which, unlike me who had two-and-a-half years of counselling to help me overcome my issues at the age of 24, Millie has had no help.
"But she needed help.
"She bites my parents in the night, she wees on the carpet, she poos into my dad's wellington boots.
"It's personal, and there's nothing we can do about it.
"If you died in the night, Millie would take a photograph and put it on snapchat. Then she'd light a cigarette, smoke it over your body and stub it out on your forehead."
Evil cats aside, the serious message behind the comedy is important to Joy, who set up the website Adoption Arena in 2014 to act as a 'signpost site' to direct people concerned about adoption to helpful information.
And she said that she feels that comedy is the perfect medium through which to drum up interest in adoption.
#adoption #comedy #spotthedifferenceshow https://t.co/as9k0deBym pic.twitter.com/1IOi5xJDji

— Joy Carter (@joycartershow) February 3, 2016
"Comedy is a great way to engage with people, everybody likes a good laugh," she said.
"It's a soft sell and you can broach complex and extremely difficult issues in a casual way.
 "It's a very powerful tool to help people overcome issues, because if you can get them talking about it then it's like if a child breaks a bone – when that bone reforms it actually grows back stronger.
"And that's how this feels. When you help people to overcome their emotional issues, they come back strong as if they never had the break."
The set focusses on Joy's own experiences of the system, of bullying at school and of therapy.
And whilst Joy admitted that when she first started stand-up ten years ago she was an 'angry' comedian, the chance to help people to navigate those same issues is something that she described as an 'honour'.
"Every single day is a gift," she said.
"It's a high honour for me, because I never thought I'd be here. I'm very excited to tell people that they can overcome their issues.
"Of course I'm still learning every day about my story, there's still mountains there to overcome, but it's healing for me every time I get on stage.
"It's about the bullying as well – a lot of people come up to me after the show and say they were bullied at school, but I show that you can overcome that.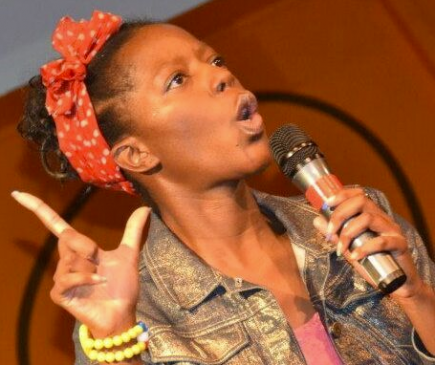 ANGRY: Joy has found that people listen more when she isn't trying to smash them…
"When I first started doing comedy ten years ago, I was quite angry. I just wanted to smash people up!
"But then I realised that actually, people will listen, just maybe not if you're shouting at them.
"That's when I realised that the best form of activism is engagement. You've got to be in certain issues for a long time.
"So that's what we're doing, trying to change perceptions on fostering and adoption.
"People need positive messages, they need hope. So it's about putting out that positive message and breaking down some of the things in the law that I think are wrong regarding the foster care system."
Alongside those positive messages will be a Call for Action – an event during the interval in which adoption and foster care professionals answer questions from the audience, alongside MPs, counsellors and Joy herself.
It is this which differentiates Spot the Difference from other socially conscious comedy routines – it is actually making the effort to give the audience tangible and helpful information, not just to make them laugh.
"I'm very excited to start the Call for Action engagement because when peoples' minds are open, their hearts are open too," she said.
"So they drink down the humour of the show, but then it's a great time for them to say 'you know what we have got that spare room, we were actually thinking of adopting'.
"People can come to the show, have a great laugh but get their questions answered and hopefully get that process rolling."
Joy got her new routine rolling on Leicester on February 3, but Manchester will have to wait until June to see if they can Spot the Difference.
That won't be the first time the comedian comes to the city, after getting involved in some 'hard graft' during last year's Conservative Party Conference, although whether it was the angry Joy of ten years hence that turned up then wasn't disclosed.
But those seeking to learn about adoption, or just for an exciting new comedian, should look forward to June eagerly.
"Manchester we need to do this!" she said – and one senses that if you go to see Joy's show, you may leave holding that opinion yourself.
Joy has a Crowdfunder page where she is asking for help getting her 2016 show off the ground. To find out more click here.
Image courtesy of Stewart Williams, with thanks