Saying that Manchester is at the forefront of music is nothing new but the fresh recognition being given to the city's female leaders of music is definitely something to be proud of right now.
Walk into The Refuge at The Principal hotel this week and you'll be immersed in the world of Suffragette City – an exhibition celebrating the women of Manchester's ongoing musical revolution.
With 25 evocative portraits of 25 inspirational women, the exhibition tells the hidden stories of these creatives that have had a colossal impact in a male-dominated industry, both backstage and fronting of the music we know and love.
To find out more, MM caught up with Shari Denson and Julia Adamson, two of the women behind-the-scenes in Manchester's music scene featured in the exhibition to hear about the state of Manchester music now, musical promotion in a modern age and their own self-confidence.
Shari Denson is a Manchester-born-and-bred photographer, mum-of-two and part-time charity worker who nobly boasts the likes of Elbow and Ian Brown on her portfolio.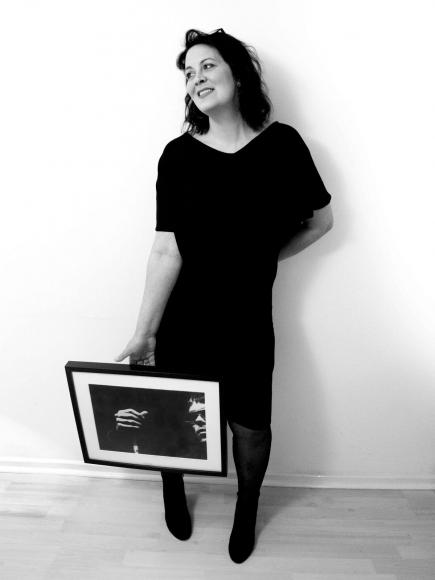 NUMBER ONE: Shari said her favourite portrait is the below shot of Stone Roses singer Ian Brown (image courtesy of Stuart Hadfield, with thanks) 
Shari is no stranger to a camera: she's been shooting for her whole life, being brought up on gigs at Manchester Apollo, where she frequented with her trusty camera.
Her love of music, which she described as in her blood, has continued to shape her life, whether it was through using university assignments to get into gigs in the noughties or more recently infiltrating her two daughter's lives with gig after gig, it's something Shari has vowed to always keep up with.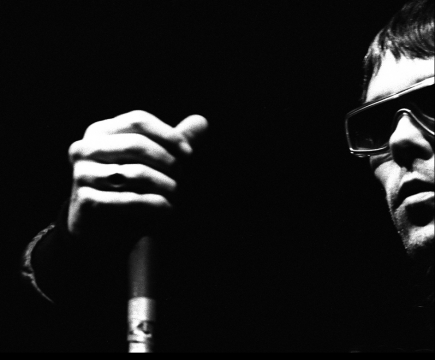 But the true turning point in her career was being asked to photograph one of her favourite bands, Elbow.
"The shoot that meant the most to me was the Elbow shoot. I had photographed Guy Garvey on his own before and photographed the band live, but to do a shoot with them in the studio was amazing – I was a huge fan.
"They had literally just finished recording The Seldom Seen Kid and I spent the afternoon with them. After the shoot, we sat on Chesterfield sofas surrounded by soundproofing and they played me four tracks off a new EP, which I now know won the Mercury Prize.
"Guy Garvey made me a cup of tea and I just sat there nodding my head to Mirrorball. It was just so surreal as a fan."
Shari went on to explain how this was the shoot that injected her with an immense sense of self-worth, confidence and pride, noting that the images she took that day went on to be used on the Elbow's Amazon page and Jools Holland, among over 100 other platforms.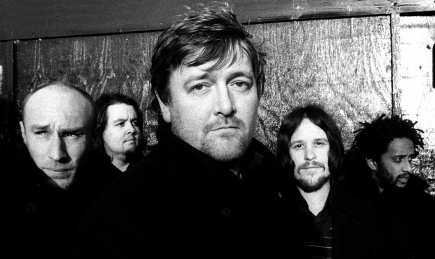 CUP OF TEA? Shari told MM how surreal it was chatting to Elbow while frontman Guy Garvey (middle) made her a brew
On the future, Shari wants to focus on female musicians.
"I want to seek out these amazing women a bit more and promote them. It takes a bit more effort to find the great women in music, but this is the year I think I'll work harder on that and appreciate talent that's been there for quite a long time."
Julia Adamson single-handedly heads up Manchester's Invisiblegirl Records as label manager, having experienced the music industry from the label side since Factory Records' heyday in the 80s.
'MORE COMPLEX NOW'
Humbly talking about her one-woman-mission that she runs from home, Julia explained how the landscape of music creation and consumption has taken a new road.
"I dread the day music disappears because people are struggling too much, it seems like it was a lot easier in the past to be a musician."
This attitude is what makes Julia's work as an Independent Label Manager so special – she has a strong focus on nurturing artists from the ground up and cherishing the creativity in song writing that she saw so often in the days of Joy Division.
#SuffragetteCityMCR#MCRWomenInMusic#RebelMusicMCR
Photo by Melanie Smithhttps://t.co/Z1gm97EdQy pic.twitter.com/2MHLzcG9x2

— Julia Adamson (@Invisiblegal) March 2, 2018
It probably stemmed from her own early life as an amateur musician, starting in a choir before going onto playing David Bowie songs on her guitar and joining a punk band at art college.
Now she's keen on doing what she can to help new talent break through.
"To maintain originality is quite difficult so I try and get artists to follow what they actually want to do.
"Then if I can help with gigs and advice, I will and I usually sign their publishing as well because I always think people are curious about the first albums of successful artists."
On Manchester's music now and in the future, Julia said: "It's a much bigger place now, it used to feel more like a community but it's more widespread now musically.
"I do think there are some great artists about and there are still a lot of nurturing places for artists – it's just about helping them along but the ability to do it is much more complex now."
The Suffragette City exhibition closes this Saturday March 10 with a party from 3pm-4am at The Refuge, featuring an all-female DJ line-up.
10th March: As part of the Suffragette City – Portraits of women in Manchester music exhibition, we'll be hosting an all day & night charity music event to celebrate International Women's Day in the public bar with music across 2 floors from an all-star female DJ line up. pic.twitter.com/Fj8EsR4lZ2

— The Refuge (@TheRefugeMcr) January 31, 2018