Kids who grew up watching the Crystal Maze would have only ever dreamed about scrambling for golden tickets in the infamous dome finale but now that dream has become a reality.
The much-loved nineties game show was reborn in London through The Crystal Maze Experience earlier this year and has since taken the nation's capital by storm.
From the sandy grounds of the Aztec zone to the stress of the mental challenges, The Crystal Maze Experience has a remarkable resemblance to the cult TV series and now it's expanding to Manchester.
At the start of April next year, the maze will take over the Old Granada Studios in Manchester and tickets for it have already gone on sale until June.
So, to see what all the fuss is about, MM headed down south ahead of the grand opening next spring to talk to the man who made it all possible, Tom Lionetti-Maguire, and to win some crystals of our own.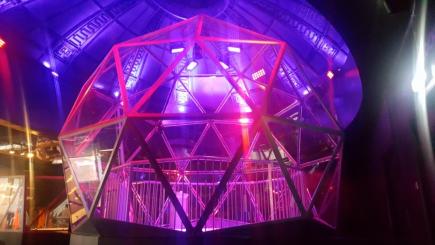 CHILDHOOD MEMORIES: The Crystal Dome was the place to be
Sporting nifty blue bomber jackets we ventured with giddiness through the classic Aztec, Industrial, Futuristic and Medieval zones to complete challenges that would test our skill, strength and mind. Each crystal won translates to five seconds of golden ticket clambering in the game's finale.
But the afternoon didn't start well for the MM crew – an automatic lock-in on the notorious 'Lasers' challenge meant we were forced to sacrifice a crystal after our first room.
Interestingly enough, 'Lasers' is the only game that will be brought up to Manchester as a fresh set design is currently under development.
Lionetti-Maguire, the experience's founder, told us: "We've had to have a rework. We've got 25 new games that we've had to dream up and start again – it's bonkers man!"
Familiarising ourselves more with the challenges ahead and through the help of our Maze Master, we started to pick up crystal-winning form.
Although we were slightly gutted that our guidance didn't come from the legendary host Richard O'Brien, we were more than happy to take direction from the quick-witted and zany character Professor Bison Sexhorn.
Bison's ironic jeers through the rooms' peepholes were a testament to the mental struggle teams put their players through 20 years ago and his energy made it all the more fun. And he is just one of many unique actors that make up the experience.
"We've got 30 actors on the books in London so we're looking for loads of new actors for Manchester," Lionetti-Maguire said.
"They all seem to wearing tights at the moment!" pointing to the Maze Masters' whacky apparel while adding to his point.
In the end, our team's seven crystals earned us 35 seconds of ticket gathering in the Crystal Dome – the fastest 35 seconds of our lives.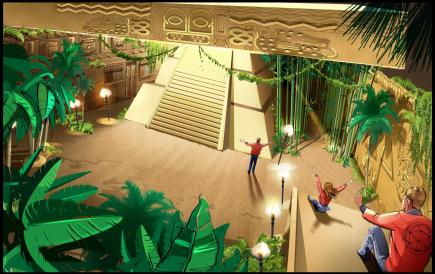 VISION: One of the design ideas for the Manchester experience
From start to finish, the whole experience was nothing short of unforgettable and something we will encourage all friends and families to try when it opens next year. I know that we for sure will be having a second crack at the whip in our hometown come April.
And like us, Tom has urged people to join in with the fun: "Just come down and have a laugh, there's not many things like this to be honest.
"You can go go-karting or paintballing but it's not quite the same sort of team experience."
So if you're not worried about leaving the dome with Zack Laurence's catchy theme tune stuck in your head then book your tickets for a bonding and enjoyable once-in-a-lifetime opportunity here.