A new plan is underway to revive orchards across Greater Manchester, hosted by Helping Britain Blossom.
Specialist training is being given to green-fingered volunteers to teach them to 'graft', which involves growing trees from twigs.
Or in the words of the Royal Horticultural Society: "The purpose of grafting is to combine one plant's qualities of flowering or fruiting with the roots of another that offers vigour and resilience."
In 12-18 months' time, the public will be able to purchase the saplings to create their own home orchard. Proceeds from this will help to preserve larger orchards and plant new ones.
The project manager, Dan Hasler, told MM: "I think the great thing about community orchards is that it brings people together, quite like nothing else.
"If you're planting an orchard for the first time, it's a great way to bring the community together to celebrate beautifying your area and the idea that you're going to have free local fruit.
"The best benefit for me is getting out there in amongst trees, getting out in the wild, amongst nature and away from the stresses of a desk job, and that's all the way through the year. 
"Just getting your hands dirty, getting your hands in soil. There's been proven benefits of getting your hands in soil, it's really good for the soul."
The project has come about from a partnership between HEINEKEN and The Orchard Project.
HEINEKEN features orchards at the heart of its business, and wants to ensure a sustainable community.  30% of all apples grown in the UK are used to make its ciders, with most of these coming from Herefordshire.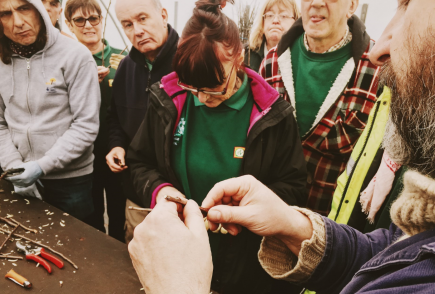 HELPFUL HANDS: More than 50% of fruit trees grown in a Trafford orchard were grafted by volunteers! 
The Orchard Project is a charity focused around teaching communities to plant, care for and harvest fruit trees. Through the charity, communities are connected and have increased access to fruit.
Debbie Ellen, an orchard leader in Trafford involved in the project, said: "We already have around 55 varieties of fruit trees in our orchard.
"More than 50% of these trees were grafted by volunteers using scions, or cuttings, from another community orchard in Trafford.
"It's really important to keep rare varieties alive and share them with others interested in growing fruit."
Tagging of these trees will make sure that those who have been involved in the grafting can check up on and get the fruit from them.
Helping Britain Blossom aims to involve as many people as possible and get people excited about gardening. 
Parrs Wood Rural Study Centre is hosting an event on April 11. For further details about Hard Graft, email Dan Hasler from Helping Britain Blossom: [email protected]
For information about the Orchard49 Hard Graft, check out their blog: http://otagsorchard.blogspot.co.uk/ (Twitter handle: @Orchard49)