Manchester's ex-offenders are being offered a much-needed helping hand when it comes to re-adjusting to their freedom.
Based just outside the gates of HMP Manchester, On the Out is a unique organisation formed to help former inmates integrate back into the community.
At the foundation of the group is a collection of eight volunteers, many of which have experienced life behind bars and are searching for a new start in life through helping others.
As a community interest company established in 2016, On the Out places an emphasis on peer support and engagement from the moment a prisoner is released and for as long as they need assistance.
Helen Brown, a trained social worker who manages On the Out and works as a peer mentoring tutor inside HMP Manchester, told MM: "When I say to people that it's run by guys who have been in prison, they have a totally different approach to it."
A Place to start
On the Out is able to connect with people in the early months of their release from prison during a period when they may not choose to work as openly with other mainstream services.
HMP Manchester, known commonly as Strangeways after the area in which it is located, is a high security male prison with a capacity of 1286 inmates and accepts people remanded into custody from courts in Greater Manchester.
The aim of On the Out is to provide immediate support to those trying to get new IDs and bank accounts, as well as find accommodation and employment, all of which can be difficult after a person has spent a number of years locked up.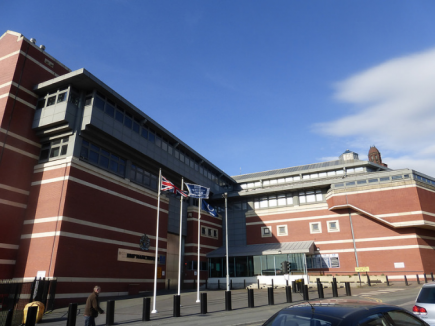 STRANGEWAYS: The prison opened in 1868
Helen explained: "I think the shelter and prison workers are very good but there are not enough of them and they have restrictions on the people they can help.
"So there are always people getting out that are without accommodation. There are so many barriers to people when they leave prison – it just highlights all the massive gaps out there."
Assistance is also given to those with mental health illnesses and those struggling with addiction.
Ultimately, no one is turned away and the group's doors are always open.
Helen has 25 years' experience tackling social issues such as homelessness, addiction and mental health problems, and feels passionate about her cause in creating a solid foundation for the inmates leaving Strangeways.
"We keep linked in with people," she stressed.
 "We are like a safety net and even though we are not directly doing stuff to stop people re-offending – because we aren't a criminal justice agency – what we are doing is presenting a different life.
"New inmates who join are surrounded by guys who are walking the walk."
So far 70 people have been referred to On the Out, with four more people planning to enrol upon leaving prison in the next few weeks.
Creating a purpose in life again
"A lot of guys were getting out of my class and really wanting to help other people," Helen revealed.
She added: "Some of those guys had given up on being good at anything because people had told them they weren't good at anything."
Under the umbrella of On the Out, people can choose to volunteer and develop new employability skills.
One of the volunteers, Michael, who finished a 12-month prison term, is handy with push bikes and has a cycle mechanic workshop set up onsite which he hopes to develop into a business.
Another volunteer, Mike, who served eight years, is helping develop a programme where he gives talks to young people and police-in-training about high-risk offenders.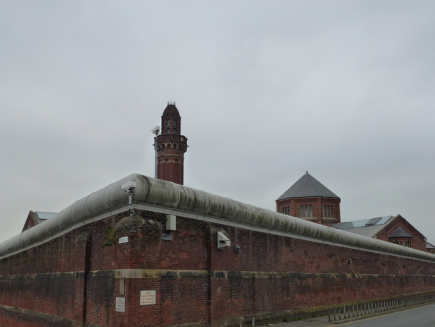 INMATES: The Victorian building can house 1286 offenders
When speaking about On the Out, Mike admitted to MM: "I don't think I would be where I am today without this as a base. Each role is really important to the team. I've never had this before.
"When I get up in the morning, I feel good because I feel part of something and can achieve something."
The bustle of activity teamed with a calm atmosphere can be found in the porta cabin owned by HMP Manchester where On the Out is based.
It creates a positive environment for people to feel at home rather than being stereotyped as ex-criminals.
An additional project that's in the works is at Salford Central Rail Station, which – with the support of Northern Rail – aims to create a positive presence within the community and soften the negative views of past offenders.
Initial plans at the station will include transforming the platform to include planters (which families without gardens will be able to adopt), a space to develop artwork and see the arrival of a pop-up bakery.
It will also act as a source of information for anyone who decides to stop by.
Plans for the Future
Gaining momentum and with a reason at its core, On the Out is hoping to expand further – but Helen has admitted that finances are limited.
She explained: "To have some funding would allow the team to really solidify and be able to see people get committed earnings.
"On the Out has gotten bigger and bigger and what I need to do is just be here. I need to manage this team and what's going on with them, but it's very hard to do that without the funding."
The plan would be to use the additional money to structure the company in a professional way with a focus on getting the volunteers and ex-offenders into paying jobs.
To learn more about On the Out or to get involved, contact Helen at [email protected]
Image courtesy of Mikey via Flickr, with thanks.