Manchester has been in bloom all week as the Dig the City Festival covered public spaces in luscious urban gardens.
Exquisite show gardens were judged by well-known gardener Rachel de Thame and the National Trust's gardener Sean Harkin, and medals have been awarded for the first time to those who were cream of the crop.
Green-fingered fanatics from all over Manchester came to take part in the contests, from amateurs to professional gardeners, businesses and community groups.
Mrs De Thame said: "We've been overwhelmed by the calibre and creativity of the show gardens.
"Urban gardens present unique challenges to gardeners and it's very exciting to see these garden designs brought to life."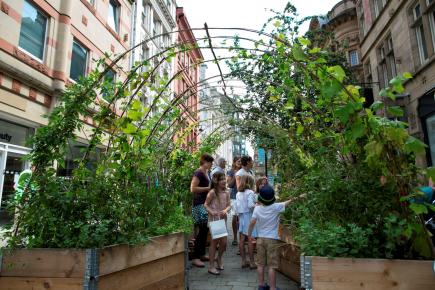 BEST IN SHOW: Hulme Community Garden Centre wowed the judges with its tunnels and arches
Hulme Community Garden Centre was voted best in show, its bountiful edible garden tunnel, sweeping arches and 'grow your own' element judged to have met the brief perfectly.
The installation is made from recycled or sustainably produced materials and is the perfect illustration of how you can 'grow your own' within a small footprint – both figuratively and conceptually.
Companion planting eliminates the need for pesticides too, so this is a show garden that is good for creatures great and small.
Ordsall Garden were just pipped to the post by their Hulme competitors, but still took home a gold medal for their Tudor inspired garden.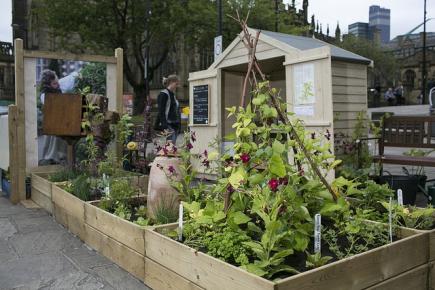 GOLD: Ordsall Garden missed out on 'Best in Show' but won gold
Ordsall House is a Tudor house in the heart of Salford which is one of the only places in the country which sells and conserves traditional English vegetables.
Visitors will be told of the house's history and given advice on how they at home can grow their own heritage vegetables.
Taking silver gilt this year was Dreamscape, who joined forces with artist Liam Curtin to create a mind-bending garden that plays with perspective.
The concept for their garden was 'visual illusions of space' and they have created a space that seems to get smaller and smaller and creates the illusion that it goes on into infinity.


DREAM ON (AND ON): Dreamscape's infinity garden won silver gilt
Fresh from the RHS Tatton Flower Show, Manchester City Council has brought two show gardens to Dig the City.
The bee is the inspiration behind both gardens, the first inspired by the path a bee takes from the hive out into the world on a foraging sortie – through a display that represents the different seasons – and back again.
The second, 'The Bee Roads to Manchester', is the bigger of the two flowerbeds, and tells the story of how the city is doing its bit to halt the decline of the bee through beehives and the creation of a nectar-rich 'highway' of plants and flowers in between.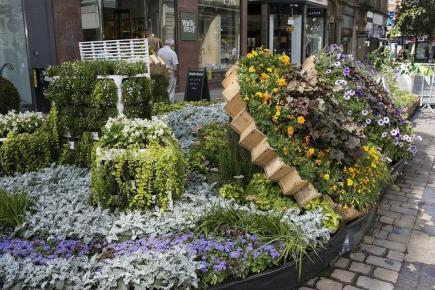 BUSY BEES: Manchester City Council's gardens were inspired by bees and the campaign to safeguard their survival
Based around an eco-friendly bus stop, complete with green roof, vertical growing and edible walls planted with herbs, fruit and vegetables, the Growing in the City, Bridge College & Manchester Mind installation demonstrates how growing your own food has a powerful impact on local communities.
Urban Green's Hanging Ditch Garden earned silver by transforming a disused space in the city centre, revealing its regeneration potential – both during the festival and in the long term.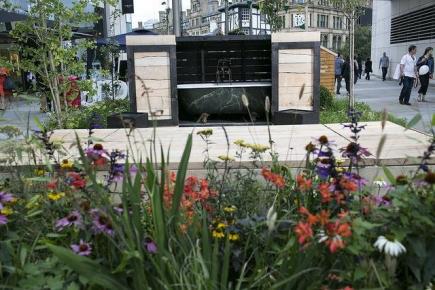 HIDDEN HOT TUB: Square Roots concealed luxury within a range of fruit and wild flowers
Tatton Park also took home silver gilt for their Japanese Karensansui or 'dry landscape' garden where gravel represents water, the sea or rapids swirling around islands, while rock forms depict mountains.
The abstract nature of the garden lends itself to meditation and also promotes Japanese culture, horticulture and life-long learning.
It was gold for Square Roots, meanwhile, as they created a low maintenance, space-saving urban garden with fruit, wild flowers – and the luxury of a concealed hot tub.

TWENTY-FIRST CENTURY: Reaseheath College also won silver for their very modern approach to gardening
Square Roots is a garden design and maintenance company whose vision is to create beautiful, sustainable gardens that promote biodiversity and build positive relationships with the local community.
Reaseheath College garden won silver for creating a garden city for the 21st century incorporating innovative and creative approaches to sustainable edible growing, including hydroponics, aquaponics and sculptural features.

MATERIAL GIRL: Manchester Arndale hosted this display from David Jayet-Laraffe of Frog Flowers
David Jayet-Laraffe of Frog Flowers in the Northern Quarter received gold for two of his installations in St Ann's Square and the Manchester Arndale.
The St Ann's Square display was inspired by Manchester's connections to the cotton bud and also references some of the city's other buildings, such as the former Free Trade Hall (now the Radisson Hotel), the design of which also alludes to the cotton plant.
In his Manchester Arndale installation, on the other hand, Mr Jayet-Laraffe created a runway-worthy garden display around a giant pair of red stilettos.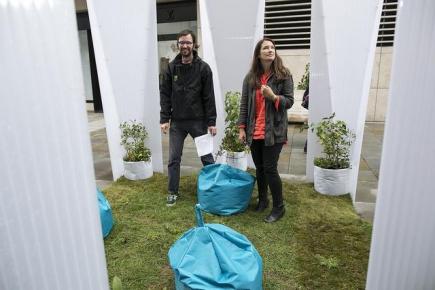 SECRET INGREDIENT: Muse Developments & Broomhead Homemade took Vimto as their inspiration
Muse Developments & Broomhead Homemade was awarded a bronze for their garden inspired by the iconic Manchester beverage Vimto.
Designers Tony and Aprille Broomhead were inspired by Vimto Gardens, a new residential development on Salford's Chapel Street, and the garden plays on the idea of discovering Vimto's secret ingredient.
The result is a garden heady with the scent of local herbs, whose simple, repetitive planting hints at Vimto's trade secrets – and which creates a moment of escape from urban life.
All images courtesy of Dig the City, with thanks.