A YouGov poll has found that golf is the most boring sport to watch according to a sample of more than 1,500 Brits.
Of those surveyed, 70% agreed that golf was quite or very boring, while only 11% of people thought the sport was very or quite exciting.
Other sports judged to be dull were American football, cricket, darts, snooker, basketball and horse racing which 50% + of people thought to be very or quite boring.
On the other end of the scale, athletics was judged to be Britain's most watchable sport with 47% of those surveyed finding the sport very or quite exciting.
Elsewhere, other very or quite exciting sports were judged to be tennis (43%), gymnastics (36%), rugby union (41%) and football (43%).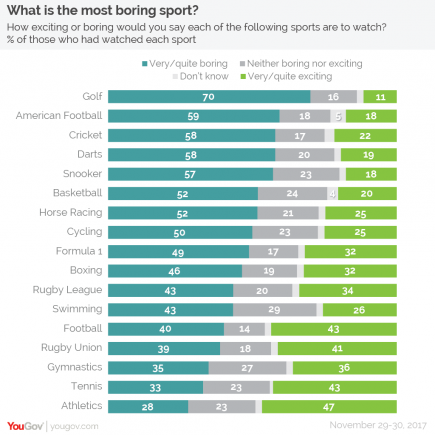 Other areas of controversy included rugby union being judged to be more exciting than rugby league, with 41% finding union to be quite or very exciting compared to league's 34% watchability.
The survey also split the sporting interests of men and women, ages, social grades and regions.
North-South divide
The survey also revealed a split in sporting interests between the North of England, London, the rest of the South, the Midlands/Wales as well as Scotland.
In the North, 78% of those surveyed found golf boring to watch compared to 62% in Scotland.
Equally 38% of Northerners thought tennis was boring, while only 27% of Londoners believed the racket sport to not be interesting to watch.
Formula One and rugby union were also found not to be exciting to watch from the perspective of those in the North compared to Scotland.
You can read the full survey here at: https://yougov.co.uk/news/2018/01/10/what-most-boring-sport/
Image courtesy of PGA Tour via YouTube, with thanks.