Manchester-based artist and photographer Rod Kippen chats to MM about his first major solo exhibition and gives us a glimpse of what's beneath the Surface.
After talking to Rod for less than a minute, it was clear that he'd never spoken to the media about his work, in fact, he was quick to let us know he doesn't really speak to anyone about it.
"I don't generally meet with a lot of artists," he says. "So I'm not used to talking about my work."
This modesty hides, however, an underlying current of creativity which has manifested itself in his first solo exhibition, aptly named Surface. 
The exhibition opens today, at 1pm, at Gallery Oldham and Rod seems proud enough of that, despite not putting his name to early creative ventures. 
The exhibition is a collection of street photography that Rod has collected over time, of different surfaces of buildings and structures across the region.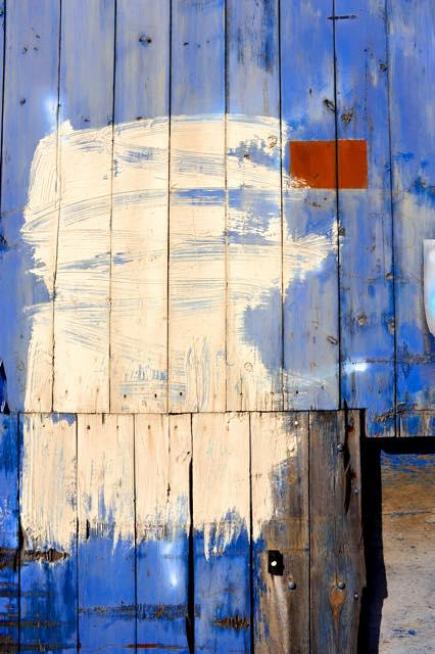 HIDING IN PLAIN SIGHT: Rod Kippen hope to illustrate the artistic aesthetic in everyday life and objects
It will run for two months and he is hoping to illustrate the artistic aesthetic that can be found hiding in plain sight. 
"I moved back to Manchester around 2000 after art college. And I've been wandering through Manchester taking pictures since then," said the Edinburgh College of Art graduate. 
"Manchester has changed a lot in that time. I'm interested in the layers that a city is built up on, different uses, and people leaving their own mark on it, those human interactions with the city."
And from a meagre beginning the conversation erupted as he began to relax and open up – such is the passion there – and he started to give a truer sense of his drive and ambition. 
"As much as I can, I try to get lost and find something different. I think I've been down every street in Manchester," he said explaining where he gets his photographs.
"I'm interested in that 20th century abstraction. I'm kind of drawn to that.
"I suppose my eye's trained to be drawn to these sorts of things now.  And I can't by-pass or walk past or drive past without stopping and taking a picture."
The exhibition is purely photography, although he says his work is often described as quite 'painterly'.  
And at first glance they do seem like pictures of paintings, of painted sculptures and modern art.
A pleasing blend of chaos and pragmatism – they are pictures of surfaces that have had other purposes than artistic expressions, other more practical uses. 
@GalleryOldham pic.twitter.com/fqbg3D3ZwT

— Rod Kippen (@Rodkippen) July 8, 2015
"Someone told me they are quite painterly. They are quite painterly because I look at a lot of painter's work. I'm influenced by the aesthetic of painting.," Rod told MM.
"And within the collection there are bits that are painted but not intentionally to create something but to cover over something, or re-paint something."
And as he talked, my mind pictured a solitary man staring at walls in a busy urban area, beneath an over-pass, or outside an old derelict building.
He told me he gets some odd looks from passers-by, but the answer is reluctant, as though he hadn't really thought about it or doesn't really care if they look.
"I work quite quickly because I'm not always in the safest places. I'm quite often on my own with a camera, and it's not an expensive camera but it's a camera," he said.
"So I work quite quickly. Perhaps I should spend more time but I take and then go."
The photographer travels all over Manchester – Levenshulme, Longsight, Ancoats –  as well as further out into the North West –  Liverpool and somewhere else that I've never heard of – all to take pictures.
He does this on his days off from his charity work as often as he can. 
Sometimes he'll go to somewhere new, while other times he'll mark out set routes, such as photographing the whole of the Mancunian Way.
A few years back he displayed a small exhibition of photographs that he took on the 192 bus from Levenshulme into Manchester, of traffic lights changing, reflecting through the windows, and streetlights catching raindrops tracing across the panes.
He explained that to him his work is about taking the mundane and making it beautiful, looking at the same places and things but seeing something different every time.
"It is about things that you wouldn't see as interesting, trying to make them interesting, trying to find the artistic value in things that aren't presented as being artistic," he said.
"It's about repeatedly going into the same place and finding something new. 
"I think it's finding the beauty in the unconventional. I think there's beauty and there's interest in any place, but particularly Manchester."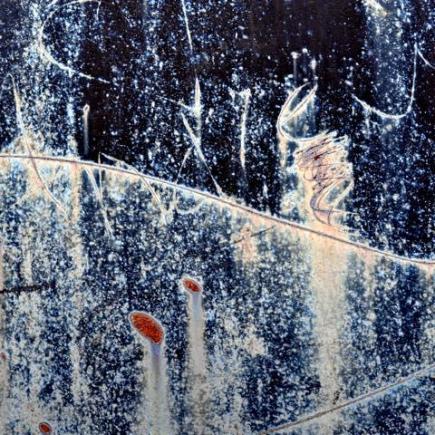 UNCONVENTIONAL BEAUTY: Rod says his work is about taking thing's that aren't interesting and making them so
Manchester streets hold history, he told me – every street a different story, a different 'link' that takes you back.
He said: "I took a few around Ancoats of some metal boardings on an old mill. At some point they've been painted.
"The paint's been scratched.  It's been spray-painted. Then over time water's leeched into those scratches. 
"It makes an absolutely beautiful blueish tinged, very basic, almost like cave painting.  They've got a depth to them because of the time they've spent being weathered."
On the subject of the name of the exhibition, Surface, he simply said that he's really bad at naming photographs, let alone an entire exhibition. 
"I think you end up getting a kind of dualism – you change how you see it because of the name," he said.
"I wanted something that's not too descriptive, that lets that space around it, space for people to interpret."
Rod's influences are Saul Leiter, a painter who took pictures for his paintings, and Walker Evans, who started out talking pictures of buildings.
Punk was also a key influence. He published a series of pictures and a photography books heavily influenced by punk called Junk Photography which in modesty he refused to put his own name to.
This influence has carried through to now, not only in the subject matter of the pictures, but also in his approach and technique.
Hanging the photographs today @GalleryOldham for 'Surface'. Preview 1-4pm Saturday pic.twitter.com/1CvFNq3ovw

— Rod Kippen (@Rodkippen) July 8, 2015
"With specialist photography it quite often gets taken over in a male realm of f-stops and technique. For me that loses something," he explained.
"I want my camera to be expressive. I want it to not be about the technology of it, but about the reaction to something, a live thing."
He keeps post-production to a minimum and tries not to 'over-Photoshop'.  He merely tries to get back to the original image if something is lost in the exposure. 
It is not the technology, the camera, or the post-production software that make his pictures, it is the rebellious spirit of the man that leads to his creations. Mostly, he relies upon 'a decent day'.
He said: "You don't have to do much then.  The light is there and you're just getting them.  You're just capturing them."
Rod Kippen's Surface exhibition opens at Gallery Oldham today, Saturday July 11 2015 between 1pm – 4pm and runs until September 5 2015.