More than seven million British soldiers took part in one of bloodiest conflicts in history, the First World War, many of whom have their own unique acts of courage and tales of valour.
Lieutenant Colonel Harry Malpas Stephenson is just one of those heroic soldiers, fondly remembered by his family as a brave individual with an excellent sense of humour.
But despite this little is known about Harry's career in the Manchester Regiment and his involvement in WWI among his family.
Like so many others in the centenary of WWI, Michael Stephenson, company chairman at his family business in Stockport, has been tracing his family links to the Great War.
Harry's nephew, said: "It was far too atrocious, most people preferred not to talk about the war at all."
Born on November 22, 1877, in Cheetham Hill, Manchester, Harry was a silversmith by profession but soon took to military service.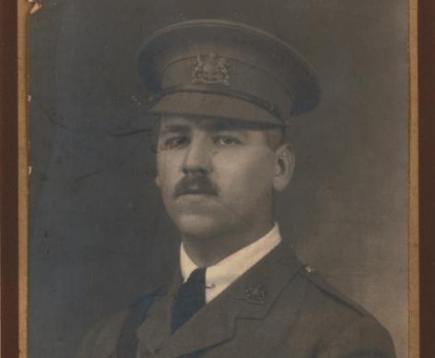 REMEMBERED: Lieutenant Colonel Harry Malpas Stephenson
He was severely wounded in the head at Gallipoli on May 27, 1915, but nevertheless recovered to rejoin the fighting in the war.
Harry had led the 11th Battalion of the Manchester Regiment in the Passchendaele offensive during which he fought around Ypres in Belgium, 1917.
Documents suggest that it was at this time, in the Battle of Broodseinde, that Harry seriously injured his leg, forcing doctors to amputate it.
Michael said: "Uncle Harry would let me play with his wooden leg when I was a child.
"If you pressed it at the knee, it would kick up. I got very excited about that, it was a lot of fun."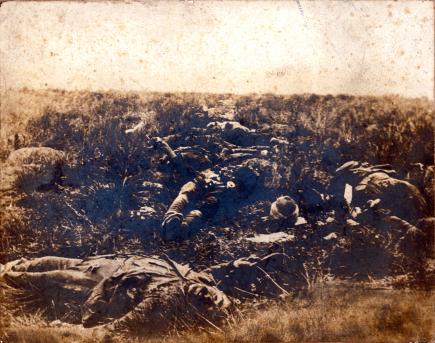 PERISHED: The Great War claimed the lives of more than nine million soldiers from both sides
Stored in a dusty chest of draws at the Stephenson's family business, which was first established by Harry's father in 1861, are family treasures which date back to its early years.
Inside are a pile of beautifully aged photos – one is believed to be taken from the frontline by Harry himself.
"Henry, my son, was fascinated by the one with the dead bodies in when he was young," Michael explained.
Other photos include portraits of Harry at the various stages in his career, with a number showing him leading the 8th Battalion of the Manchester Regiment in Cairo, 1915.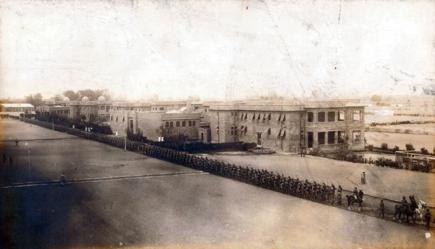 LEADING THE WAY: Abbassia, Cairo, April 1915, with Harry riding at the front on his white horse
Each is backed with a carefully hand written description, given by Harry to depict the scene in the photo.
"I've also got a dagger that he gave me. He had stolen it off a Turk that he'd killed. It's a beautiful thing, I used to sharpen my pencils with it," Michael added.
Harry died at the age of 89 on July 27, 1966, but although he has passed his memory still lives on.
He was awarded a number of medals – he was just one of eight from the Manchester Regiment to be appointed Chevalier of the French Legion of Honour – all of which are now showcased in the Museum of the Manchester Regiment in Aston-Under-Lyne.
During a visit to the museum, Michael and his son, Henry, discovered an intensely researched document compiled by the curators at the museum entitled The Men Behind The Medals.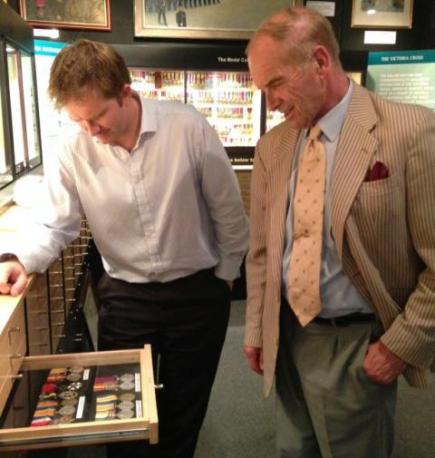 NEVER FORGOTTEN: Harry's nephew, Michael (r) with his son Henry at the Museum of the Manchester Regiment
Details about Michael's uncle and his career in the Manchester Regiment, including every battle, wound and award, are documented for all to remember.
Michael said: "This is absolutely fantastic, it's tremendously researched.
"To think that the documents survived another World War and all of these years is truly amazing, we really are very lucky to find this."
Ian Hudson, a volunteer curator at the museum, had researched soldier diaries, letters, regimental history, journals and books to produce a written document on each of the men behind the medals at the museum – around 2,200 medals and around 800 men, according the museum's curator.
Garry Smith, current curator at the Museum of the Manchester Regiment, said: "Ian is the most meticulous, conscious, pernickety person I have ever met.
"I thought I had a good attention to detail with this job but he surpasses me hands down.
"Every sentence you read is drawn from primary source material; he hasn't said anything that he can't prove."
The Museum of the Manchester Regiment tells the story of Manchester Regiment soldiers from 1758 until 1958.
The Men Behind the Medals project is available online, keeping the memories and achievements of the Manchester Regiment alive for all to discover.
Images courtesy of the Museum of the Manchester Regiment, with thanks