Half of us have one – but far less of us have any idea about the crazy capabilities of the phallus across the animal world.
Did you know that male ducks have corkscrew-shaped penises or that the tiny penis of a male damselfly can scoop out the sperm from other competitors?
All these facts and more will be discussed in a free talk later in the month at Manchester Metropolitan University, exploring the hidden world of the wang.
MM caught up with Dr Michael Carroll, Senior Lecturer in Reproductive Science to find out a little more about why he's so enthusiastic about animal reproduction.
"Our idea of the penis is the phallus, an organ for reproduction that we associate with our own penis, but there's a whole variety of them found in nature," Dr Carroll said.
"What interests me is the bizarre and quite unusual ways in which animals reproduce."
Explaining to MM the different ways and reasons animals have sex, Dr Carroll described the frightening process of 'traumatic insemination'.
"You know, in the insect world, some males pierce the female's abdomen with their sharp penis, injects her with their sperm and then leaves," he said.
"These evolved penises can act like syringes, damaging the female to prevent any future reproduction."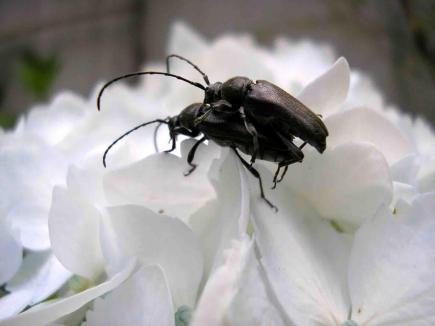 SHOOTS SPERM, THEN LEAVES: 'Bizarre and unusual' methods of reproduction interest Dr Carroll (© Christine Majul, with thanks)
And insects aren't the only species to shaft the fellow males vying for the girls' attention.
Dr Carroll said: "It's like damselfly mating – the male penile structure has evolved to actually scoop out any sperm deposited by a previous male, replacing it with his own!
"And then, of course, rodents like mice and rats produce a 'copulation plug', a hard gelatinous substance that blocks the female from mating with other males."
In the bird world, female ducks have a bit more power – their 'convoluted vaginas' with dead-end cul-de-sacs make unwanted attention from their corkscrew penis-wielding males a thing of the past.
"It's just evolution – how mating has developed and how the penis serves different purposes for different animals."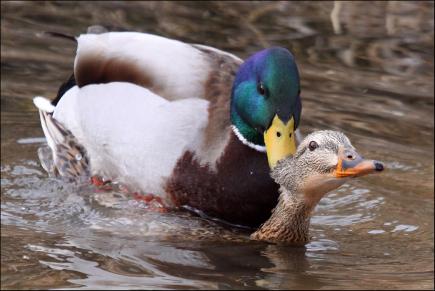 DOING IT DUCKY STYLE: The female duck's 'convoluted vagina' deters unwanted attention (© Pat Gaines, with thanks)
Dr Carroll has worked all over the world studying reproductive biology and has held jobs including a role as a clinical embryologist in an IVF clinic.
"I've always enjoyed natural history, and in my lectures I'm always bringing in anecdotes about the largest penises", he said, hastily adding, "not mine!"
"When you talk about it, it just makes the subject more interesting."
But what he now does on a daily basis is educates his students on the wacky ways that animals make babies and what the penis can teach us about ourselves.
"You would think the purpose of every penis is the same – just to deposit sperm – but there's so much more to it," he said.
"For different animals it can also serve the purpose of blocking other mating animals, traumatising the female, or preventing further reproduction.
"The ways animals have evolved their various strategies to ensure the sperm reaches the egg is just incredible, and that's what I'm looking forward to sharing at the talk."
The free event will take place on Monday June 29 from 5.30-7pm at Manchester Metropolitan University's Salutation pub. More information can be found here.
Top image courtesy of BadgerBotherer1, via YouTube, with thanks