Street art – and its collaborators – has enjoyed a cultural shift in recent years from being seen as 'vandalism' and a destruction of public property towards the acceptance of graffiti as a meaningful form of self-expression, creativity and even enhancement of dull or rundown public spaces.
A global explosion of urban artists, often working anonymously, has paved the way for a legitimisation of spray paint interventions as acts of beautification or even public artworks, while also standing as the ultimate defacement of social order – a physical representation of our rebellious nature.
Manchester has become a creative hub for graffiti artists, with many being commissioned by the council or other public bodies for their work, which is a striking reaffirmation of this move from destruction to decoration.
A primary example of a city-based street artist rising to fame is the pseudonymous Mancsy, who made his first giveaway poster edition of about 20 prints featuring his trademark bee and pinned them in various locations around the Northern Quarter back in January 2012.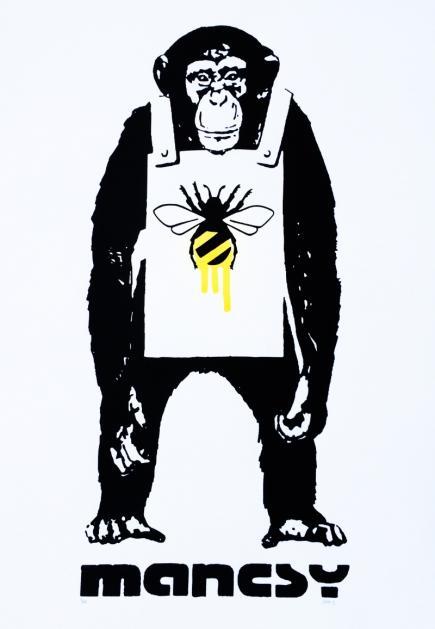 MONKSEY: The artist's first poster giveaway was back in 2012 and he's been rising to fame ever since
After positive response from the city's public and on social media, the artist continued creating monthly giveaways and began to make his mark on the cityscape.
MM caught up with Mancsy to discuss his work around the city, his experience as a street artist and a descendent of Bristol's Banksy, and how the face of graffiti is changing.
"My motivation to do giveaway work was essentially that I love Manchester and wanted more people to stop and look and see beauty in the back streets," he said.  
"The posters were meant to get folk to engage. I guess it's worked and from that Mancsy has grown.
"There was a funded public art program in the Northern Quarter years back which created the text on Oldham Street, the birds off Thomas Street, the antennae on Church Street etc. 
"Artists came to the Northern Quarter streets as the area was quiet, rent was cheap, and creative culture made this area popular. It's the age old story."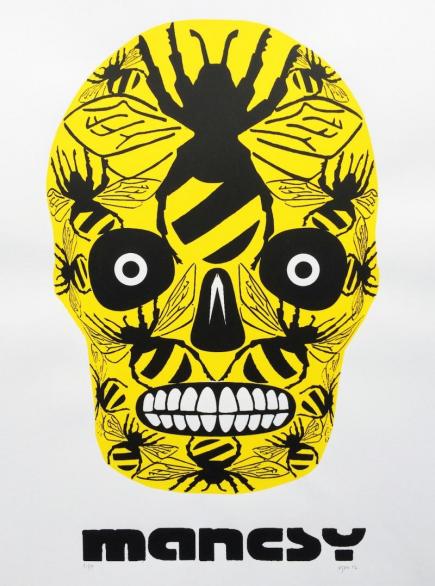 DAY OF THE DEAD: This was print was put up in London and Manchester by Mancsy for Halloween
Mancsy argued there is a stark contrast between graffiti for vandalism and graffiti for art, and that street art is still subject to legal action.
He said: "There has been a recent shift where artists have taken to the streets and people have become curious. It is embedded in society now.
"However, there is a distinct difference between someone with a spray can mindlessly making marks and that of an artist whose intent is to share an idea or message, provoke questions or challenge ideas.
"My activity could technically be considered fly posting but because it's become a swift treasure hunt and I leave no damage people are supportive."
A genuine passion for his Mancunian roots and a commitment to creativity in the North-west led Mancsy to produce artwork that championed the city as a cultural centre.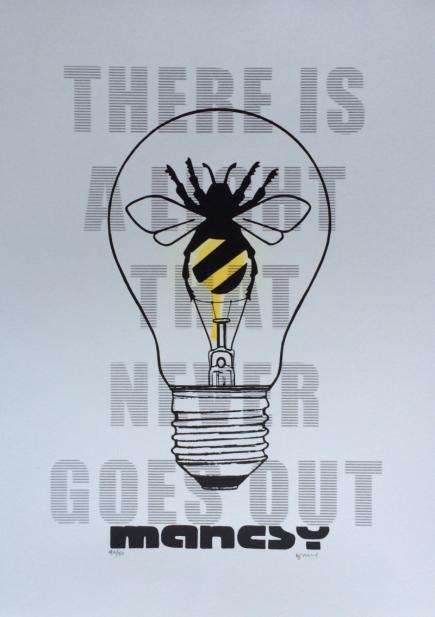 MADE IN MANCHESTER: The Smiths provided the soundtrack to Mancy's teenage years
"I am Manchester. We all are. The bee on the city's coat of arms represents the hive of industry of our forebears," he told MM.
"All cities have loyal citizens but a Manc is especially proud. When you look at what has come from this great hive our portfolio is astonishing.
"Today when you travel and mention Manchester people say football and music but the creative legacy is huge.
"I believe creativity is a fundamental building block of a healthy society. With a world on the brink of economic and environmental disaster, it will take some creative people to resolve the situation.
"It sounds grandiose from a lad who makes a few screen prints but creativity is at the root of invention."
Although focusing on his work at the local level, Mancsy has travelled to London, New York, Paris and Istanbul with his prints and is 'not opposed to venturing beyond the M60'.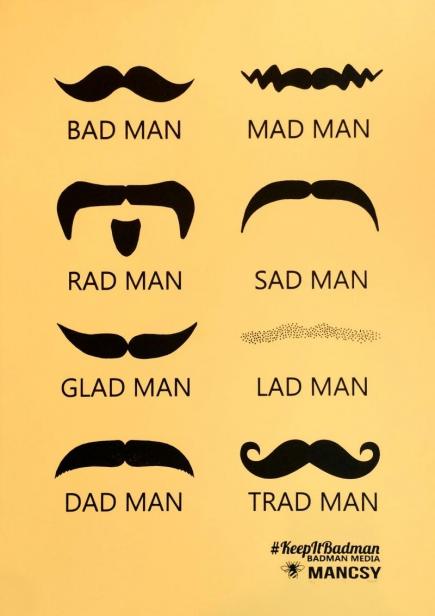 I MOUSTACHE YOU A QUESTION: Mancsy said his fans don't really want to know his true identity
Using the name Mancsy as his moniker has perhaps equated him with the graffiti artist and political activist Banksy more than he had initially anticipated.
He explained: "I have to say the play on his name had amused me and I sort of formulated this as a funny project initially.
"Banksy points out irony and creates permanent work, whereas Mancsy celebrates Manchester and worthy causes and creates a sort of treasure hunt for the random passer and those who follow my activity on social media."
He also said that working under a pseudonymous name brings with it both security and difficulty, particularly when organising exhibitions or shows.
Taking advice from the Banksy team, all members of Mancsy's entourage have signed nondisclosure agreements to protect his identity, and the artist believes the people of Manchester wish to uphold this level of mystery.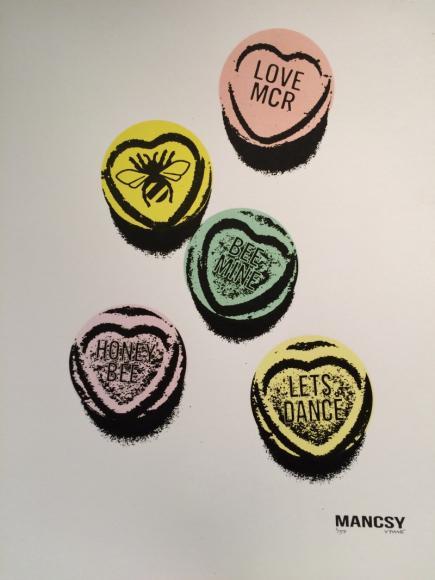 LOVE MCR: Mancy's one true passion is 'capital of creativity' Manchester and the city's people
He added: "It is a bloody pain when I need to organise something but I have a team, named by a fan as 'the hive', who do the running for me.
"I used to chat to fans but not let on I was Mancsy. They didn't question it as I'm an unlikely Mancsy suspect.
"I genuinely believe the fans don't want to know. When someone recently nearly exposed me it became 'I am Spartacus' on Twitter. I really appreciate it.
"That's what prompted the I AM MANCSY Mirror at the Victoria Warehouse exhibition."
The street artist will continue to promote causes close to his heart and raise money for various charities, for example, he asks his followers to make an optional donation to The Christie for his screen prints.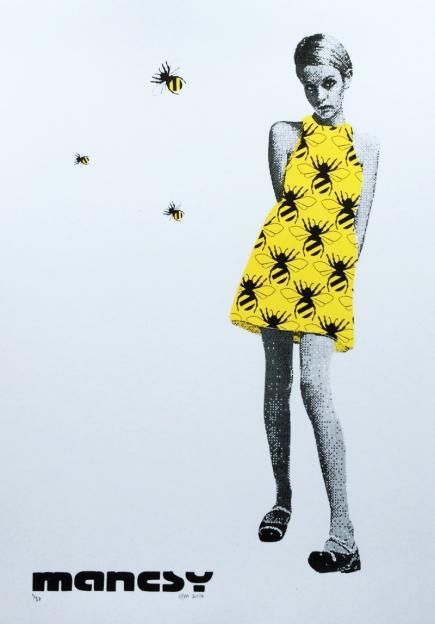 QUEEN BEE: This print of fashion icon Twiggy celebrates the city's history of cotton production
He has also promoted the foster service at Manchester City Council and designed the Hard Rock and Printworks honey label for ForeverManchester and the Booth Centre.
So what is next on the agenda for Mancsy?
"Who knows? I'm here and plan to keep making posters, giving away free-bees each month, getting involved in protests which feel right and sharing my message that Manchester is brilliant," he said.
"We are a capital of creativity. The people of this city, whether as birth-rite Mancs or those who have chosen us, are part of this hive of industry and own these streets we walk."
To check out Mancsy's work visit his website here.