Christmas spirit was at an all-time high today as Manchester's first ever Ideal Home Show kicked off at Event City.
The two-day event is set to host more than 500 quality exhibitors, providing everything needed to create a tinsel-tastic house in time for December 25.
As well as trees, furnishings and food, visitors can have the chance to sample whiskey and wine, get their teeth whitened and even receive tarot card readings, accompanied by the sound of a carol singing choir.
Gino D'Acampo, who will be performing two cooking demonstrations to show off his non-traditional Christmas style, was delighted to be in Manchester.
He told MM: "It's a cool, beautiful city, I love it. People are very friendly, the only problem here is trying to find a good Italian restaurant.
"I prefer to be in the North, I think people are more friendly, people in the North are more up for it. People in London, they don't have time for anything."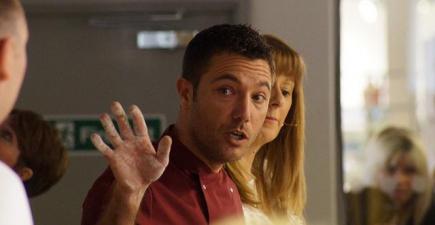 BELLA ITALIA: Gino loves Manchester but bemoans the lack of good Italians (Image courtesy of Bruce Stokes, with thanks)
"This really is the jewel in the crown for me," said wine expert Olly Smith, who was on hand to guide shoppers through the many festive tipples on offer.
He added: "It's everything under one roof, you've got all the finest flavours of Christmas, which I love because I'm a greedy man.
"Father Christmas must do his shopping at the Ideal Home Show."
The presenter will be giving away 12 bottles of wine to people who visit his exhibition and ask questions about his holiday recommendations.
The Ideal Home Show at Christmas at @EventCityUK Manchester is now open! Read more: http://t.co/wiLHarl3cd pic.twitter.com/rGk75WTj9O

— Ideal Home Show (@IHS_Manchester) November 14, 2014
Celebrity TV chef Lisa Faulkner, who will also be on hand to share her festive cooking tips, was equally excited about the show.
Lisa told MM: "It's just mad, juggling everything but it's good fun, and it's lovely to be back in Manchester.
"I think the show could do very well here – it's a massive city, but it feels like a small town, with the way you all look after each other."
The chef and actress will also be involved with the fashion and beauty side of the show – a section she has previously worked with down at the London show.
The Ideal Home Show has been running in London for five years, but has only just made the trip up North, much to the delight of the hundreds of Mancunians in attendance on the first day.
"This is the jazz hands moment that you can tell your grandchildren," said Homestyle consultant and TV personality Laurence Llewelyn-Bowen, "that you were there for the first ever Ideal Home Show at Christmas in Manchester.
"For me, and for a lot of other people, this is where Christmas starts. You've got a real sense of mounting anticipation.
"There are loads and loads of people out there who are absolutely sh*tting themselves that they have granny coming to stay, and their box room looks like a pile of poo.
"We felt very much that people needed a bit of help around Christmas."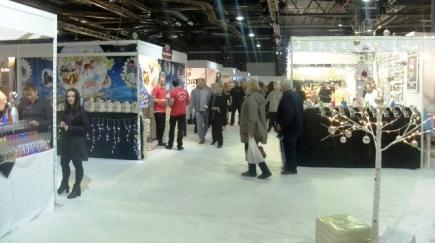 SANTA'S STORE OF CHOICE: Ideal Home Show's in Manchester for the first time
The success of the summer Ideal Home Show in Manchester proved to organisers that the city had a 'real excitement about homes'.
The Ideal Home Show will run at Event City from November 14 until November 16, from 10am-6pm. For tickets, click here.
Check back next week for MM's full interviews with Gina and Lisa.
Image courtesy of US Army Garrison Red Cloud, with thanks.