A surgical assistant, a business analyst, an IT guy, a novelist, and a software engineering student walk into a Manchester bar… They're not here for a punch line, they're here to rock your socks off.
Vocalist Calvin Fayle, drummer Jack Clough, guitarists Alex Verghese and Joshua Wray, and bassist Tom Fisher are a far cry from the angry teens, dressed head-to-toe in black, with pentagrams carved into their skin, screaming into a mic and calling it metal that people often imagine when they think of this very misjudged genre.
They're something even better. They're a group of friends with a life-long love of metal and a breadth of musical talent behind them – and they're right here in the city vying for their big break.
MM stumbled across the band on Reddit – where they regularly post links to their Soundcloud page to rave reviews from internet audiences – and decided to get in touch to find out more about them, their inspirations and their dreams for their band Found From Within.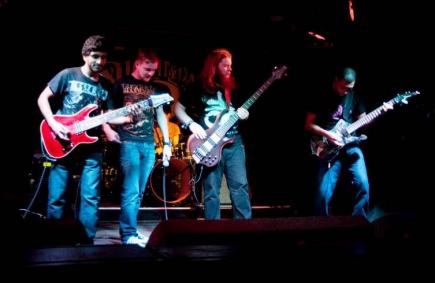 'WE'VE BEEN GOOD MATES SINCE': All five band members met, in one way or another, through MMU's Rock Society
It all started back in 2010 when Alex, 23, moved to the city from Northern Ireland to study at Manchester Metropolitan University and, of course, joined the Rock Society where he met Calvin, 30.
The pair hit it off straight away and it wasn't long before the RocSoc brought them their next member Josh, 24, who writes gothic romance novels under the name J.J. Wray in his spare time.
Then along came Jack, 23, at the invitation of Josh because they had played in a covers band together when they were just 14-years-old.
All they needed now was a bassist and from the sounds of things Tom, 23, had little choice in the matter.
Calvin, who's originally from South Africa, said: "I met Tom through his girlfriend because I was telling someone how I needed a bassist for our band and she told me her boyfriend played. This was at a Trivium gig in The Ritz.
"Afterwards we went to Satan's Hollow where I met Tom and TOLD him he was in the band now."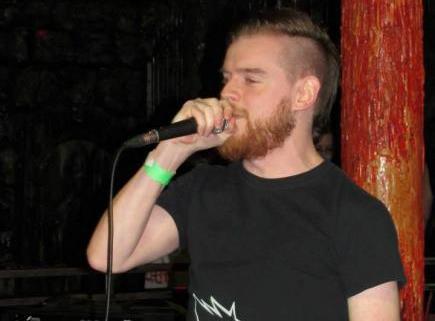 'YOU'RE IN MY BAND NOW': The first thing vocalist Calvin did when he met Tom was tell him he was in the band
The bassist's version of this anecdote matched up exactly but he assured us he did actually WANT to join as well.
He said: "We were meeting a couple of people after a Trivium gig where my girlfriend met Calvin who was also a member of the Rock Society but we hadn't met before.
"He introduced himself and said, 'You're a bassist aren't you?'. I pretty much didn't even get a chance to respond before he said, 'You're in my band now'.
"I was pretty eager to join as I'd never been in a proper band before."
Since then there has been no looking back for Found From Within, and while the band may still be relatively new, metal has been a long-standing passion for each of its members.
"I was born and raised on metal, some of my first memories are of songs like Iron Man by Black Sabbath and early Offspring. My dad was pretty much the reason I got into the scene," Tom said.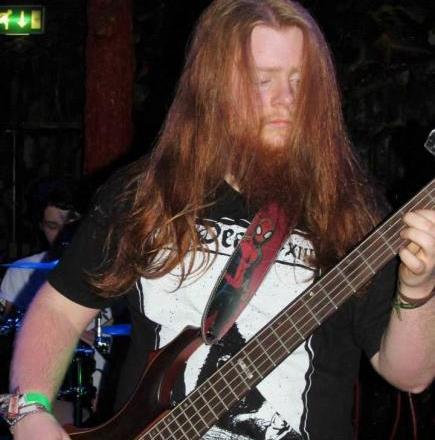 'BORN AND RAISED ON METAL': Bassist Tom's first memories involve songs by Black Sabbath and Offspring
The bandmates are not completely opposed to other types of music and have fairly eclectic tastes but it seems the heavy stuff will always win out in the end.
"I've been listening to metal most of my life and enjoy playing that style most. Over the past few years I have been getting into other genres a lot more but metal is still my main love," Jack said.
Alex added: "I tend to like music from all genres but metal is my go to genre. I just love the energy – it's really cathartic to listen to, especially when you're in the mood for it.
"Aside from metal I'm quite a fan of electronic music and jazz fusion."
And while metal is singer Calvin's passion, he explained that there was always something just standing in the way of his career as a pop star really taking off.
"I don't mind other genres, but heavy metal is the music I am the most passionate about. Also, the kind of vocals I have wouldn't be acceptable within the current pop scene," he said.
While the guys might be open-minded when it comes to their musical tastes, it seems their music hasn't always been met with the same level of acceptance.
This is the plight of many a metal band as the genre is prone to so much negative stereotyping as angry, shouty, Satan-worshipping LOUD NOISES.
And as with most judgements born out of ignorance or misunderstanding, these stereotypes are often wrong and tiresome for the bands.
Tom said: "I find that people always make some kind of judgement whether it's negative or positive and it doesn't bother me too much.
"But when I mention about being in a metal band a lot of people tend to look at me and say, 'Is it the rawh rawh screaming stuff?' or something similar and that gets a very old very fast."
And Jack added: "I don't really fit the metal stereotype and when I tell new people about playing in a band they seem dead interested. Then I watch their little faces drop when I say it's metal."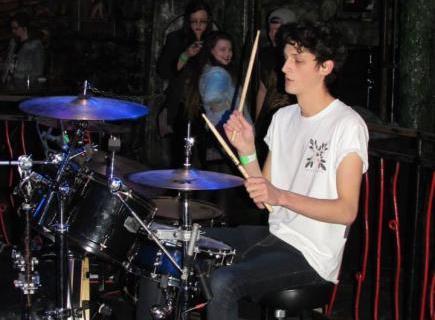 DEFYING STEREOTYPES: Drummer Jack said people are often shocked when they hear he's in a metal band
Calvin explained that it is not just people who don't listen to metal that judge but that there is judgement between bands and audiences of the genre's different subsections.
He said that this type of stereotyping has sadly limited which bands Found From Within can perform with because audiences aren't willing to give them a chance.
"The only reason I hate stereotyping is because there are bands from different genres of metal – death metal mainly – I'd like to play with but due to peoples tastes it wouldn't work," he said.
"People would come watch the death metal bands and then leave during our set without even giving us a chance to prove ourselves no doubt."
However the band member hardest hit by people's disinterest in metal is Alex, whose family wishes he'd chosen something more widely accepted.
He told MM: "My family varies from generally not minding the fact that I play metal to being disapproving and unsupportive, which is a shame really.
"They'd rather I played 'pop ballads' or something like that. Wish they were more open-minded!"
Luckily for the band, the rest of their friends, family and significant others have been really supportive of them, even if they're not going to be the ones at the front starting a mosh pit.
Jack, a born and bred Mancunian, said: "Everyone is really supportive even if they don't appreciate the music we play. My girlfriend isn't really into metal…at all… but she still makes an effort."
And Tom, who moved here from Merseyside, said: "My dad loves the music and has been very supportive. My mum not as much, she doesn't disapprove as such but I think she would prefer less swearing and tattoos."
Thanks to this support and their own hard work and dedication, Found From Within are really getting their names out there on the Manchester music scene.
Could the city's next big music legend after Oasis, Happy Mondays, New Order, and Elbow be a metal band? (MM hope so!)
They've gigged in venues across the area, including Grand Central, Satan's Hollow, Night and Day, Stars and Garter, Kraak Gallery, Sound Control and even the Alma in Bolton.
The first club they ever played was Sackville Street's Retro Bar and they frequently go back as it holds a 'special place in their hearts'.
They've not once gone down badly with a crowd, which may in part be down to the extensive range of metal bands they draw inspiration from, including Tool, Meshuggah, Heart of a Coward, My Dying Bride, and Opeth – to name but a few.
And their online audiences can't get enough of them either, with positive comments being posted left, right and centre – the highlight of the guys' days from the sounds of it.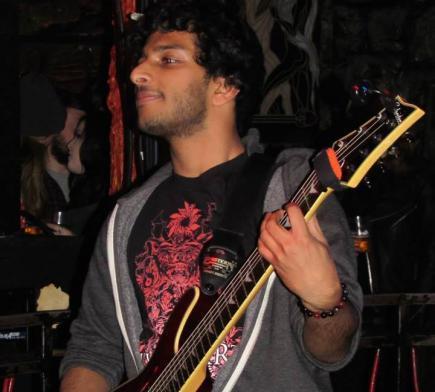 'ALL WARM AND FUSSY INSIDE': Guitarist Alex said comments on Found From Within's music let's him know people give a damn
Alex said: "I get all warm and fuzzy inside, nice to have people actually give a damn about what you're doing and aren't afraid to show it."
"It sounds daft but I get butterflies in my stomach, it's like I've made an impact on someone and that's pretty cool," said Tom.
"It's great to know that other people appreciate what you're doing. It's nice to know when people a share a passion with you," said Jack.
And Calvin added: "It makes my day. It shows we are doing something right."
But they are determined to stay humble no matter how much their success grows, and Josh explained that for Found From Within 'fame is not the goal, creating art is' – and it helps that they get to do it with their mates.
"Being in band is great fun and I love it. For me, being famous isn't an issue at all – if it was I wouldn't play metal," Jack said.
"I'm just having a good time playing heavy music with friends and meeting new people at shows."
And Tom added: "I've ALWAYS wanted to be in a metal band. I remember being about five and listening to Black Sabbath records with my dad and air guitaring like mad.
"As for the fame, I'm not that bothered, I'd rather people enjoy our music."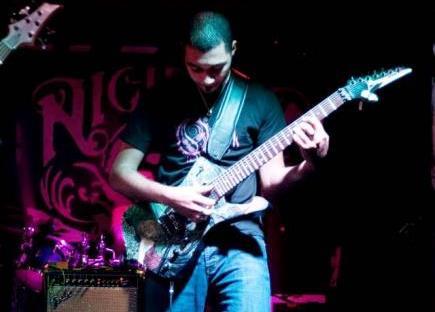 'FAME IS NOT THE GOAL': Guitarist Josh says Found From Within's main aim is to create art
For now the guys are just making music, having a good time and collecting some good stories along the way like the time Tom's blister popped while he was playing – we hear it made for a hilarious photo – or the other time he got elbowed in the head in a mosh pit and had to play the rest of the gig dizzy.
Who do you think the self-defined 'daft one' in the group is then?
So if you'd like to find out more, listen to their music or support Found From Within in their rise to fame visit their website. You can also find them of Facebook and Twitter.
They're next gig is support Apex at Factory, Princess Street, Manchester City Centre, on August 21. To get tickets, click here.
The MM team have high hopes for these gods of metal – and remember you (probably) saw them here first.