'Oh, hello there, my name is Jess. Sometimes my legs get in a mess. I'd love to walk, I'd love to run. If only I could get up off my bum…'
This is the poetic plea of a brave Wythenshawe tot, Jessica Rooney, who cannot walk or talk and would love a walking frame to help her explore – and she needs your help to get it.
Two-year-old Jess, who is currently only able to get about by 'bum shuffling', needs £2,500 for the walking frame and the NHS can't fund it so her school, Foundation Years Nurseries, has set her up a crowdfunder page.
The poem on Jess' fundraising appeal continues 'Why what's the matter, I hear you say. I just want to get up and go play' but the truth is, despite more than a hundred different medical tests, nobody knows what is causing her troubles.
And for her mum Sam Rooney, 26, and her dad Jason, 31, the not knowing and constant disagreement between doctor's on their little girl's diagnosis makes them feel 'trapped' and 'frustrated'.
Sam told MM: "It is all still very much an ongoing thing. She has not been diagnosed with anything yet.
"It has been a bit of a struggle to get the ball rolling because they don't like to diagnose children too early and because she doesn't fit into a specific category.
"It is one of the hardest things to get the doctors to agree on anything. It is very frustrating for me and her dad.
"One doctor will put our minds at rest and then we speak to another doctor and we are worried again. We just feel like we are trapped in the middle of it all."
Jess has had varying diagnoses from autism to Rett syndrome – a rare neurological disorder caused by a genetic mutation, which mostly affects girls as it is found in the X chromosomes.
People with Rett syndrome have profound and multiple physical and communication disabilities and are totally reliant on others for support throughout their lives.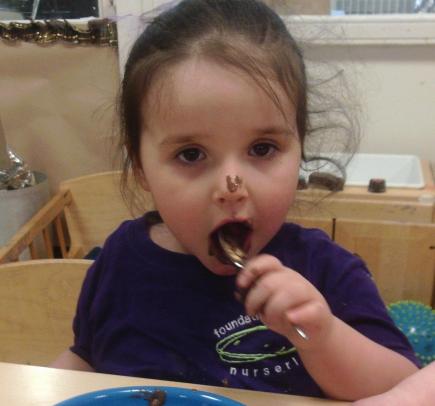 EXPRESS YOURSELF: Jess' mum says the toddler is a bundle of personality even though she can't walk or talk yet
The little one has been in and out of hospital for blood tests and brain scans and her mum said it is scary and confusing hearing doctors – who throw around terminologies and illnesses you've never heard of – pushing for more invasive procedures without solid reasoning.
Jess' mummy said: "You don't want to hear that for your child. You just want the best for them. And when they are poorly you don't want to hear about all these big operations that have massive risks.
"She's had over a hundred tests done and at the moment they just cannot say what it is. They are looking at autism so we'll see.
"They thought she had Rett syndrome and when they looked at her blood one of the variants of genes has shown up so now we're waiting for mine and Jason's blood tests back to see if we have it.
"It is scary them telling us about all these things – these terminologies and illnesses – that we have never heard of before. And there aren't any people to turn to for advice or support.
"You just do not know what to do and it is all quite confusing.
"Some of the tests that they want to do that me and her dad aren't willing to do because they are so invasive.
"They want to do a lumbar puncture to take fluid from her spine and they want to take fluid from her brain. They don't have a specific reason, they are just clutching at straws.
"Sometimes I just think if she is healthy and she is happy and it's nothing that's actually that dangerous then that's all that matters."
But the proud mum thinks Jess has been a superstar throughout.
"Jess has been so good. She just takes it all in her stride – pardon the pun. Except when she's had to have brain scans. They really affect her and make her quite woozy," she said.
"She isn't aware enough of what is going on for it to bother her. It's a good thing really because the less stressful it is for her, the better."
While Sam and Jason are lucky that Jess, who is an only child, is dealing with the doctor's visits and test so well it is no surprise it is taking its toll on them after all this time.
The beautician and mechanic, who have been together for eight years, realised something was wrong with their little one more than a year ago.
Sam said: "She was about 14 months old and she just sort of regressed.
"She was doing everything she should have been doing – she was saying the words and starting to communicate – but then slowly but surely it all stopped. She now doesn't speak at all," Sam said.
"She does communicate but not verbally. She'll make eye contact and then look at what she wants."
Thankfully this little family have had Foundation Years Nurseries help and support from the very start with free physio for Jess, the crowdfunder page and they've even hosted fundraising events like their 80s night at Benchill Conservative Club.
"The nursery have been fantastic from day one. They give a lot of support and really go above and beyond what they have to do and even what they should do," Sam added.
"Most places, I think, would be like 'It's not really our problem' but they have really helped us and done a big fundraiser for her.
"And they have allocated her one-to-one sessions even though she has not been diagnosed yet and there's no funding for them to apply for. They have just done that off their own backs."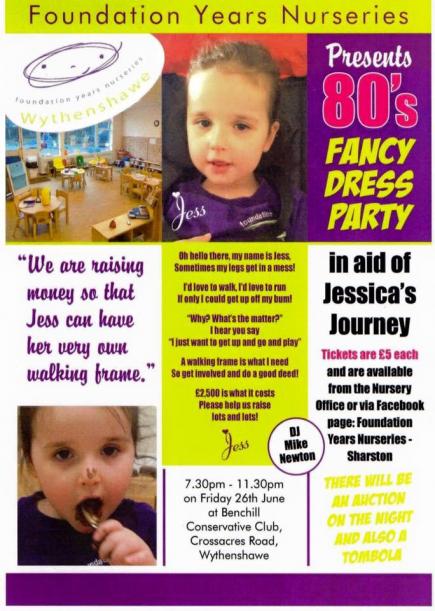 FUN-DRAISING: The nursery have organised an 80s night to help get Jess the walking frame she needs to take her first steps
Jess is definitely a lucky little girl to be at a nursery where the people are so willing to help out and, although she isn't pottering about with the other tots, thanks to the physio she has improved loads.
Her mum said: "They have got her one-to-one training with a physio to help her to stand better and she is doing really, really well.
"Three weeks of physio and she had started to crawl and after a couple of months she was standing completely straight whereas before she would stand with her bum really pushed out.
"She has come on in leaps and bounds. She is still not where she should be but she isn't doing badly at all."
But to get Jess taking her first steps on her journey of discovery and recovery, she needs every little bit of help she can get to boost the funds raised from £715 as it stands to £2,500.
Walking wouldn't just mean the world to this courageous little girl but will also be really important to her development.
Sam said: "I think when children go from crawling to walking they become their own little person and get their own little personality.
"And she's got so much personality already. Even though she doesn't talk or walk she is so funny with her expressions and some of the faces she makes.
"Having the walking frame will help her to explore more and come out of herself and get her on her way to where she needs to be."
To help this tot toddle into her next adventure, you can donate to Jessica's Journey here.
And to get your tickets to Foundation Years Nurseries' next 80s night at Benchill Conservative Club, Crossacres Road, Wythenshawe, on June 26 drop them an email here.