Since 2008's economic collapse, thousands of Britons have been made redundant
Most have investing their settlements into paying off bills, treating themselves to a new car or just plain surviving while they search for new employment.
For a young Manchester couple, however, redundancy came at the right time, allowing them to invest their redundancy package into realising their dream of launching their own Manchester clothes brand   ̶  Uneducated Clothing.
Born and bred in Manchester, Janine and Danny Smith had long fantasised about designing their own range of limited-edition menswear for the modern Mancunian man  ̶  a range that is now reaching out as far as Dubai.
Back in 2012, Janine, now 29, was made redundant from Barclays bank having worked there for almost 10 years. Four months pregnant at the time, the news could not have come at a more precarious time.
With a mortgage to pay and a baby to feed, Janine was left in a dilemma of where to go next.
Janine's inspiration first came almost two years before being made redundant following years of unsuccessful shopping with 30-year-old husband, Danny.
The mum-of-one said: "It all stemmed from going shopping with Danny and never finding anything that he wanted.
"I do think it's different for girls. You can go to Primark, match it with something from Selfridge's and it looks absolutely fine. But I don't think guys can do that as easily."
Previously hitting the high street, Danny was shopping at well-known fashionable brands ranging from Next to Zara and from Harvey Nichols to Selfridges.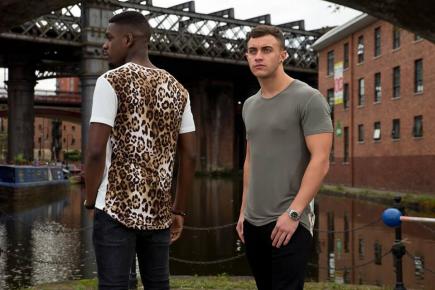 FELINE FINE: Just two examples of Janine and Danny's designs (©TerryMc with thanks)
Danny told MM that more often than not it was the length and overall fit of the t-shirts that led him to believe that he and his wife could design something just as good, if not better.
Unable to keep their inner designer buttoned up, the married couple of four years first experimented with a simple white t-shirt.
Danny said: "I wanted good, slim-fitting t-shirts that were longer than the t-shirts that you usually find. So then I knew that it was possible."
Searching fabric fairs across the country, the couple were keen to move away from the current high street trends.
Janine said: "At first we were considering prints, but then we went to the shops and all we could see was print, after print, after print – so we wanted to move away from that mainstream line."
Janine believes that it is the unique designs and fit of her clothing ranges that are steadily drawing in the orders.
She said: "Anything we do has to be different. It can never be the same as what's on the high street.
"Why would you buy our products when you can already get it out on the high street? It has to different. It has to have that key selling point."
With sizes ranging from small to extra large, the clothing range is based on Danny's medium-size frame.
Danny said: "A lot of my friends wanted the shirts to be fit like I wanted. It's a unique fit and I think it's what people are crying out for."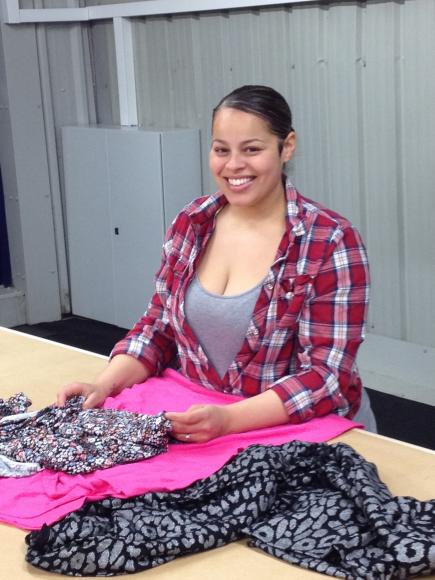 STITCHING ON A SMILE: Co-founder Janine Smith prepares to work her magic on some new fabric
Shunning the current high street ends, Janine began to focus on combining materials of different textures, design and colour in order to create their limited edition ranges.
The couple were keen to share some of their latest designs with MM which showcased their colourful summer ensemble, including a turquoise tank top with a floral chiffon back.
And Uneducated Clothing's bold designs have raised a few eyebrows among suppliers and customers alike, who have both subsequently been won over by the couple's finished products.
Janine said: "Sometimes when you show people the fabrics separately they can be quite unconvinced, then you show them the finished product together and they want to buy the sample there and then."
One-of-a-kind clothes are proving to be a key selling point for the brand as customers relish the thought that few will be able to buy the same t-shirt as the one on their back.
Janine said: "We don't run off five of one size. We make one brilliant quality t-shirt to order. People who've bought our t-shirts are always really happy when they know that there aren't any left.
"At £25-30, our customers are more than willing to pay that little extra, knowing that the product is limited edition and excellent quality."
Although aimed at the 20 to 35-year-old age group, Janine said that her dad has snapped up some of Uneducated Clothing's more subtle designs, of which there will soon be an entire range.
Meanwhle, some of the more outrageous designs are already finding homes on the beaches of Ibiza and Marbella.
Although keen to ensure that the production of their Manchester label remains as local as possible, by purchasing some of their materials from fabric superstore Leon's in Chorlton, the northern decline of manufacturing means that most of the brand's materials are sourced in Leicester.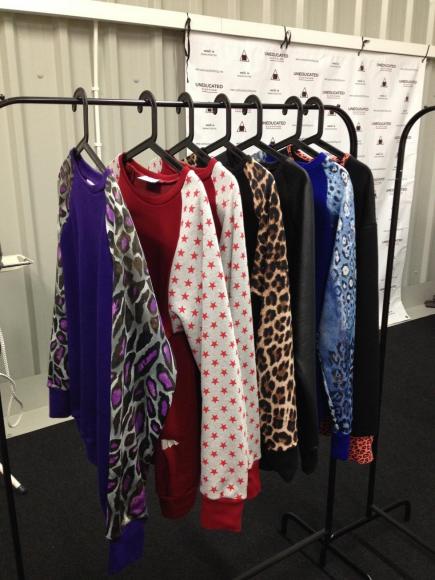 RACKING YOUR BRAINS: Uneducated Clothing's unique garments
However, staying up North for their next collection, Janine revealed that their latest materials were found across the Pennines in Bradford.
Giving a sneak peak of their forthcoming range, Janine said: "At the minute we have a lot of animal prints and florals – but the next look will be lace, tartan and little bit of leather."
The different ranges are all individually named, which include Mr Cool, Mr Clean and Mr Slick. The inspiration for the titles subtly refers back to the brand name.
Janine said: "The reason we chose the name Uneducated Clothing is because we didn't go to college or university or anything like that.
"So in the eyes of society we've always considered ourselves as being 'uneducated', but always thought that we're still confident and still making money just like anyone who has a degree.
"Each collection is therefore called a 'Mr something' because when you are 'uneducated', you don't necessarily get considered as a 'Mr so-and-so'."
The meaning behind the brand is also reflected in Uneducated Clothing's triangular logo. Janine explained that the idea of fitting a square into a triangle was inspired by the wooden children's toy.
She said: "We thought, 'how do you show uneducated?' You can't draw an uneducated person, because, what does that even look like? And that's exactly what we're trying to say!"
Danny – who now, of course, is decked out in Uneducated Clothing himself – has recently been stopped by numerous strangers asking where his shirts or jumpers were from.
From van drivers to coffee drinkers, it seems that the brand is already starting to stand out in the Manchester crowd.
The entrepreneur said: "I think girls are more likely to ask where someone else got something from that they like than guys. So I think for a lad to do that shows that our products really stand out."
Since moving to a larger unit in Ardwick in March, the label has enjoyed an increase in demand as well as a rise in social media attention.
Last month, the couple also held a promotion night at Manchester nightclub Sakura in conjunction with their Monday nightclub Bedroom.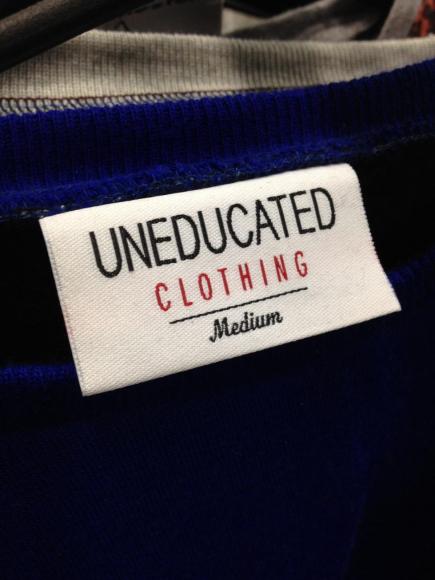 GET THE LABEL: Uneducated Clothing is looking to make a mark on the clothing world
Male models sporting Uneducated Clothing were also joined by female models wearing body paint in designs reflecting the brands latest patterns.
As well as promoting the label in Britain, Janine and Danny already reaching out to foreign shores – with a promotion night planned in Dubai.
Danny said: "Shops over there are very designer, high-end orientated – but there's nothing in between.
"The alternative for shoppers at the minute is buying online or waiting until friends and relatives come to visit so they can bring things over with them."
Confident that Uneducated Clothing would fit into the international market, Danny added that the brand now just needs exposure to hit the big time.
Danny said: "Internationally, Manchester is already a huge name. People think of Manchester music and football. Now, we can put 'made in Manchester' clothing on the map."
Janine echoed her husband and said: "We want to keep expanding. It sounds cheesy but to have someone recognise our brand on a global scale would be brilliant.
"Maybe one day we will open our own store – expanding into women's clothing, tracksuits, pants, jackets. You might come back here in 10 years time and we'll be making underwear. Who knows?"
In the meantime, however, Janine insists that a move into the high street is off the cards as she wouldn't want to stock Uneducated Clothing within a department store.
The production of their clothing range will also continue to stay on Mancunian soil as the label strives to bring more industry into the local economy. 
Janine said: "The quality is brilliant and the work from our seamstress Sylvia is brilliant. We would much rather get them made over here in Manchester where we can do a good job of quality control.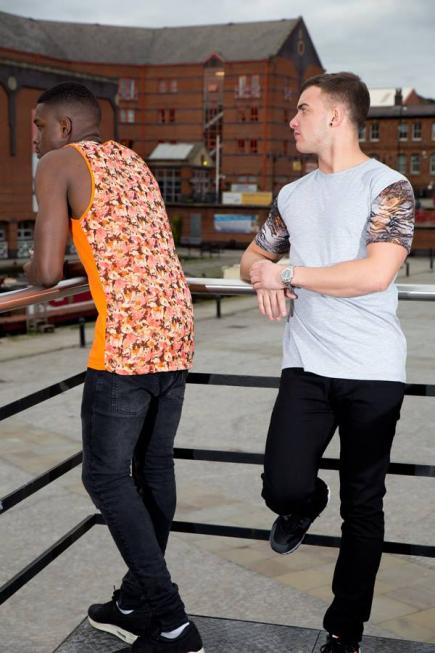 AMBER-ITIOUS: The brand's bold designs have boosted the business over obstacles (©TerryMc with thanks)
"And, because we're a local label, we can employ local people too. Hopefully, we will reach the point where we can employ even more people."
Of course, launching themselves into the fashion world on the back of redundancy was never going to be an easy feat.
But the thought of missing out on the chance to realise their dreams was enough to drive the couple to jump over countless obstacles.
Janine said: "We had no small business funding and the process is not user friendly at all. The amount of hoops I've had to jump through – you wouldn't believe."
On the arrival of their first daughter, Janine said that she has inspired them to continue: "Website management, with a three-month-old baby is hard. She's a massive drive for us now, but you really can see why people don't do it."
In a word of advice to other would-be entrepreneurs, Janine added: "It's hard graft to set up your business but if you've got something and you believe in it, then you've got to go for it. You've got to jump over every obstacle.
"It's so worth it  ̶  now that we're coming out the other side."
Images courtesy of TerryMc Photography with thanks