The first signs of spring are here, our bank balances have bounced back from the post-Christmas slump and the January blues are well in the past.
It's the time of year when lots of us start flicking through the travel guides and switch from full fat milk to semi-skimmed, in a bid to get that beach body.
With the average British traveller spending up to two months' salary on an annual summer holiday, choosing where to go can be a big responsibility, but now imagine you could only choose one more holiday destination ever?
With this in mind, MM took to the streets of Manchester and to Manchester Airport to ask:
What is your bucket list holiday destination?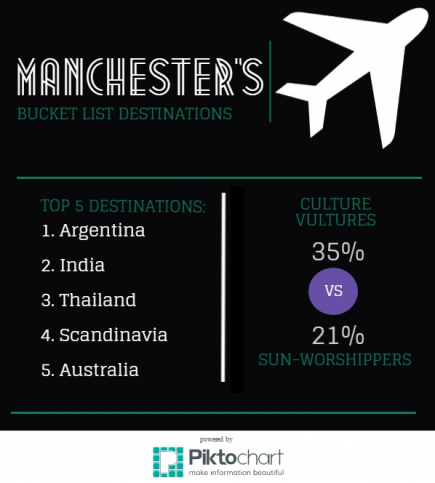 MM's interactive map below shows some of YOUR top bucket list pics and why they are your dream destination:
Avid Adventurers
South America came out on top overall, thanks to the adventurous twenty-somethings of Manchester.
Chris Lees, 27, a bartender from Manchester city centre said: "I would love to go to Argentina. It seems like there is so much to see and do from trekking and exploring the heritage sights to vibrant festivals and carnivals.
"And of course the wine and the steak sound awesome too!"
For Christian Berger, 24, a PhD student at the University of Manchester, the stunning natural beauty and 'sweet glaciers' of Patagonia hold more of an appeal.
Amy McCulloch, also 24 and a medical student at the university, said Colombia topped her 'travel to-do list'.
She told MM: "I travelled around parts of South America before I went to university, and never quite made it to Colombia.
"I'm fascinated to learn about the indigenous people living on the mountains that border Ecuador.
"Travelling for me is about experiencing things that are exciting completely out of the ordinary."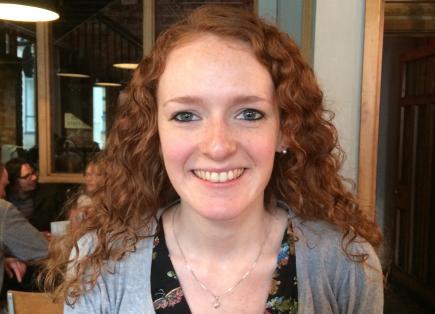 COMPLETELY OUT OF THE ORDINARY: For Amy travelling is about experience new, exciting things
Culture Vultures
James Fitzgerald, 30, from Whaley Bridge, picked India as his destination of choice.
The well-travelled architect said: "I think it would be completely different to anywhere I've been or can imagine.
"In terms of culture, food, and sights it has everything; it is sunny, spicy and sensual.
"I am a keen photographer and what I think of when I think of India is bursts of colour and vibrancy."
Retiree Richard Potter, 65, from Knutsford, said his dream destination would be Kruger Park in South Africa.
He said: "I used to live in South Africa. That was 40 years ago now though and it was a very different place back then!"
Sun Worshippers
The paradise seekers of the crowd listed the Seychelles, and Caribbean Islands as their dream destinations, for the blue skies and clear waters.

TAKE ME SOMEWHERE EXOTIC: Maialen wants to go to Thailand to party and soack up the sun
Maialen Zalbidegoitia, 26, from Salford, picked Thailand as her travel target.
She said "I have heard a lot about Thailand and it seems exotic to me.
"I would like to go to a full moon party one day and then lie on the white sand beaches and soak up the sun.
"I think it sounds like paradise."
Forward Thinkers
Some of those we spoke to picked their dream destinations based on the lives they hope to make for themselves in the future.
Roshan Krishna Kumar, 28, chose the bright lights and buzz of the 'Creative Capital of the World', Los Angeles, whilst music producer 24-year-old James Caldicott had his heart set on Miami.
Michael Lever, a 25-year-old research assistant from Swinton, considered his dream destination much more in terms of a reflection of his cultural ideals.
He said: "I would say my 'dream' destination would be a place with a mix of ideals of how I think society should be – Scandinavia appeals to me more than anywhere else for this reason.
"I really admire the minimalistic yet richly grounded attitudes to work and family and the Scandinavians have mastered the art of understatement.
"I'd probably like to fish in the Bergen area of Norway, or explore Sweden's cities.
"Whether it is design, style, food or politics, solidity in simplicity is key and I like that."
Finally, and perhaps unsurprisingly, TripAdvisor's 'second most desirable place in the world', Australia, also featured – but in one case for a surprising reason.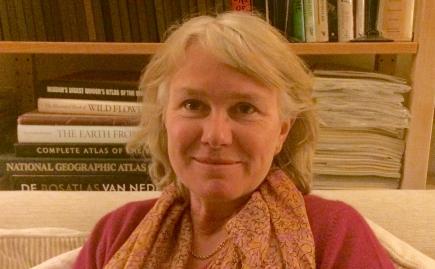 I COME FROM A LAND DOWN UNDER: Marjie would head to Australia to explore her family heritage
Marjie Glazener, 56, a retired nurse from Bramhall, would head straight down under to explore her family heritage.
She said: "For me it would have to be Melbourne. It is where my mother was born and grew up, and the idea of walking in her footsteps is something I have been longing to do for years.
"I am intrigued to see where the culture fits into who I am now – I know I am built for warmer climates than here in the UK!
"I have to say, though, as a serious arachnophobe I would definitely be worried about the critters."
Thanks to the Internet we now have a whole host of destinations at our fingertips and it is easier than ever to fly to every corner of the Earth at the touch of a button.
So, where will your next holiday take you?
Main image courtesy of Eduardo Amarim, with thanks.