Imagine a pitch-black space. You're lay down, but you can't feel your body. You can't see anything, you can't hear anything, you can't smell anything.
You are utterly abandoned, cut off from everything apart from your mind.
For some people this would cause a sense of panic and fear, yet for others it is a deeply rewarding method of relaxation which reduces mental and physical ailments.
The process in question is called 'floating' and it is a relatively unknown development in the health and wellbeing industry.
Popularised by American Joe Rogan in his podcast 'The Joe Rogan Experience', there are over 150 floating centres across the United States and Canada.
But the industry is growing fast in the UK as well.
There are now a handful of centres up and down the country – with one right here in Manchester.
Float Level is the brainchild of Chris Fuller, a former management consultant who set up the centre to help bring the benefits of floating to the people of Manchester.
"When you start doing it you can't help but get the physical benefits because you are being completely suspended," he told MM.
"On the mental side of things, you find yourself relieving stress and getting the weight off, so in your mind you come out and you feel mentally refreshed and reset."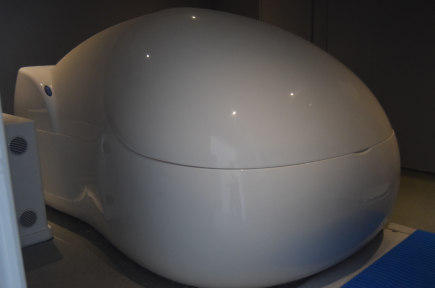 PODS: The containers are filled with Epsom salt water
Situated in New Islington, in the spectacular Chips Building, Float Level is a high-quality centre that houses three floatation pods.
Each state of the art pod is approximately 12ft by 8ft and is filled with 12 inches of Epsom salt water which is what enables you to float.
The water is heated to body temperature which helps creates the effect of losing your senses.
Users have the choice of floating in complete darkness – and that means complete darkness – or they can float with a low level of light which can be switched on and off throughout the session.
According to Chris, it is sometimes hard for people to fully embrace the experience at first as it can be quite surreal.
He explained: "On the first time people are sort of sussing it out, getting a feel for what it's like. Like everything really, the more you do it the easier it becomes, and you are able to drift into it.
"It can take some time for the mind to adjust to the lack of stimuli, so generally people who have done mediation and things like that tend to settle a bit quicker.
"But people who haven't done it at all, if they do surrender to it and let go, they do get into the very deep mental states."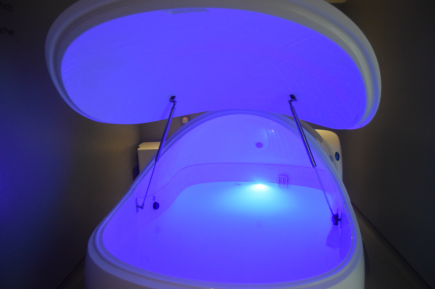 STAR-STUDDED: The likes of Wayne Rooney have given it a go
Yet, after the initial discombobulation, floating offers a richly rewarding physical experience. Sportspeople, such as Wayne Rooney, have used it to treat injuries in the past.
Floating has also had positive effects on people suffering from chronic pain issues, stiff joints and arthritis by easing the discomfort that they can cause.
But for Chris it is the mental benefits that convinced him to open the centre in the first place.
He first floated in 2012, in a centre in London, and the relaxing, stress-relieving nature of the experience blew him away.
"After that first time I really was amazed, I didn't expect it to have that impact at all," he revealed.
"I was amazed that they weren't everywhere, and that people didn't know about it.
"I was living in Manchester at the time and I felt that I had to open the place because the benefits are just huge.
"I would go in there to think about anything I have to figure out, you'll find you come up with good solutions very quickly just because you are not distracted at all."    
Floating sessions usually last an hour, with longer sessions also available, but if an hour seems like a long time to lie still in a pool of water, believe me when I tell you the time flies.
Each float is different and tailors itself to the needs of the individual, whether you are stressed, injured, in need of clarity, or even depressed, floating brings a sense of calm and relief to those who experience it.
So where does the industry go from here?
For Chris, he shows no signs of stopping and he even hopes to expand Float Level to keep up with the demands of the industry.
He said: "I have new people coming in all the time that are only just finding out about it but with the sort of drive towards wellness and fitness and looking after your mind and your body, I think that it is only growing more popular.
"It really is gaining popularity and it doesn't seem to be stopping, it seems to be getting more and more intense, I guess it's becoming almost exponential." 
*Float Level is open every day except Tuesdays, from 10am until 9pm. You can book a session HERE.