Halloween is just around the corner, and whilst some will be content to close the curtains and ignore the trick-or-treaters, many around Manchester will be looking to get into the spirit.
And whilst the less adventurous of us may be content to rewatch Nightmare on Elm Street for the seventeenth time, a whole host of events will be taking place around the city for thrillseekers.
Here, MM takes a look at our top ten most spooktacular events to get your pulse racing and hair-raising this Halloween.
House of the Dead
We're just about to pop into the House of the Dead in Manchester for a quick gin and a scream! #quaking pic.twitter.com/NXxsjr8TFr

— Kill The Beast (@Kill_Beast) October 1, 2015
A first of its kind in the UK, House of the Dead, comes to Manchester, with the atmospheric, Grade two listed The Great Northern as its set.
Scare-seekers can walk through the 'immersive' themed horror house, complete with monsters and movie-sets, before locking themselves in the 4D game world Trapped Up North.
This new game-show concept involves a team of 3-6 people shut inside an escape room with one hour to break the code.
Gamers can choose from: Jigsaw, involving a serial killer on the loose, Cabin Fever, with its creepy cabin-in-the-woods theme or Quarantine, in which there is a contagious virus leak.
The masterminds behind famous fear-factory Farmaggedon are bring the event to the city and Director Richard Cottier promises it will be 'an experience like no other'.
He said: "We look forward to welcoming Manchester's bravest men and women into our terrifying scare attraction this Halloween season.
"Trapped Up North is not for the fainthearted and we bring a wealth of experience in horror attractions to terrify anybody brave enough to take part."
House Of The Dead is on until November 1 from 7-10:30pm and tickets cost £18-20.
Trapped Up North is on until Wednesday 23 December. Tickets from £13.
Click here for more details.
IllumiNaughty
Catch @dubpistols at #Atlantis on 31st of October #electro #breaks #illuminasty #lowdown #IllumiNaughty #LostCityMCR pic.twitter.com/Lsq60wOEoJ

— illumiNaughty (@illuminaughtyUK) October 19, 2015
For those wishing to get their fancy dress kit on and time-warp the night away, Manchester party people IllumiNaughty have some tricks up their sleeve.
Panning across four arenas, the 'Lost City' themed night has all the cocktail ingredients required for Halloween themed frivolities including decorations, lighting, lasers and performers.
The event will take place on Halloween night at Bowlers Exhibition Centre, Trafford.
Click here for more details.
Vevo Gig
hello: the tickets for our Halloween thing are now on general sale #VevoHalloween http://t.co/jnhtfzy43Y pic.twitter.com/M8yCbeey2R

— Years & Years (@yearsandyears) September 10, 2015
International music channel Vevo invites a plethora of artists including James Bay, Wolf Alice and Years & Years to play at Victoria Warehouse on Halloween night.
The night is part of Vevo's LIFT UK platform to celebrate critically acclaimed, new and emerging bands, in a room full of 5,000 hardcore music lovers.
Shaune Harrison – the award winning artist behind prosthetics for Harry Potter, the Marvel Films and World War Z – will be creating this year's ghoulish theme, Circus of the Damned.
Click here for more details.
Sea Life Manchester
@SEALIFEManc has just got a whole lot spookier #halloweenfun pic.twitter.com/YGCUiJKgyo

— Manchester Family (@familymanc) October 17, 2015
For slightly more sedate but nonetheless intriguing entertainment, head to Sea Life Manchester to discover monsters of the sea.
Learn about fascinating sea dwellers like the venomous Lionfish, Moon Jellies,Vampire Tang and Blood Shrimp,  not forgetting the sharks and spooky Spider Crabs.
The centre will also be exploring the more sobering horrors of pollution and over-fishing, and the damage they cause.
Click here for more details.
Legoland
Our Entertainment Team look after a selection of exclusive Brick or Treat characters. Who is your favourite? pic.twitter.com/yurRGXhkWp

— LEGOLAND Jobs (@LEGOLANDUKJobs) October 19, 2015
Legoland Discovery Centre are bringing Brick or Treat to the Trafford Centre this year for children and adults alike offering a selection of Halloween delights.
The mini Legoland invites the young and young-at-heart to join in with plastic pumpkin and castle making, a 4D cinema and small-scale rides.
For a special treat, the themed store is giving away free entry to children in fancy dress on Halloween itself.
Click here for more details.
Turton Towers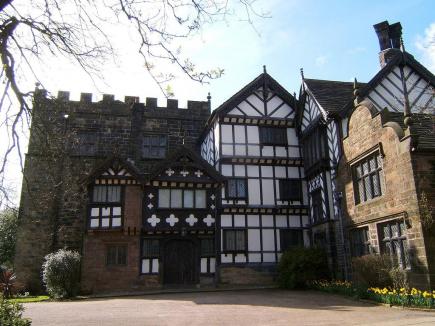 ALL NIGHT VIGIL: Turton Towers looks a lot more frightening after dark
For real frights, Turton Towers in Bolton is holding a Halloween all-night vigil, investigating the spooks and ghouls within the old mansion's walls.
Ghostly apparitions and mysterious voices have been reported to appear in the 15th Century Hall, whilst previous guests and ghost-hunters have claimed they have been touched by invisible beings, heard whistling and witnessed a man disappearing through a wall.
Legend has it that two skulls were discovered bringing evil into the Towers; they are kept on a bible 'in the hope that it will appease spirits'.
The night is taking place on 31st October from 9pm-4:30am.
Click here for more details.
Farmageddon
Scary treat for my girls in #farmageddon last night paintballing zombies in a cornfield was best bit pic.twitter.com/ZRdjEoMF8o

— Rachel Jenkins (@sugaREEList) October 19, 2015
The afore-mentioned Farmageddon will be taking over the wilderness again just outside of Warrington to frighten the living daylights out of hardy adrenaline junkies.
New for this year is Zombie Outlaw, which involves boarding the ZOP Wagon (Zombie Outlaw Protection) to fight infected, mutant zombies with paintball guns.
Scare-hunters can pick from three mazes, Terror On The Farm, Contagion and Meat Locker where they can dodge pigs with chainsaws and disease-ridden killers.
Click here for more details.
Ordsall Hall
New Event! Halloween Ghost Hunt at Ordsall Hall, Manchester – Saturday 31st October 2015 http://t.co/A75frxDSdC pic.twitter.com/yPwPQfhnJT

— Haunted Rooms UK (@HauntedRooms) October 7, 2015
Ghost ridden Ordsall Hall, situated in the middle of an estate just outside of MediaCity, is holding their own ghost-hunting night on Halloween night, and again on November 7.
The Tudor mansion is over 600-years-old and steeped in history, with a ghost cam which you can track on Twitter for supernatural activity.
Ordsall Hall is allegedly home to several poltergeists, including the White Lady, who was said to have thrown herself off a balcony and now haunts The Great Hall.
Knocks, chilly spots and cries from the ghost of a child that was drowned in the old kitchen well are all supposed phenomena's linked with the old building.
Click here for more details.
Dead Famous
Get ready to SCREAM! This Year we're raising the dead for the Halloween event of the year! http://t.co/IQVwUpOsx5 pic.twitter.com/732a1BNLJV

— All Star Lanes MCR (@AllStarLanesMCR) October 15, 2015
Dead Famous at All Star Lanes bowling alley and eatery in The Great Northern comes back from the grave again this year for a Halloween weekender.
The retro joint will offer a medley of blood burgers and games, along with music from dead Hollywood stars Elvis, James Dean and Marilyn Monroe.
Prizes will be awarded for the creepiest of fancy dress costumes with a selection of themed cocktails to get the night under way.
Click here for more details.
Coronation Street
http://t.co/871NFuSDN9 Trick or treat on Coronation Street! pic.twitter.com/AdenoKNBFP

— Corrie is my life! (@caitlinharris02) October 5, 2015
Coronation's Street tours are hosting Trick or Street from October 26-31, with a special late-night treat on Halloween night from 9pm-1am.
The event gives tricksters the chance to peek behind the doors on the street, with the cobbles transforming into a spine-chilling street filled with pumpkins, garlands and lanterns and guests invited to explore the famous murder sights featured in the soap.
The hair salon will be painting freaky faces for all who fancy a frightening make-over and the café will be serving up some gruesome delights.
Click here for more details.