A Withington man battling with stress, 12,000 miles, one bike and numerous close encounters with death and deportation – MM meet the author trying to get his book, The Vague Direction, off the ground. 
One morning back in 2012, Dave Gill woke up for a normal working day only to discover, as he gazed into his bedroom mirror, that his eyes were bloodshot.
After a quick Google search, he soon realised that this was one of the symptoms of stress, which sparked his determination to embark on an unforgettable adventure – one that took the form of a 12,000-mile journey involving scrapes with death, being kicked out of America and only getting by thanks to the generosity of a number of special people.
The 25-year-old, who has lived in Withington for the past four years, ended up almost immediately purchasing a bike off eBay and booking a ticket across the pond, where he would spent the most memorable year of his life.


THE VAGUE DIRECTION: Dave travelled 12,000 miles in one year
"I had been working at a start-up for about two years and it was pretty full-on," he told MM.
"I knew I was pretty stressed and felt a really strong urge to use that as a marker to do something different.
"I just had the sense of going on a big bike ride and seeing what happens, so I went on eBay, got a bike, travelled to America and started peddling."
Dave initially flew to New York City with a 'loose plan' of cycling to towns and cities across America and Canada, including Florida, San Diego and Alaska, before returning to where it all started.
But his trip was dramatically put in jeopardy halfway through after visa complications resulted in him being extradited to Mexico during a 'nerve-racking' night. 
Fortunately though, he was able to resume his expedition following a 'shady crossing' back into the US, where he had a completely new visa stamped.
If this wasn't a tense enough experience, Dave also revealed how he was nearly killed on numerous occasions during his year away.
"Numerous times there were close calls with pickup trucks or logging trucks nearly ploughing me down – it was very scary and shook for days when this happened," he said.
"One time in Alaska I hitchhiked back to somewhere I'd cycled through and the driver locked the doors, talking about how he was on the way to find a prostitute.
"All in all it was terrifying but didn't lead to anything – although Alaska seems like a good place to hide a body if you wanted to." 
Dave slept in a variety of bizarre locations over the year including inside a Home Depot store, a post office… and even in a ditch.
The 25-year-old explained how he wouldn't have survived the journey without the generosity of some special people he met along the way.
"People's generosity was amazing – I now feel completely indebted to certain people," he said.
"At times, people would donate a spare room for days at a time, they'd cook dinner, they'd contribute their hotel miles for a complimentary stay in a hotel, they'd wait at the side of the road up ahead with a can of coke, all these things meant so, so much and always will.
"Without this generosity it would've been a much tougher journey."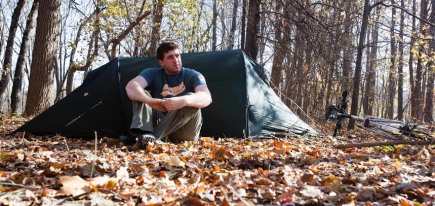 A GOOD NIGHT'S SLEEP: Dave slept in numerous bizarre locations
He revealed that the journey became extremely challenging as the weeks turned into months and that he nearly quit on numerous occasions.
"There were so many times I wanted to give up and go home," he said.
"The first six weeks were all fun and upbeat, but after that you start to feel doubts as to whether what you're doing is worth it, and you really question yourself and can end up in a deep depression.
"It was in these moments that I sometimes came close to calling it a day." 
Dave talked an array of interesting people he met along the way, from cutting edge Silicon Valley CEOs to leading Hollywood directors, former drug dealers, singing cowgirls and many more.
He chatted to them about the lifestyle choices they'd made to see if there were any nuggets of wisdom and recorded them all on video.
But one evening in Edmonton, Dave lost his bag, laptop, camera and everything that had any form of sentimental value during a night with 'Burt Reynolds'.
"I slept in the park and woke up the next day with no possessions at all," he said.
"After looking everywhere, then going to the police station to report it all missing, I looked in my pocket, found a receipt saying 5x Burt Reynolds with an address on it.
"I went to the address, and found my gear. Burt Reynolds is a drink I'd never heard of before and will approach with caution if I come across it again in the future."
On his return to the UK, the 25-year-old decided to manifest his whole story into a book, The Vague Direction, which he is aiming to get published with the help of online funding website Kickstarter.
"Initially, I wasn't a cyclist or an adventurer, and I certainly wasn't an author," he explained.
"But so many remarkable things happened that I thought maybe there's something that's in this that will resonate with anyone who reads it.
"I had a lot of highs and lows and learn a lot about myself. I'm hoping this book is the final whole story of that trip."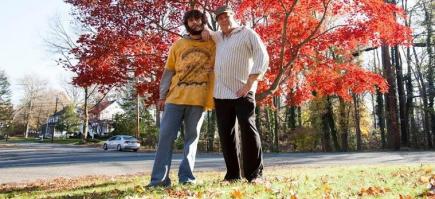 MAKING FRIENDS: Dave met an array of inspiring and generous people
Dave explained his plans for the future, which included writing another book, but said that a similar journey was out of the question with his 12,000-mile trip being a 'once-in-a-lifetime' experience.
"I'd quite like to write another book, but this time, instead of it being about a journey I've been on, it will be a book full of the most courageous stories that exist," he said.
"I don't think I'll do another huge bicycle trip for a while, maybe I will on the 10th anniversary or something but it will take a lot for me to sack off regular life for a whole year again.
"In that respect, I think it probably is a once-in-a-lifetime thing, because it will never be as easy for me to leave for a year as it was then."
You can donate to Dave's Kickstarter project to help get is book The Vague Direction published by clicking here.
Images courtesy of Dave Gill, with thanks.