The voter registration deadline is just a few hours away and there's an estimated 7.5 million unregistered voters who are yet to sign up to register before midnight tonight. 
According to the Electoral Commission, 1.7 million applications requests to register to vote had been made in the past five weeks, with majority of them being done online.
Stats being what they are these days, the Commision has revealed the day with the highest number of online registrations, so far, was April 16 when110,000 applications were processed — the same day the opposition leaders' debate aired on the BBC.
With Manchester Central dubbed the most apathetic, MM took to bustling city streets to ask: 
Are you going to vote in next month's landmark General Election?
Of those asked, Labour was the party mentioned the most, with strong negative feeling applied to the current coalition powers.
Kirsten Peters, 22, is a student from the University of Birmingham, visiting Manchester for a job interview.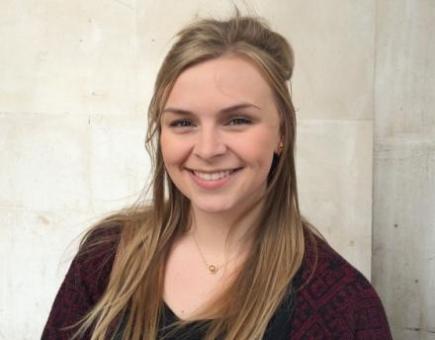 VOTING RED: Kristen feels that Labour is the only party that caters to her
When asked if she was going to vote she said: "Yes, Labour. I think it is just the best option for me. I do not think the Conservatives are right for me.
"I don't think anyone in my generation will vote Lib Dem. Green do not have the strength in numbers they need."
Bar manager, Max Bennett, 24 from Tameside is not going to vote.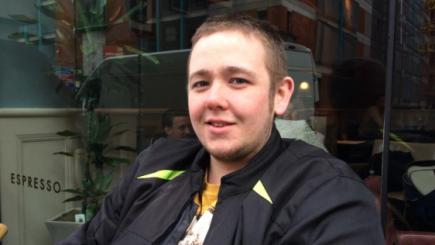 NON-VOTER: Max thinks that politicians should have business minds, until then he's not voting 
"I think they all talk bollocks! It's all about what they are going to do, not what they have done and what the other parties haven't done.
"As soon as someone comes along who wants to run a party like they run a business then I would be interested."
Esmé Byrnes, 74, a retired administration worker from Eccles, said: "Of course I'm bloody going to vote! I'm going to vote UKIP, I'm against all of this immigration."
Mrs Byrnes does worry that her vote will be wasted though.
She voted Conservative last time but feels they have let her down.
Chloe Wells, 44, is an insurance agent from Salford is going to vote but she is undecided.
"Last time I voted Conservative but [all the parties] are talking the same crap. I will probably vote Labour because the Conservatives are always for the rich, but whatever you [vote] it will be wrong," she said.
Ragnhild Steinshamn, 48, is married to an English national and hails from Norway, she works for a local authority and lives in South Manchester.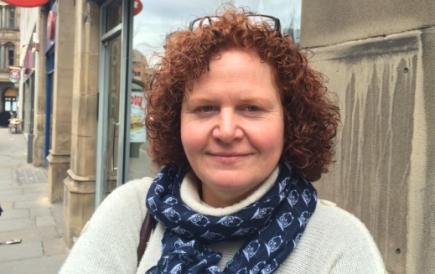 LEFT WING VOTE: If Ragnhild could vote, the Trade Unionist and Social Coalition would get her vote
"I cannot vote in the election but I am following it closely. If I could vote I would vote for the Trade Unionist and Socialist Coalition."
Steve Foxen-Durnien, 46, is an IT project manager from Ashton who thinks it is important that everyone's voice is heard in some way.
"People have got to go to the polling station. I am going to vote Labour, I've voted Labour all my life."
Anne Cooper, 34, a finance executive from the Northern Quarter who is going to vote Labour, said: "I would like to vote for the Green Party but I think it is unlikely that they will get in. I am opposed to the Conservatives so Labour is my only option."
Miss Cooper voted Lib Dem in the last election but has come to regret it because of their 'broken promises'.
Sumi Senthi, 27, from Didsbury is on a graduate scheme in Manchester and  is undecided on the election but will probably vote.
She said: "I will maybe vote Labour because I am not a blue and I am not impressed with yellow.
Sport and Business student Ash Parker, 18, living at Fallowfields said: "No, I'm not going to vote. Russell Brand is leading a voter rebellion that I want to be part of."
Mr Parker follows Russell Brands 'Trews' Channel on YouTube and is following his lead in abstaining from voting.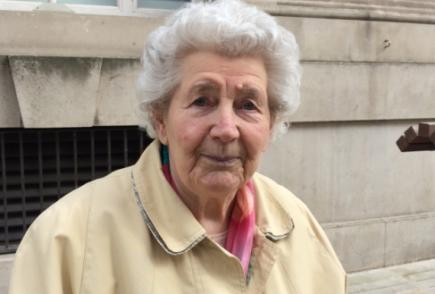 NOT VOTING: Politics 'leaves me cold', claims Betty Brook
Betty Brook, 84, was visiting her family in Manchester.
Mrs Brook who probably won't vote admitted: "It leaves me cold!
"I do not agree with party politics. It should be everyone for their own opinion and I don't agree with anyone."
Image courtesy of UK Parliament via YouTube, with thanks.