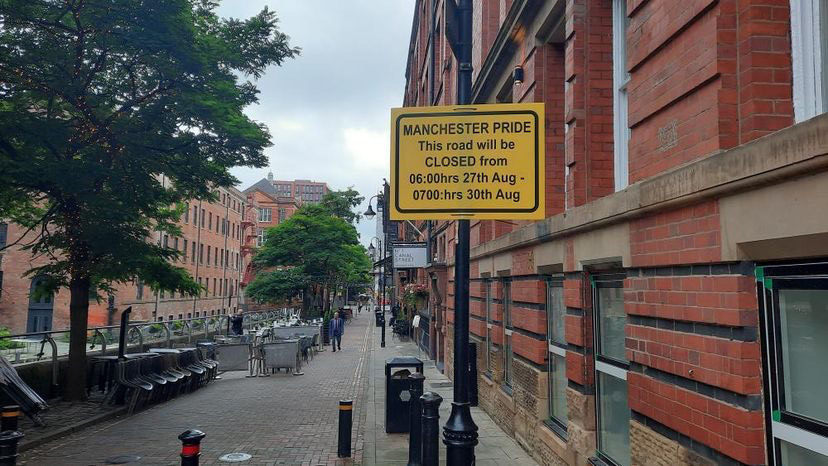 This year, Manchester Pride organisers are working with Deaf and Disabled Persons Organisations (DPOs) to ensure accessibility needs are met, addressing a history of criticism from disabled LGBT+ people and allies.
A range of measures are listed on their website, in partnership with Attitude is Everything and in consultation with other DPOs. Measures include free access for PAs/carers and British Sign Language (BSL) interpreters at popular events due to take place Friday to Monday next weekend.
Greater Manchester Coalition of Disabled People (GMCDP) – a campaign group, pushing for the 'rights and full inclusion of disabled people' in the region – spoke to MM about how crucial it is for events and venues to liaise with DPOs in this way, especially when the event is premised on equality.
GMCDP media representative and membership lead on the Committee, Dennis Queen, told MM: "It's not collaboration that's needed. Access isn't a negotiation, it's a fundamental need.
"What's needed is consultation with our LGBTQIA+ community, and a professional service from qualified disabled consultants they need to pay for. We think that access is not [generally] given the priority it needs."
Reflecting on prides past, she said: "I'm a middle aged disabled queer now and I remember the golden days before Manchester Pride had tickets and fences making access harder. Each year since pride has had an access plan, I'm hearing both of improvements and ongoing difficulties.
"We would love to hear that Manchester Pride continues to get better, takes and uses feedback and maybe even champions a radical and exciting way forward. It can be a very unwelcoming environment for some of us because we are not visible or celebrated as part of the LGBTQIA+ community."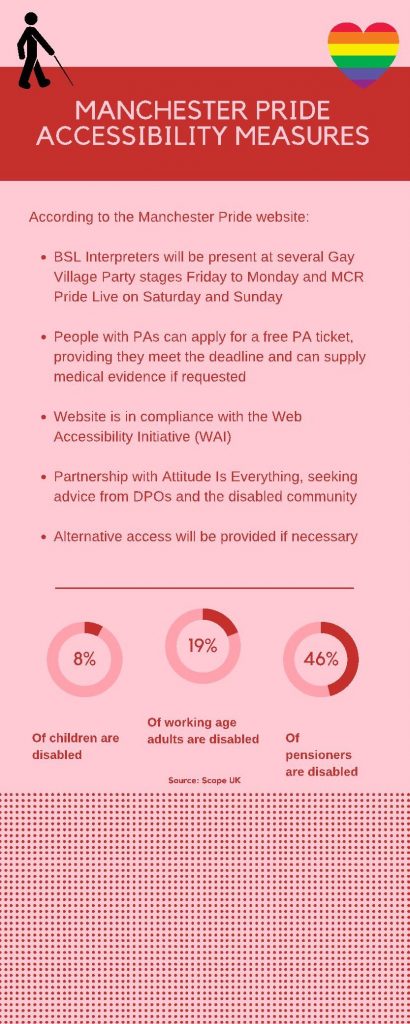 There is little data on how many disabled people identify as LGBT+ and estimates range from one to three in every 10. Yet, according to a YouGov survey, 6% of people have experienced disability discrimination in LGBT+ spaces, which equates to roughly a quarter of disabled people. Intersectional overlaps such as disability & LGBT+ identities can often lead to people feeling unsafe in self-proclaimed 'safe spaces'.
Mx Queen talked MM through common issues at pride and similar large events for disabled folks.
She explained that the cost of tickets could pose a barrier to access, especially for those who require PAs/carers. Applications by disabled or chronically ill people, to bring PAs without purchasing another ticket, can require medical evidence in the form of a DSA/PIP award letter or letter from your GP. Drs letters are a common form of medical evidence requested of people with disabilities, but they often have a fee attached to them – which some struggle to pay.
Cramped areas are very difficult for some people to navigate, when using a wheelchair or mobility aid, such as a cane or frame. Street furniture and outdoor seating can also pose a big problem for disabled folks – as this fills up streets and pavements, dropped curbs, and walk ways that disabled people rely on.
Conversely, the removal of or unavailability of seating poses a threat to those with mobility or chronic fatigue related issues. BSL interpreters will be present at the main event stages only, too.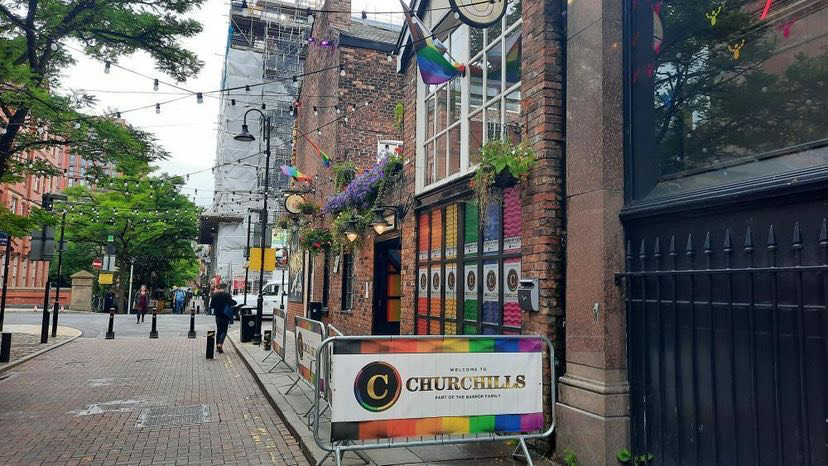 Queen explained: "We would encourage the organisers of large events like Manchester Pride to always work directly with Manchester Disabled Peoples Access Group, Manchester People First and Manchester Deaf Centre in the early planning stages. They have the professional audit qualifications and detailed local knowledge needed.
"They have knowledge about our local communities and our history – and connections with the women, men and gender non-conforming people who are LGBTQIA+ and Deaf, Neurodivergent, Mental Health system survivors, physically or sensory impaired, people with learning disabilities and disabled people."
Queen also pointed out that a commonly overlooked issue is the impact of large events like this on the access needs of those in the area who aren't attending the celebrations.
Manchester Pride is the largest in Europe – world famous, even. With this set to be the most accessible pride we've seen yet, let's hope that other events follow suit.