Former Hollyoaks star Carley Stenson today posed with a prop fox corpse outside the city centre Harvey Nichols in a protest against the end of the company's 'fur-free' policy.
Backed by People for the Ethical Treatment of Animals (PETA), Stenson posed with the prop outside the New Cathedral Street store along with a sign reading 'Harvey Nichols: Here's the Rest of That Fur Coat'.
Harvey Nichols ended their decade-long embargo on fur in 2013, and the actress, who is currently starring in Dirty Rotten Scoundrels at the Manchester Opera House felt she had to take action.
"I was shocked to learn that Harvey Nichols has started supporting this violent industry and felt compelled to speak out," said Stenson.
"I hope the event hits home the point that all fur is the product of a bloody, violent industry and takes away life."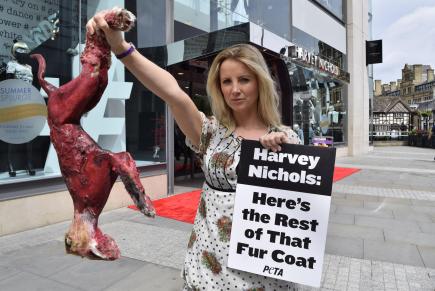 'VANITY HAS TAKEN OVER': Stenson said she passionately opposes the use of fur in the 'bloody, violent' fashion industry
Stenson explained that she passionately opposes the use of fur because of both the way it is acquired from the animal and because she felt the animal was not born to be a fashion accessory.
She told MM: "I just don't agree with ripping the fur and skin off an animal to wear it on our backs, I think it's barbaric and I just don't agree with it.
"I think its vanity has taken over, and it's just the wrong message to be sending out to the next generation as well.
"This isn't how we should be treating any kind of creature, especially an innocent one that hasn't been born or raised to be born on our back."
Stenson is currently touring the country with the play Dirty Rotten Scoundrels, currently on at the Manchester Opera House, and took the opportunity to offer help.
"I just said if there's anything I can be doing whilst I'm in these different places to help out, support, go to centres, and these guys got in touch with me about our cause today," she said.
The play opened in Manchester during the same week of the protest, and while her busy schedule has left Stenson feeling exhausted, she's never too worn out to support PETA.
She told MM: "I might be tired but it's a good tired, and I'm never too tired to do this."
This latest protest comes during a nationwide campaign from the charity featuring Paloma Faith narrating an expose on the suffering of animals in the fur trade.
Kirsty Henderson, Campaign Co-ordinator for PETA, said: "What we use is a dead fox prop, it's not real of course, and we use this to remind people who sell fur, such as Harvey Nichols that there are victims to selling fur.
"Animals don't willingly hand over their skin so we can wear a coat, so we're here to show Harvey Nichols this is the rest of your fur coat."
Harvey Nichols' change in policy came after a decade of not selling fur, a decision which has drawn considerable criticism.
"These are the dead animals that you continue to sell to your unsuspecting customers," Henderson added.
"They're misleading their customers by turning their back on their no-fur policy which was actually really popular.
"The majority of the British public never would wear real fur anyway, 95% in fact, so by continuing to pedal this they are misleading their customers."
Images courtesy of PETA, with thanks