Manchester icon and political activist Bez believes British people are being fooled into thinking they have a democratic voice by Thursday's EU referendum.
The 52-year-old maraca shaker, who also founded the Reality Party, has been a vocal opponent to fracking and the Transatlantic Trade and Investment Partnership (TTIP).
Bolton-born Bez insists that these issues are proof that the country's leaders will be as unaffected by this week's vote as any other political ballot.
And the Happy Mondays star is refusing to buy into what he sees as a ruse.
 "I'm definitely not voting in it," he told MM.
"I just think it's a massive smokescreen and a farce. It doesn't matter which way you vote, in or out, it wouldn't make a single bit of a difference to our lives.
"What's happening already with TTIP, nobody can get legal aid anymore – all that stuff what's going on still will be going on, the plans continue.
"And yet we're thrown this red herring to let us believe we've got this choice, to make us believe that we're having some participation. It's a load of rubbish."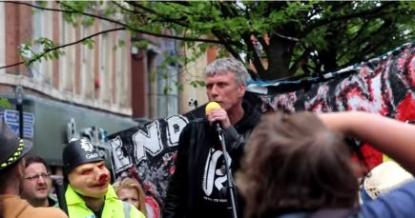 PROTEST: Bez speaking at an anti-fracking rally in Manchester
Despite Brexit arguments dividing the Conservative party, Bez is convinced that whatever happens after Thursday's vote, nothing will change.
He believes the Government will use the result as an excuse to carry out their already-made plans, particularly regarding the controversial TTIP, which is said to potentially undermine democracy.
"It doesn't make a difference, and what they'll do to us is turn around and say 'you voted for it'," Bez said.
"And what did we vote for? We haven't voted for TTIP, we haven't voted for the privatisation of the NHS, we haven't voted for the end of all our social services, we haven't voted for fracking.
"We've still got the same people, the same ruling elite ruling all over us, and the change doesn't happen, and the TTIP takeover continues.
"And we had Obama over here threatening us with staying in, and he's saying to us 'Oh, well if you fucking pull out of the EU you'll be at the back of the queue for any trade deals with America.'
"We've got sociopaths running the Government, and their insane plans will continue regardless of whatever the vote is."
Throughout the EU referendum debate, both sides have been heavily accused of scaremongering, including Chancellor George Osborne's threat of a painful emergency post-Brexit budget.
Warnings from the leave side have centred on immigration, culminating in a much-criticised poster unveiled by UKIP last week, showing a long queue of asylum seekers.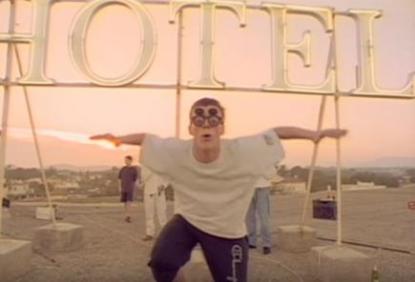 MADCHESTER: Bez at the height of Happy Mondays' fame
Bez feels that this type of problematic campaigning from some factions of the out campaign is nothing short of 'horrifying'.
"It sickens me to the core to think that we're being fooled, and everything that we've stood for as a nation – World War Two against the Nazi idea – we are now becoming," he said.
"It's saddening and it's all down to the people who run the newspapers, the people who run the BBC, these people who are putting this message of hate out every day. It's vile!
"Our press have got big questions [to answer] on how they're being allowed to condition and engineer this horrific event. It's unbelievable.
"These people are sociopathic, they've got no feelings and they've engineered this problem to the extent of such ugliness and fearmongering.
"I can't pick up a paper without reading vile hate propaganda, and it makes me sad to the core."
Bez's political activism has often seen him standing on the front line of demonstrations on cause he's passionate about.
But he isn't optimistic that others will follow in his footsteps and spark large-scale change in society.
"For any hope for mankind – for any sort of hope for any peace for us all – we've got to end the bloodline and any sort of custodial religions delivered by a fallen angel," he said.
"Until then there'll be never be change. We'll never learn our lessons of the past, and we'll just continue into this most decadent descent into hell.
"Only a mass social awakening [would change it], but you've got 6000 years of social conditioning to work your way through before you can wake anyone up.
"I can't see people waking up all of a sudden, saying 'why do we go to war?' and 'why do we get victimised as a human race?'"
In 2014 Bez launched the Reality Party, an anti-austerity political group which contested three seats in last year's general election, including Salford and Eccles, and Worsley and Eccles South.
The party was unable to overhaul the major parties – picking up just 1029 votes in total – but Bez believes it has been successful in other ways.
"The main thing for the party was – it wasn't about politics, it was a vehicle to raise awareness to the fracking issue, and in that sense we were really successful," he said.
"We got major headlines in every newspaper, we were on TV, we did our job and we raised awareness about an issue that no one was aware of until we came along.
"I've not spoke to other members but I don't think we'll be acting politically again.
"I first set up the party to fight the revolution, then I realised I couldn't fight the revolution by engaging in the system – if you engage in the system then you are a part of it.
"I realised, because I went on the streets and talked to people, that I don't know what can be done on a political level."
Anti-fracking campaigners had great success in the North West earlier this year when Lancashire County Council refused permission to extract shale gas at sites in Little Plumpton and Roseacre.
Celebrations at Little Plumpton this morning after the village fought off #fracking. More @BBCLancashire pic.twitter.com/iNHJRDsS7b

— Steve Becker (@SteveBeckerHack) June 30, 2015
But their cause took a step back on the other side of the Pennines last month, after North Yorkshire County Council approved plans to extract the fuel in Ryedale.
"It's absolutely disgraceful – and no surprise because it's a Conservative council up there, so they'd be toeing the party line," said Bez.
"They obviously back the blatant disruption of the countryside and our futures, with an energy that doesn't make any financial sense or in any way, any sense or purpose.
"So the battle goes on. Hopefully people are aware of the facts. I just don't know where it's all going to.
"It's so upsetting, everything that's going on at the moment, and it's so hard to read what's happening next."
Through both his activism and his dancing, Bez has always tried to make the world a much happier place.
And he is determined to carry on leading a revolution in his own way.
"I don't know what's going to happen but what I'm doing is just living my life independently of the rest of the world," he said.
"I try not to read newspapers – I read the odd newspaper because they're about – but I try to create my own reality of my own making, and try not to engage in the madness that's going on around me.
"I concentrate on trying to spread a bit of love and happiness rather than violence and hatred.
"I don't know how everybody else feels about it, but you can see it fucking happening with your own eyes. It's terrifying. It's proper Machiavellian type law, and it's unbelievable."
Image courtesy of Channel 4, MixtLupus and the Happy Mondays via YouTube, with thanks.