The UK's first indoor mountain bike and BMX park is set to open in Manchester after 'unbelievable' support from the biking community saw the project smash its £300k target.
Dirt Factory will be turning an existing warehouse into a fun-filled, sport and recreation centre with off-road cycle trails, jumps and pump tracks made out of recycled dirt and shipping containers.
Founder and director Dan Makin, 29, said the team behind the project are 'delighted' to see their dirt biking park become more than just a pipe dream.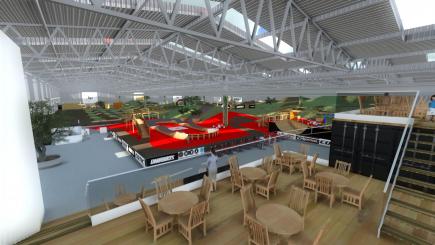 BIG PLANS: A 3D model shows what the tracks and facilities at Dirt Factory will look like once completed
He told MM: "We were always quietly confident in a way but I don't think we expected it to go up as fast as it did.
"The support from the biking community has been unbelievable and they have all been pulling behind the project.
"Over the last few days the rate that people have been investing in Dirt Factory has really increased.
"We're delighted with the response from the crowd and urge others to find out more and invest before our campaign closes at the end of February."
The target has now been upped to £450k after high demand from investors.
For Dan and the three other directors, the four-year journey towards realising Dirt Factory has been a long, hard slog with a few bumps along the way.
And what started out as a chat on a long car journey on the way to the world's biggest cycle trade show has developed into 'so much more' than an indoor bike park.
Dan said:  "Me and two fellow directors went to Euro Bike. We drove there, and on that journey, that's where we started talking about launching Dirt Factory.
"Then when we returned, we got working on it and trying to turn it into a business.
"Now it's an indoor bike park and a leisure facility, but there is so much more we have added to the business to make it viable.
"That includes working with schools and community groups, getting young people engaged, retail opportunities, using shipping containers as pop up retail units.
"So business can co-locate in the centre itself. So yeah, it's been a busy four year journey basically."
As bikers themselves, the directors understand that they cannot replace the outdoor experience with an indoor park.
But Dirt Factory provides a safe space and 'controlled environment' for newcomers and so veterans can enjoy the sport all year round.
"As directors and bikers ourselves, we have always said that we can't replace the outdoor experience, that's not what we're trying to do, that's impossible," he said.
"We still ride our bikes outside ourselves. It's more about providing convenient facility in a cool city like Manchester.
"It's a controlled environment. You have four walls around you, so it is safe. Not only that, let's not forget the weather we get in the UK.
"We don't mind biking in the rain, but sometimes you just want to go inside and ride some cool trails and good jumps, and chill out with your mates, and that's what we're trying to do."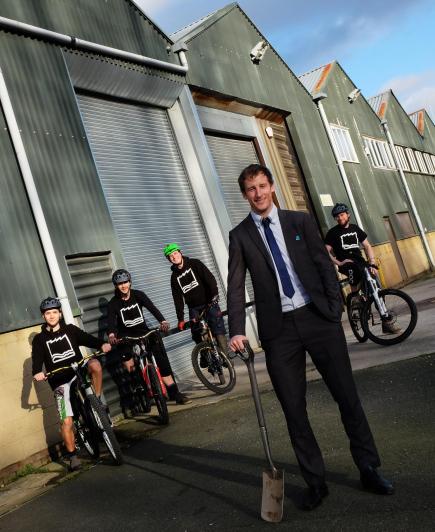 'CONTROLLED ENVIRONMENT': Dirt Factory will provide a safe space for dirt bikers out of the Manchester rain
One of the main investors, Piers Linney from the BBC show Dragons Den, commended the team for turning their dream into reality and their valiant fundraising efforts.
He said: "Dan and the Dirt Factory team contacted me a couple of years ago for advice on structure and how to develop their dream from a great plan into a business.
"Since then, their vision combined with unwavering persistence has really paid off as they now raised in excess of their initial £300k target from over 300 private investors on the crowdfunding platform Crowdcube."
The funding campaign will run until Monday February 29 and the project is expected to do extremely well.
If you would like to make an investment, click here.