A team of invested individuals have changed the face of Lark Hill Place, Salford, in order to commemorate 100 years since the end of World War One.
The street has been under construction for a month leading up to the opening, in order to recreate an authentic 1918 setting, to display some of the best artefacts from the time.
The exhibition will be open for an exclusive year, until Lark Hill returns to its original 1897, late Victorian atmosphere.
Over 500 artefacts have been taken out of storage to embellish the street so that it echoes the authenticity of interwar Britain.
Additions to the street include a vote for women's sash – which coincides with the centenary of the right to vote for women, a suffragette pin, new posters and signage created by Hot Bed Press and silk postcards sewn by French refugees.
There is a variety of shops and houses available to view, with a general store, music shop (containing children's vinyl from the times), toy shop, a chemist/druggist (containing information about the Spanish influenza) and a dressmakers to display a number of necklaces, feathered hats and parasols.
Another new feature is a different soundscape, which was created by Professor Stephen Davismoon, head of performing arts at Edge Hill University.
It includes recordings of recreated local sounds of police whistles, museum objects and the bells of trinity church. This will help to add to the authentic atmosphere of the post war street.
Ceri Horrocks, a curator of the project, told MM about the development of the exhibition.
"It's been brilliant, we were closed for a month so it was quite a long process.
"So first of all we took all of the objects out, cleaned everything but it was all coming back in.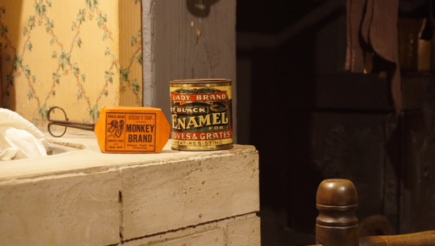 "It was really exciting because we had only seen it either in the boxes or in storage so all the objects we have put in has been from our collections.
"It was an opportunity to do something different with the street.
"The change was also good from a conservation point of view, as some of the objects needed to be rested, especially fabrics and textiles which have become quite worn and faded.
"It was a lovely opportunity to give the street some attention and love."
Initially, there were worries about changing the displays of the street, as many have become much attached to certain artefacts, due to Lark Hill being on show for 61 years since 1957, however the reactions and feedback have been positive.