We've all pictured it – striding into work full of confidence, waltzing up to your boss's desk after the caffeine kicks in and saying with such ease, all the things you've rehearsed in your mind over and over.
Next the powerful and assertive strut back out of the office while co-workers gawp in amazement as you slam the door on your way out for extra emphasis.
The future looks brighter than ever before as you're showered with the respect you deserve and never taken for granted again because you are the person who finally stood up to the boss…
And then bang you wake up – usually in a panic that you've hit snooze one too many times – and the mad rush to get up, get showered, get dressed, and throw down some breakfast begins so you can make it to the office on time for the daily 9-5 slog.
We'd like to think many of us wouldn't go as far as a scene from Horrible Bosses, but in certain industries it is especially important that peers feel confident enough to be able to speak up when they believe their boss is doing something wrong.
Training sessions for medical staff, where a 'stand up to your boss' simulator is being used, are taking place at the University of Oxford, a report by the BBC revealed earlier this week.
The mannequin replicates real symptoms – it has a pulse, breaths, speaks and has eyes which blink, dilate and cry.
Nurses and doctors are following in the footsteps of junior pilots and are being trained to not fear speaking up when they disagree with a person in a position of authority, for example, if they do not agree with the course of medical action proposed.
MM took to the streets to find out whether Manchester thinks speaking up in the workplace is achievable or if keeping quiet and carrying on is the best option.
We asked the question:
Would you stand up to your boss?

Mark Cooke, a senior surveyor who works in the city centre, only changed jobs a week ago.
He believes he needs to not push the boundaries while he is still the new guy, but had no problems speaking his mind at his old job.
He said: "I'm paid for my opinion on something so if they don't agree with my opinion then why are they paying me?
"I've gone in and said 'this is what I think it is' and there's all kinds of consequences to different things so if they don't agree with what I'm saying then they can take on the consequences.
"This job now, I would strongly voice my opinion on something but it's like anything in life, you have to judge how far you can go with somebody."
Another Mancunian who's recently changed professions was a 26-year-old photographer from Salford, who wished to remain anonymous.
He told MM he prefers being self-employed compared to his previous job in retail where he didn't like the boss at all.
He said: "I would stand up to my boss all the time. He seemed like he really lacked moral fibre. We'd constantly catch him lying to customers and it was disgusting to watch.
"I'd never stand up to him in front of a customer but I had no trouble telling him what I thought of him.
"Now I'm my own boss things are different. I've found that if you're firm but fair to your employee's you'll never get any hassle back. People have to earn respect – it doesn't just come with a position."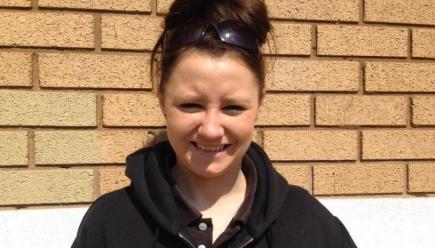 R-E-S-P-E-C-T: Laura feels she can talk to her boss because they have a professional, respectful relationship 
Laura Bennett, a 24-year-old teacher from Ardwick, firmly believes that having a professional relationship is key in her industry.
"If I didn't agree with something my boss said I feel like I could talk to him and tell him because we have a respectful relationship," she said.
"In the department we all support each other as well so anything that we feel isn't done or said correctly, we help each other to improve or do it better next time."
Jess, a 27-year-old researcher from Liverpool who works in Manchester, believes she is on an equal footing with her boss.
She added: "I've been lucky enough that most jobs I've been in I've been able to speak to my boss in quite an equal way because I'm not very good at standing for things otherwise so I'd probably have actually lost my job.
"I haven't had those conflict situations because I've avoided them by going for jobs that I like the people in and when I can't get those jobs I've gone and done some busking instead to get some money."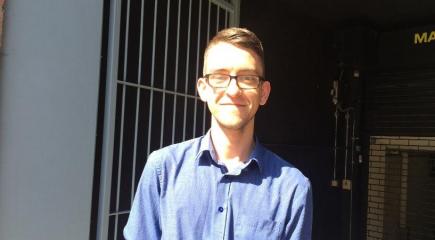 EVERYONE HAS LIMITS: Civil engineer Zac said his boss knows not to push him too far
Zac Gannon, 22, from Stretford, thinks it is important to not be a pushover.
The civil engineer said: "I think my boss knows not to push me too far. I suppose it's with things like if they want you to work later outside of your contracted hours they can't just force you to do that.
"They've got to come to some sort of mediation with you and arrange it but sometimes it doesn't work out like that and they'll try and push it on you but I feel like you've got to stand up for yourself."
Amjad Kasin, a 37-year-old from Rusholme, works at Frurt Frozen Yoghurt.
His boss is his friend so he thinks that allows him to say his true feelings.
"I always fight him on something but he's my mate so I'm comfortable to do that but I can imagine not everyone is," he said.
When asked whether he would still feel the same if his boss wasn't his friend first he said: "I'm the kind of person that would bring something up but I can imagine there are some people who are intimidated."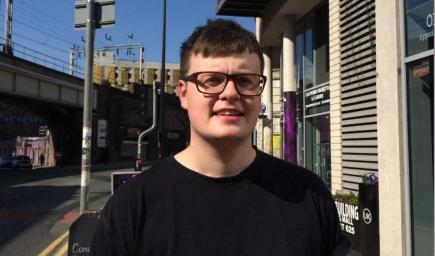 RULES ARE RULES: James said he's happy to speak out but not against things that are set rules for the company
James Tresnan, a 21-year-old from Bury, agreed that he could speak up 'to a certain extent'.
The barber said: "It depends if it was a set rule for the workplace but it's pretty chilled.
"I think you can say you can improve things but not ways in which the business works."
However, a 31-year-old from the Salford Quays, who wished to remain anonymous, said: "The trouble is in my work there's not 100% trust.
"So I'd probably talk something over with my colleagues first and see what they thought and see if it was worth it.
"We've had some trouble with work in some respects, people have been let go. It's not just because they speak their mind but if they do something slightly wrong then they go, so we have to be careful."
When asked whether he wished he had the freedom to speak up more, he said: "100%. If I knew that there was job security.
"If the job was more secure then I'd be more willing to shout and scream about it but they don't give us the opportunity." 
An 52-year-old, who works in retail from Longsight and also preferred not to give her name, believes her opinion wouldn't be valued if it was voiced anyway.
She said: "There have been times when I've wanted to say something but it can be difficult especially if you know your opinion isn't listened to.
"It just makes me think there's no point in standing up for myself because they will just continue to do what they want so why bother wasting my time.
"If bills weren't an issue I'd have left a while ago but until I can find another job I'll just stick to my plan of quietly disliking him."
Main image courtesy of Warner Bros. Pictures, via YouTube, with thanks.