Manchester University students' unanimous vote of confidence in Lemn Sissay could soon see him become the city's second black poet chancellor.
He described his 'joy and honour' at being unanimously chosen as the preferred Student Union candidate in the upcoming election for the role of chancellor at the University of Manchester.
"That one of the biggest student unions in the country in my adopted home town would ask me to be a candidate is really beautiful and I'm really proud of that," he told MM.
"In my profession nominations such as this are like flags in the mountainside of my journey. Just to be nominated is an honour for me."
General Secretary of the Student Union, Charlotte Cook, proposed at the May Student Assembly that the SU should stand behind Lemn Sissay as the student's favoured candidate – an idea which was passed with universal approval. 
The Manchester poet had been nominated by staff, registered alumni and members of the General Assembly to take on the role of ceremonial head of the university.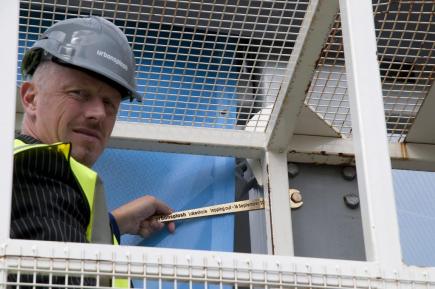 'INVALUABLE SUPPORT': The previous chancellor, Tom Bloxham, founded Manc property development company Urban Splash 
(© EG Focus, with thanks)
The election comes following the end of the seven-year tenure of Tom Bloxham MBE, founder of the Manchester-based property development company, Urban Splash.
University President and Vice Chancellor Dame Nancy Rothwell said: "I wish to take this opportunity to thank Tom for his dedication to the role over the past seven years. His support for the university has been invaluable and I look forward to working with his successor."
The chancellor presides over meetings of the General Assembly and acts as a figurehead and an ambassador for the university, working to promote the institution's achievements at a local, national and global level.
Lemn will be running against former Cabinet minister and Labour grandee, Lord Peter Mandelson and Hallé Music Director Sir Mark Elder, who were both also nominated.
He wouldn't be drawn to comment on the other candidates, but did say: "Integrity is not something which is as evident in a pitch.
"A person with integrity can make a comment, a person without integrity can make a comment, a political comment towards an aim, and the two can seem very similar but actually are fundamentally different."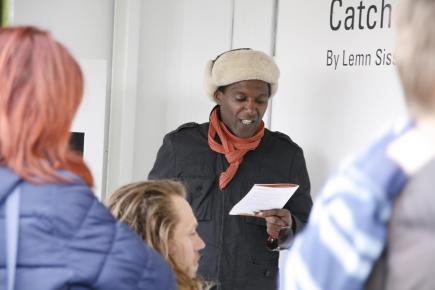 'MY LIFE IS NONLINEAR': Lemn told MM that he would bring the spirit of Manchester with him in all aspects of his life 
(© View Tube, with thanks)
Outlining what he would hope to achieve as chancellor, he told MM that in every aspect of his day-to-day life he would promote the university and the ethos of our city.
"It will consolidate my relationship to Manchester and help it to flourish at another level. I will take the message of Manchester with me throughout the world in my own journey," he said.
"My life is kind of nonlinear so one day I would be extolling the virtues of Manchester on national radio or the next day I'll be doing a gig in Wigan to care leavers. 
"I think I would carry Manchester with me to all the places I go; whether it's to the Arctic on an exhibition with Cape Farewell, or whether it's to the FA Cup with a final poem which would be broadcast at Wembley. 
"Each of these different and varied places I go to will know of my relationship to Manchester University, with Manchester and I will carry its message to all those places. Who knows what will transpire from that."
He highlighted the importance of the university within the city, saying: "It is the main artery of the heart of Manchester. It's the making of Manchester actually – the university has always aspired to great heights and I think Manchester has followed that lead.
"The university is like a wise older sister who guides us all through our futures and we guide with our feedback as well. There's a very powerful poetry element to Manchester University."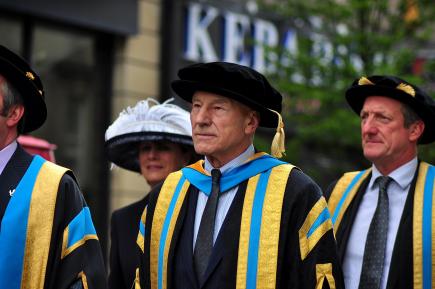 FAMILIAR: Lemn has already got some familiarity with the role, having stood in for Huddersfield chancellor Patrick Stewart 
(© Event Coverage, with thanks)
Lemn already has some familiarity with the role, having stood in for Chancellor of the University of Huddersfield, Patrick Stewart, for a day – during which he was tasked with conferring students their degrees. 
Huddersfield University also provides the The Lemn Sissay Phd Scholarship for Care Leavers in the poet's name after he gained an honorary doctorate from the university inspired by his achievements despite his childhood in care. 
It is it the only university in the country to provide a PhD scholarship specifically for care leavers.
Lemn has always had an intense and passionate relationship with Manchester, and has been a strong advocate of its cultural and artistic heritage.
He spoke optimistically of the development of HOME as being 'incredibly exciting' and the future of the city 'becoming closer to being the house of the arts in Britain', something he hopes to further if he becomes chancellor.
"My becoming a chancellor of Manchester University heralds the northern powerhouse which has been spoken so much about.
"I've been looking forward to growing my relationship with Manchester; whether it's with Manchester's International Festival or the council, I know so many people from so many different parts of Manchester and people read my poems every week."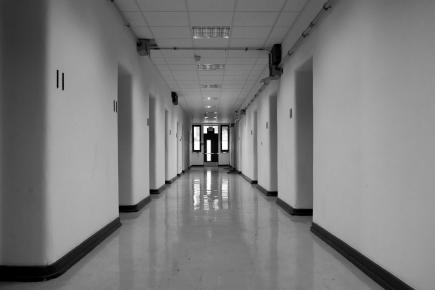 DIFFICULT BEGINNING: Lemn was sadly abused while in care at Atherton's Wood End Assessment Centre (© VD1966, with thanks)
His own history with the city is one of motivation and aspiration, despite a difficult beginning. Lemn was separated from his mother soon after his birth and was brought up by strongly religious foster parents in Wigan who renamed him Mark.
At 12 years old the couple placed him into a children's home, and he moved between four care homes in the five years that followed until he turned 17.
Along with many other former residents, Lemn claimed he was physically abused whilst in care at the Wood End Assessment Centre in Atherton.
The institution is now the subject of a Greater Manchester Police investigation, Operation Milan, looking into accusations of historical abuse. 
When he left care he began the search for his mother and took back his real name. Following a long and arduous quest Lemn was eventually reunited with his mother when he was 21.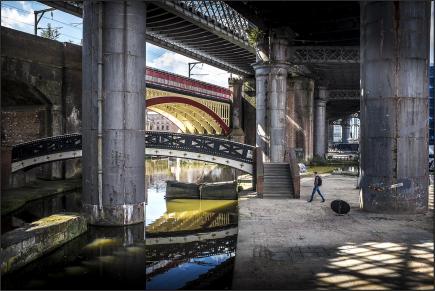 'I'M PROOF THAT MANCHESTER IS INSPIRATIONAL': Lemn walked barefoot to Manchester aged 17 'to learn and grow' 
(© Helen Bushe, with thanks)
Lemn told MM of the influence Manchester had on his life and work, and how he hoped this would be recreated with others:
"Who couldn't say Manchester doesn't inspire them? I'm proof, that Manchester inspired me. The life I live and have lived is proof of the inspirational and aspirational nature of Manchester," he said.
"I walked to Manchester at 17 years of age, barefoot, from Lancashire, with a sole purpose – to learn and grow.
"I now travel the world as a writer, because of my experiences in Manchester, and that's precisely what we want to do with anybody who comes to the university and any ideas which are developed through the research at the university. 
"We want them to develop and grow in Manchester and then take themselves out to the world and back to Manchester as well."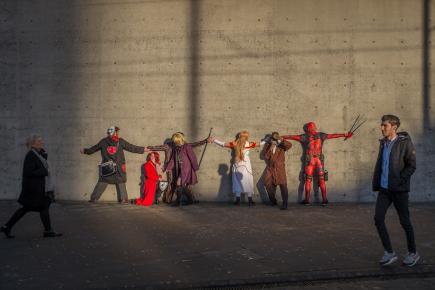 'MANCHESTER'S ACCESSIBILITY IS AN INSPIRATION': Piccadilly Gardens and the the people of the city are an influence to Lemn
(© Tim Brockley, with thanks)
Although Lemn has not written a poem about his nomination he has written various poems about Manchester, with 'Hardy's Well' and 'Rain' both featured on the side of landmark buildings in the city.
He quoted an excerpt from a poem he wrote to encapsulate the atmosphere of the city centre: "I've got the whole world here in the palm of my hand, every time Piccadilly grows I expand.
"It was about the nature of the physical expansion of the city matching with the intellectual, emotional and functional growth of the city.
"It does matter to me and I am connected with it. What better symbol than the person who inspires people every day to be chancellor. I want people to be able to see that Manchester's accessibility for people who are not one particular demographic is an inspiration it itself." 
The election will be conducted by staff, registered alumni and members of the General Assembly. The successful candidate will take office on August 1 and will hold the position for the next seven years. Voting opens on Tuesday May 26 and closes on June 18.
Top image courtesy of Paul Clarke, with thanks