When it comes to health, you'd be advised to listen to Sally Gunnell's words of wisdom.
The 1992 Barcelona Olympics 400m hurdles gold medallist – now 51 and a mum of three – has promoted clean living and good health all her life.
With meningitis awareness week (September 18-25) in full swing, MM were lucky to have some time with Sally to find out more about the illness as well as her sons' progress in athletics and her own take on the sport today. 
Hi Sally, as you're a part of the GSK Tackle Meningitis campaign, just wanted to start on that theme. What makes teenagers so susceptible to contracting meningitis?
I think everybody has heard about Meningitis when they are younger, and we are always checking and looking but I think the thing we are trying to bring awareness to today is about how much it could affect teenagers.
It's very much down to them going off to University – they are mixing more, they are socialising more and because of that there are all sorts of germs being passed around.
To me as a parent I think it's about actually realising that, yes they can have a jab, but that only covers them for a few strains and there are about six other different strains.
As a parent you think you have done your job when they are younger, and realising you still have to watch out, and keep an eye out.
What are the most important symptoms to look out for?
The red rash (and putting the glass over it) is a sign but it's one of the later signs and at that point it can almost be too late.
I think it's trying to be aware of the early signs – aches at the back of your neck, headaches, cold hands and feet.
It's not just about educating the parents but trying to educate teenagers as well that actually these are the signs.
It can be difficult because they are growing and starting to go out, tired and all of these sorts of things so it's almost harder to watch for these sort of things.
I think it's just knowing in your mind and talking about what these signs are to them and to your friend as well just so that we have this sort of awareness out there.
Are there any examples of cases you can share with us?
Well my son was at school and I had never had Meningitis jab before he had gone out to Uni. He was in sixth form at the time and one of his very close friends went down with Meningitis and he was off school for a couple of days.
Everybody was wondering where he was, and it just happened so quickly and he woke up one morning and had a fever and thought it was just the flu.
The next minute he literally collapsed at home and they flew in with a helicopter and treated him there and then on the driveway and saved his life.
I just remember at the time, all the stories from the mums and everybody talking about it and how horrific it was.
He was a really fit guy, he's played football with my son for years and then this was the first time I had really realised 'hang on, Meningitis is still around, and it's just as prevalent now even as teenagers'.
Supporting Meningitis Awareness Week with @GSK and @matt9dawson raising awareness of the risk of meningitis in teens and young people pic.twitter.com/T6tPCA0YkH

— Sally gunnell (@SallyGunnell) September 21, 2017
How can we reduce the risk?
I think having the jabs is really important, but I think the other thing is as well is knowing the signs and looking out for them.
I think it's great what the charity has been doing along with GSK with highlighting what the symptoms are, what we need to look out for, and I think about being more aware of this and talking about it – just not ignoring it.
If your child comes, and they are not 100% – ask and look out for those signs because you never know if it could be Meningitis.
Where can people go to find out more?
The website is www.tacklemeningitis.org – where they can find out load of information, not just on the vaccinations, but also on the symptoms.
Away from the campaign, what is your perception of the health generally of teenagers in this country? Are we improving or do you still see too many unfit and overweight teens?
I think this is quite interesting. I sat on the board of Sport England for a number of years just to see the figures that come when people leave school.
I think people's perception of sport – because they are forced to do it – is that as soon as they leave school they think 'right, I don't have to', and then they stop.
It's such an important age group – and we need to be educating about how we need to still eat healthy food and exercise. It's not just for the physical look it's for long term as well. A lot of the campaigns we worked on were how we can transfer our fitness through to University, and it's about trying to find things that people actually enjoy.
I think what we found is for that age group, people can just enjoy going to the gym, it doesn't have to be sport anymore, or running cross-country – it's just keeping the message out there which I think is key. 
Aside from athletics training, what did you do as a teenager that enabled you to stay healthy?
I think it was about being outside, being active. Yes I trained as a teenager in athletics, but actually I had a very outdoor life and I think that's one of the things that's not around so much anymore.
From cycling, to walking to school – I was very lucky I lived on a farm. It's about not just sitting in front of a computer. My boys are sometimes like that as well and it is about still doing outdoor activities with them and doing stuff together – which does get hard.
One of the best things we did was get a dog, so we can all walk the dog together and that's our time to get them physically active as well.
The other thing I bought was a trampoline, it was some of the best money I ever spent and even now when they are 19,17, and 12 they are all sometimes out there.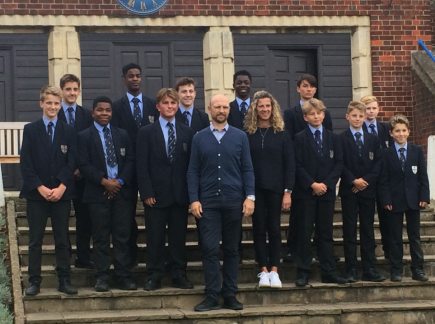 ROLE MODELS: Sally Gunnell and 2003 England World Cup winner Matt Dawson pose with students at Whitgift School in south London
What do you stress more than anything to your kids when it comes to good health?
I think it's about making it a way of life, there is nothing worse than being preachy because I know they will just completely turn off.
I think it's about being massive role models to our children and if they see us sitting around watching television, eating a pizza then that's what you are educating.
I am very much for eating a good fresh and balanced meal and that's what they need to see. I think if they aren't with you, you're teaching them and that's the key really.
Your kids could be making a name for themselves like you did – how far do you expect them to go and what can they achieve?
My eldest runs, and he is quite high up there but I mean whether he will ever make it – who knows.
To me it's about the love of the sport, and enjoying it. The other two sons, one hates it – he's probably the most talented but he hates the pressure of who his mum is and that sort of thing and that can be difficult.
I think what we have encouraged him to do is that he very much likes activities which are to do with him – so skateboarding and mountain biking. Something very different and non-competitive.
For us it's about learning. It hasn't been easy because you can see that wasted talent almost, but it's about making sure they are still doing something and keeping healthy.
Who's your British tip for the future in athletics?
We have some great stars up and coming in the world of athletics, and I know we had a lot of fourth places, which I know was hard for quite a few of them.
My husband coaches. His athlete Carl Langford is only 21 and he got a fourth (at the world championships in London in August) but it's about trying to say to them that's a really good place to be because that keeps you hungry and you are still so young. It keeps the hunger going for Tokyo (2020 Olympics) for three years' time.
I think it's in a really good state and I know we have lost the likes of Jess (Ennis-Hill) and Mo (Farah) is moving on to marathon running – but I think it's quite exciting, this whole group pf youngsters that we have got coming up. They are showing that talent and hopefully they can transfer that into medals.
Who are the next Usain Bolt and Mo Farah – to provide athletics with that X-factor to keep people watching?
I think we have to realise that we might not ever see another Bolt again, and the same goes for Mo really for what he has done for sport. We will miss them.
They are unique and amazing achievers. There will be new characters coming through, and they might not be quite as quirky as Bolt and have his presence but we will still see amazing records and we need to shout about what these guys are doing.
Finally, in May the Great CityGames in Manchester were held just days after the horrific terrorist attack – what are your memories of Manchester as a competitor and how important is that British spirit (and crowd support) as an athlete and now as a mum?
My first memory of Manchester (and spending a lot of time there) is the Commonwealth Games in 2002. It was the first sort of major championships that we brought and I couldn't believe how much the UK and Manchester in particular got behind those games. The stadium was packed.
I have never actually competed in Manchester but I have been up there a lot for the CityGames, and there are so many amazing events I have been to like the Manchester half and worked on for the BBC.
I think it's a great place, and I think what happened with the attack and how the city united just shows what Manchester can do. 
Main image courtesy of University of Exeter via Youtube, with thanks.