In a galaxy far, far away, a weapon was created, so powerful it could cut down a man in a flash, destroy empires in seconds and create a hero or a heroine in an instant.
But, for those of us on earth, the notion of wielding a lightsabre and duelling like our Jedi heroes was beyond our wildest imagination… until now.
In 2006, three Italian friends sat around a barbecue and pondered the question, if a lightsabre could be real, how would it work as a weapon?
From that moment, a sport was created called 'LudoSport', capturing the imagination of thousands of Star Wars lovers across the planet and spreading its influence to as far away as America, Sweden and even the island of Réunion.
Luckily for sci-fi fans in the North West, they don't have to travel to the Outer Rim to take part and they can head down to Manchester Fencing Club in Oldham to try their luck at becoming a Jedi Master.
Jordan Court, the director of LudoSport UK, told MM that the sport is continuing to grow both domestically and internationally since he trained in 2014.
"I always wanted to get into something like this. I had seen videos of groups out in the States but couldn't find anything in the UK," said the 37-year-old.
"Now there are six or seven academies in the US. There's even one on Réunion island. So, the sport is growing very strongly considering that 2014 was the first year the sport was taken outside of Italy, which is when I trained as the first UK instructor.
"In September 2014, classes started in Gloucestershire, since then we have spread out. We have venues in Cardiff, Bristol, Birmingham, Oxford, Farnborough, Hammersmith, and now Manchester (Oldham).
"We are hoping that in five to six years we will have several locations in all the major population centres around the UK."
Based on its founding principles of service, care and respect, contenders fight with lightsabres in an arena aiming to score points through technique and carefully striking your opponent.
The body is divided into two areas, fatal and non-fatal, with any strike above elbow or below the knee considered to be the non-fatal. A player declares that they have been hit by lifting the limb that was struck.
Unlike most martial arts sports, Court makes it clear that LudoSport is not a form of self-defence or about purposefully injuring your opponent.
"We know that lightsabres aren't real and swords in street fighting don't really come up much anymore!"
"We abandoned any notion of making it a practical form of self-defence because it isn't a form of warfare anymore.
"Don't get me wrong I would love it if they could make lightsabres and we end up having a 101st armoured lightsabre brigade, that would be amazing. But that's not up to me, that's the Ministry of Defence!"
LudoSport has seven different styles that players must master before advanced competitors blend moves to create their own unique approach to combat.
Despite drawing inspiration from the Star Wars trilogy, the advent of recent films have surprisingly only drawn limited interest to the sport according to the LudoSport UK director.
"After each film that has come out we have had a flurry of interest, but most of it has been of a novelty value, which is fine, you never know if you are going to like something until you have tried it.
"The problem is that lots of people say to me 'my five-year-old would love this.' Unfortunately, the lightsabre will probably be three times his height and the average age of everyone else is 28.
"Our players currently range from 13-year-olds up to mid-50s, early 60s.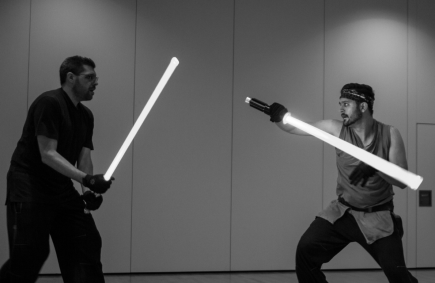 LOVE, NOT WAR: LudoSport is all about the passion of sport, not anything related to violence
"It is not until you have done a few sessions that you realise that LudoSport is not choreographed, and the tournaments are completely spontaneous combat."
However, there is a growing demand for the sport within the UK and new centres are continuing to be opened to keep up with demand.
"Our classes in Manchester started up in February and we have filled one class already which is really good," said Court from Cheltenham.
"Our big goal is just to keep promoting what we are doing so that everybody becomes aware of it.
"Ideally it would be great if we could get officially recognised as a sport because it would allow us to get into schools and really secure the future of the sport.
A real sport with a fictional weapon. Not at #Olympics (yet), #LudoSport created 7 original combat forms and rules for women and men to duel safely with the most elegant weapon of this galaxy.

Bring it to your city, tell us here your interest https://t.co/03Z7jIZwuS pic.twitter.com/k2ike1Ic72

— LudoSport Academy (@LudoSport) February 11, 2018
"The world championships have been held in Milan every year so far, what I am hoping is that in the next few years, we will be able to bring it to the UK, and actually have all the top athletes come to the UK and compete, making it easier for people in the UK to get behind the sport."
For anyone who is keen to put their lightsabre skills to the test, LudoSport UK hold regular discovery sessions for new members.
To get involved, send an email to [email protected] for more information.